Encompassing neighborhoods as diverse as King's Cross, Baker Street, Camden, Islington and Hampstead, our guide to the offbeat and bizarre places in North London is as eclectic a mix of locations as you could wish for!
After all, where else can you join Harry Potter and his friends on Platform nine-and-three-quarters; see the house where Charles Dickens mistress was living when he first met her in 1857; follow in Dracula's footsteps through the rusting gates of an overgrown churchyard; or even drink some port wine with me Down At The Old Bull and Bush. Da, da, da, da, da?
---
THE HARDY TREE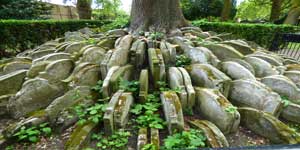 In 1865 Thomas hardy, who was then working as a trainee architect, was given the job of overseeing the clearance of the graves from St Pancras Burial Ground. His contribution to the churchyard is remembered with "The Hardy Tree" around which there is a cluster of moss-clad tombstones
---
ST PANCRAS OLD CHURCH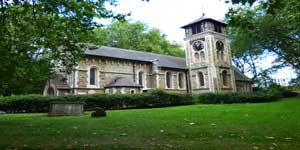 Cowering beneath the soaring bulk of the Eurostar Terminal is a delightful Little church that wouldn't be out of place in a sleepy country village. It is St Pancras Old Church and it is possibly one of London's oldest places of worship, its origins stretching back into the mists of time.
---
17 CHURCH ROW - H. G. WELLS AND PETER COOK
17 Church Row, London, NW3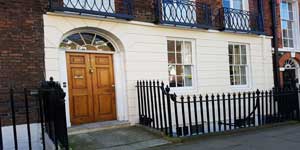 The white facade of number 17 Church Row in Hampstead has nothing on it to remember the fact that this was once the home of the man who is often referred to as the "father of science fiction." Yet, this was once the house of H. G. Wells during a particularly stormy period ion his life.
It later became the home of the comedian Peter Cook.
---
ADMIRAL'S HOUSE, HAMPSTEAD
Admiral's Walk, London, NW3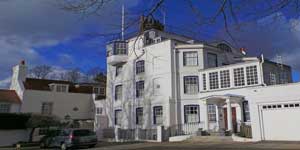 Painted by the artist Constable, lived in by an eclectic mix of former residents, from a distinguished architect to a navy officer who used to fire cannon from the roof, Hampstead's Admiral's House has a fascinating history
However, it is best known as the inspiration for the eccentric Admiral Boom's house in Mary Poppins.
---
THE BEATLES ABBEY ROAD CROSSING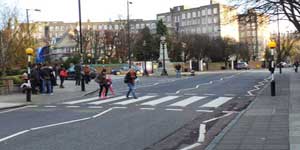 In August 1969, the Beatles decided to have themselves photographed on the zebra crossing outside the EMI Studios on Abbey Road.
Six photos were taken, and Paul McCartney chose one of them to appear on the cover of their new album.
The cover of Abbey Road turned a nondescript north London pedestrian crossing into a major tourist attraction that now has Grade II listed status.
---
THE GRAVE OF PETER PAN AND THE LOST BOYS
St John-at-Hampstead, Church Row, London, NW3 6UU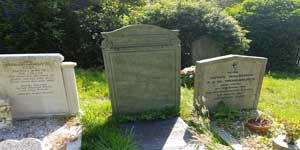 In the overspill burial ground of the lovely church of St John-at-Hampstead you will find the grave of the Llewelyn Davies family.
Along with Arthur and Sylvia Llewelyn Davies are buried the remains of their five sons who inspired the author, J. M. Barrie's creation of Peter Pan.
The story of the "boy who never grew up" is tinged with a great deal of tragedy.
---
THE MYSTERIOUS POLICE WALL CARVINGS
Myddelton Passage, London, EC1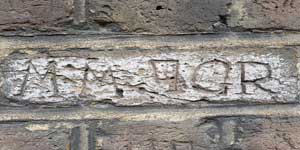 On a brick wall in Myddelton Passage, north London, you will, if you look closely, notice a series of numbers and letters gouged out of the brickwork.
They are, in fact, the initials and collar number of 19th and early 20th century Metropolitan Police Officers who were members of G Division and whose beat took in the passage.
---
THE ST PANCRAS CHURCH CARYATIDS
St Pancras Church, Euston Road, London, NW1 2BA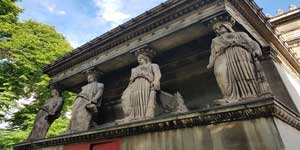 Euston Road might not be the first place that springs to mind when your thoughts turn to Athens; but if you head to St Pancras Church on Euston Road you will find yourself admiring four caryatids that are modeled on those that adorn the Acropolis in Athens.
---
THE BOOTH'S GIN FRIEZES
24 Britton St, Clerkenwell, London, EC1M 5UA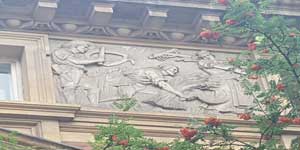 High up on the wall of 24 Britton Street in Clerkenwell, you will find a series of five friezes that have a decidedly rural feel about them.
They do, in fact, depict the various stages in the production of gin, and they once adorned the Booth's Gin distillery on nearby Turnmill Street.
---
THE CASTLE ON COWCROSS STREET
34-35 Cowcross St, London, EC1M 6DB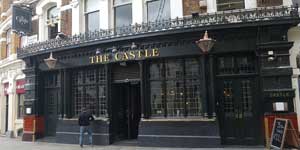 The Castle pub on Cowcross Street in Clerkenwell has the unique historical tradition that, by Royal Warrant, it has the right to trade as a pawnbroker as well as a pub
.
According to tradition, this unique right was granted it by King George IV who turned up at the pub one day depserate to borrow a sum of money in order to settle a gambling debt.
---