STEP INTO HISTORY
Hidden away from the busy main roads you will find a secret city of medieval streets, narrow alleyways, hidden courtyards and ancient buildings.
On this unique walk you will explore the streets of hidden London and be introduced to the tucked away places where history was made and where time stands still.
Here, the roar and the rush of modern London will fade to a distant murmur, as the sights and sites of the old City rise up to greet you, and as every corner turned, every location encountered, and almost every step taken presents you with a new and fascinating slice of the past.
---
WHAT YOU'LL SEE AND HEAR - SOME OF THE TOUR'S HIGHLIGHTS
The Secret London tour will introduce you to some truly fascinating locations, all of which are steeped in history. You really will get the feeling that you've been transported back in time to dig through the many layers of London's rich and varied past. Locations such as the inner sanctum of London's oldest hospital, where the sick have been treated for over 800 years; or the tucked away court where you will find yourself standing at the exact and historic centre of the City of London.
Other highlights of the walk include:-
Hidden and Secret Places
You will delve into hidden alleyways and secret passageways to encounter some of London's most secret and atmospheric places.
Step Into Bygone London
You will enter courtyards where the everyday life of London has been going on for nigh on 2,000 years; and you will view an ancient gatehouse, constructed in latter years of the 16th Century.
Relics From The Past
You will encounter gabled houses that survived the Great Fire of London (1666); and see an ancient structure that dates back to 1123.
Magnificent Discoveries
You will stand beside London's medieval palace, the time-washed walls of which date from the 1400's; and you will gaze up at Sir Christopher Wren's most magnificent church tower.
---
LIVING HISTORY NOT DRY DATES AND DUSTY FACTS
But, your guide won't just point at these streets and buildings and bombard you with dry dates and dusty facts.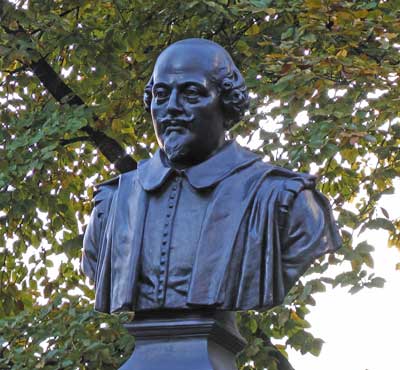 He will people the places you will encounter with those who have lived in them, and he will give those long ago citizens a voice so that you can hear their stories and, in so doing, see the City through their eyes.
And, what a stellar cast of bygone residents you will become acquainted with. Charles Dickens, William Wordsworth, Sir Thomas More (you'll learn why he was dubbed the "Man For All Seasons"), Sherlock Holmes, Sir John Betjeman and William Wallace - Braveheart no less - to name but a few.
Meanwhile, the very names of the streets through which you will weave, will conjure up vivid images of the trades and activities that were once practiced in them.
Bread Street, Milk Street, Wood Street and Love Lane, all of which remember long ago days when they were inhabited by the respectable (and, in one case, not so respectable) tradesfolk of old London town!
THE SECRET GARDEN - A MEMORIAL TO HEROIC SELF SACRIFICE
One of the undisputed highlights of the Secret London Tour is our visit to a peaceful garden, the walls of which are lined with memorials to long ago citizens who sacrificed their own lives to save the lives of others in the late 19th and early 20th centuries.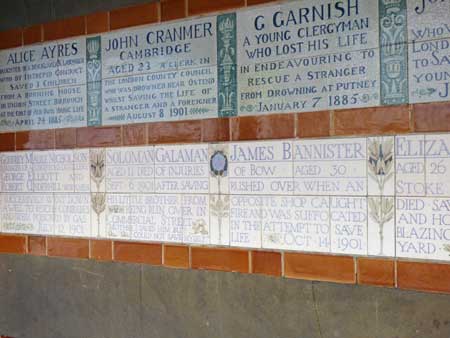 This remarkable monument was the idea of the Victorian artist George Frederic Watts, and the simple dignity of the tiled plaques that adorn it remembers poignant moments from the past when ordinary men, women and children proved themselves extra-ordinary and sacrificed their own lives to save the lives of other.
It is such a wonderful, and peaceful, spot that the tour takes a break here in order to give you time to read each of the tiles, and to spend a few moments in quiet contemplation pondering these bygone citizens who made the ultimate sacrifice so that others might live.
A WALK CRAMMED WITH CURIOSITIES
You will come across curious pieces of street furniture which you might easily walk straight past without even noticing.
With some of them, their original uses will be readily apparent. With others their original purposes might not be immediately obvious - until, that is, your guide points them out to you and you enjoy one of the many revelatory moments with which the secret London tour abounds.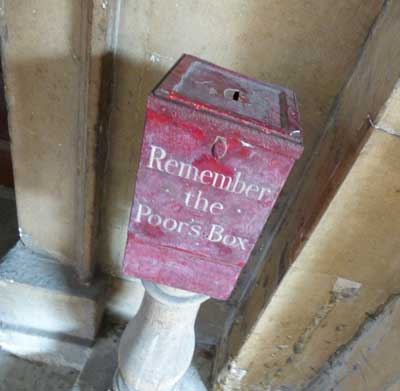 And, the curiosities aren't confined to the City's distant past.
Indeed, one of the places we encounter is the very building from which Benedict Cumberbatch "apparently" plummeted to his death in the BBC series Sherlock.
An ordinary London phone box, which is clearly visible in that scene quickly became the focus of the grief felt by fans all over the World and, to this day, they come here in their droves to scrawl messages to Sherlock on the phone box.
Studying them, which we take the time to do on the tour, affords a moment of merriment for many participants, whilst those who haven't even seen the programme can't help cracking a wry smile as they read the entreaties left by dedicated and distraught fans from across the Globe.
A GRIPPING TOUR THAT BRINGS THE PAST TO LIFE
In addition to all these wonderful locations you will also enjoy a gripping journey through 2,000 years of eventful history.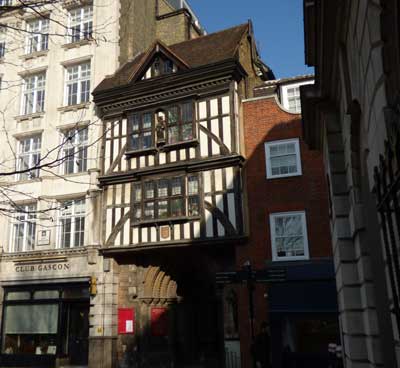 You will hear how disasters, such as the Great Plague and the Great Fire, devastated the City.
You will learn of the damage done to its streets and buildings by Hitler's Blitzkrieg as he made a concerted effort to raze London's historic heart and bring its people to the point of surrender.
Yet, Londoners have always shown a determined resilience in the face of the many adversities that fate has thrown at them, and you will see how, time and again, the City stood firm against all the hardships that were thrust upon it, and discover how it always recovered to emerge from the ruins and the rubble a stronger and more vibrant City.
But each re-incarnation has left behind little pockets of the past that now nestle behind the soaring office blocks of the 21st century, and it is these remnants of the bygone City that make up the places that you will encounter on this tour.
A STUNNING GRAND FINALÉ
And, if all this proves insufficient to tempt you to shake off the shackles of the 21st century and take a magical journey through two millennia of fascinating and entertaining history, then how about the walk's grand finalé?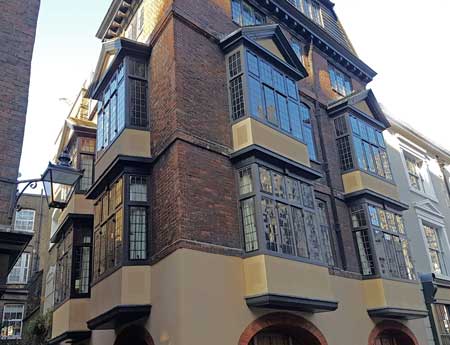 A wonderful old house, tucked away in an historic Elizabethan enclave, that has looked down on the daily life of London since the early 1600's.
It is, more or less, just as it was in the days when the residents, who then lived here, had to face the horrors of the Great Plague of 1665, or would have watched nervously as the glow of the Great Fire of London raged towards them in 1666.
How's that for a slice of old London?
But, this little corner of the bygone City harbours other surprises.
For, on the wall opposite, you can look up at a wonderfully whimsical dummy window on which a long ago harmonious homecoming is frozen forever behind a glass frame. It was painted by a major mural and stained glass artist for no other reason than to give the residents opposite something to look at!
AN ENCHANTING JOURNEY THROUGH SECRET LONDON
So, if you want to uncover some truly historic and genuinely thrilling places; if you want to learn about the City's eventful history and be confronted by tantalising echoes from its fascinating past, then join us for a truly enchanting journey that will criss-cross the centuries to reveal relics of bygone London which have steadfastly repelled the ravages of time to become proud survivors and jealous guardians of Secret London.