DRUNK FOR A PENNY, DEAD DRUNK FOR TUPPENCE
There was a time when the streets of Clerkenwell were awash with gin.
Indeed, in the early 1700's London was in the grip of a "gin craze", and more than 6,000 houses across the capital were openly selling gin for public consumption.
However, this was not the spirit that our modern day adverts encourage us to slake our thirst with. For, the liquid that your average street and house vendor churned out was distilled in grimy kitchens in grubby pots using cheap, inferior grain that would be padded out with sawdust sweepings that were gathered from from pubs and butchers' shops, and then given that special je ne sais quoi by the addition of turpentine for additional flavouring.
It was cheap, potent - and the poor couldn't get enough of it; offering, as it did, a quick release from the grinding misery of their everyday lives.
And, in all honesty, who could blame people, whose drinking water was often contaminated with raw sewage and other stomach-churning substances, for seeking out alternative sources of refreshment?
But the effects of the "gin craze" on society as a whole were perceived as extremely alarming.
VICE AND DEBAUCHERY
By 1721 Middlesex magistrates were lamenting that gin was "the principal cause of all the vice and debauchery committed among the inferior sort of people."
By the 1740's "Madam Geneva", as gin was known (a misspelling of jeneva, the Dutch juniper spirit), had enslaved thousands in her addictive grip; and it has been estimated that the rate of consumption in Britain had reached a staggering average of over two (some commentators claim six) gallons per person every year, and close on 50% of the country's annual wheat harvest was given over to the production of gin.
You could get the stuff everywhere.
Street vendors, grocers, chandlers, barbers and brothels sold it - and proudly promoted the potency of their offering with the delightful slogan "Drunk for a penny, dead drunk for tuppence, clean straw free""
This wave of drunkenness was, famously, satirized by William Hogarth in his engraving entitled "Gin Lane."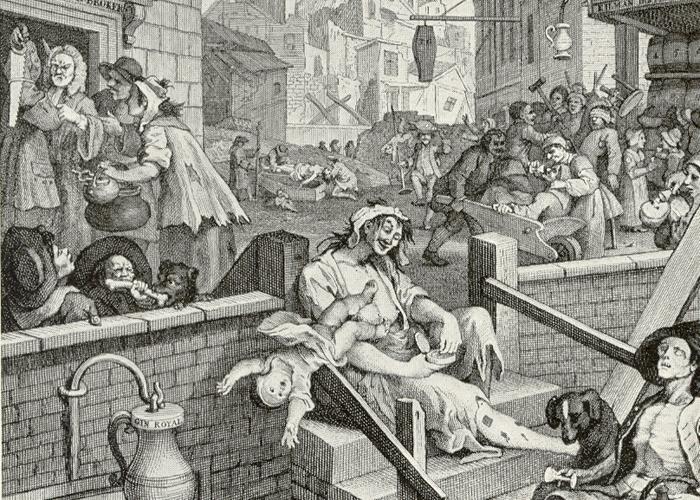 THE SOCIAL EVILS OF DRUNKENNESS
So gin became the staple diet for the poor of London; and the authorities began to worry about effects this was having on the nation as a whole, with soaring crime and increasing death rates both being linked to the insatiable demand for gin and its addictiveness to the lower orders.
As the aforementioned Middlesex magistrates put it, in 1736, "it is scarce possible for persons in low Life to go anywhere or to be anywhere, without being drawn in to taste, and, by degrees, to like and approve of this pernicious Liquor."
The novelist Henry Fielding warned that, if nothing was done to tackle the problem of excessive gin drinking, then there would soon be "few of the common people left to drink it."
THE GIN ACTS
From the 1729 onwards, Parliament had attempted to cut the flow off at the source by passing a series of Gin Acts, aimed at restricting the production of gin.
However, these proved largely unsuccessful until, in 1751, they passed an Act which encouraged 'respectable' gin selling by requiring licensees to trade from premises rented for at least £10 a year.
Thereafter, gin consumption began to drop dramatically and, within a decade or so, the "gin craze" began to diminish and the country awoke from a forty-year bender with an almighty hangover.
RESPECTABLE DISTILLERS
As the 18th century gave way to the 19th century, "respectable" distillers, such as Langdale's, J & W Nicholson & Co, Booth's and Gordon's began arriving in the district, drawn by the ready supply of fresh water that Clerkenwell had always been famed for. here they began producing a clear - and much less toxic liquid - which became known as London Dry Gin.
Traces of their architectural legacy can still be admired around the streets of Clerkenwell today.
THE BOOTH'S GIN FRIEZES
One place where you can admire this legacy is on Britton Street, where a series of five Portland Stone friezes adorn the upper level of the block at number 24 Britton Street, show the various stages of early gin production.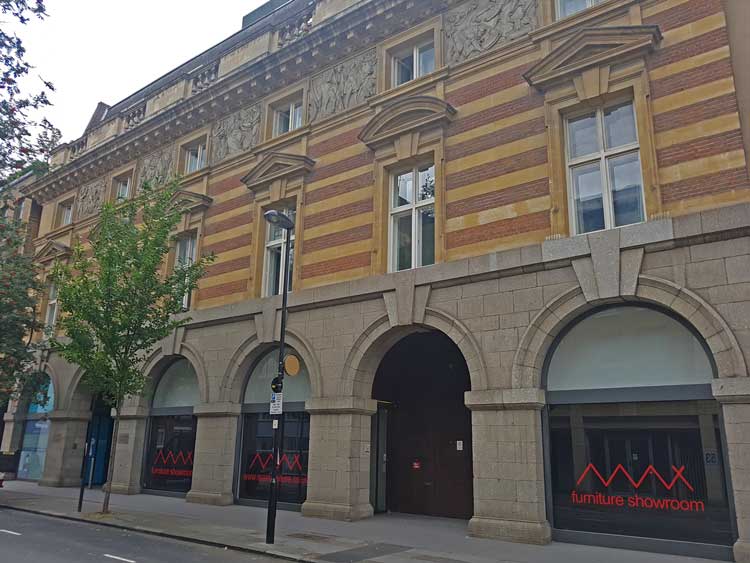 FROM THE DISTILLERY ON TURNMILL STREET
These once adorned the Booth's gin distillery, which, for close on two hundred years, was associated with nearby Turnmill and Cowcross streets.
The friezes actually date from 1903 when Booth's erected a new premises on Turnmill Street.
THE FRIEZES IN CLOSE UP
Here they are in close-up as they appear on the building left to right.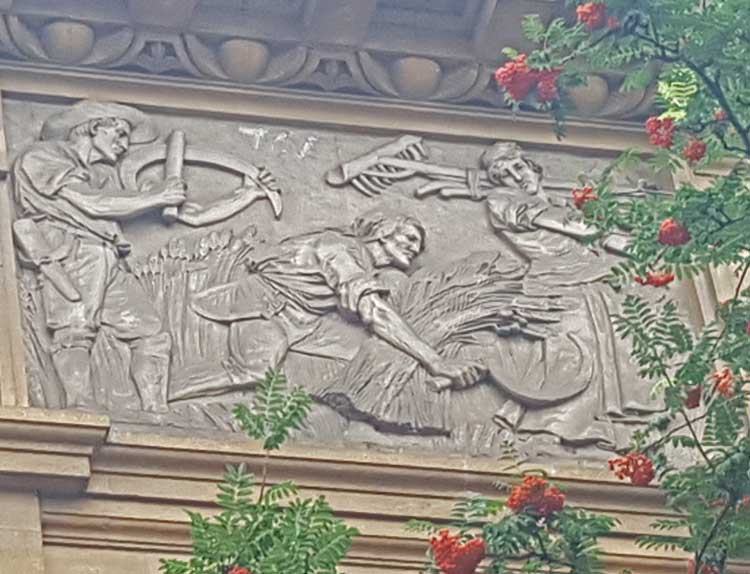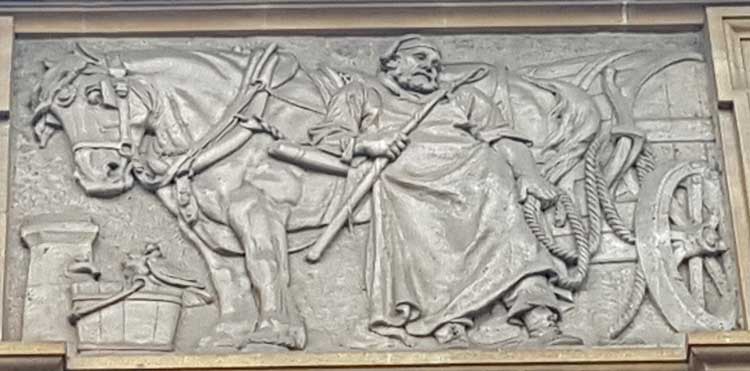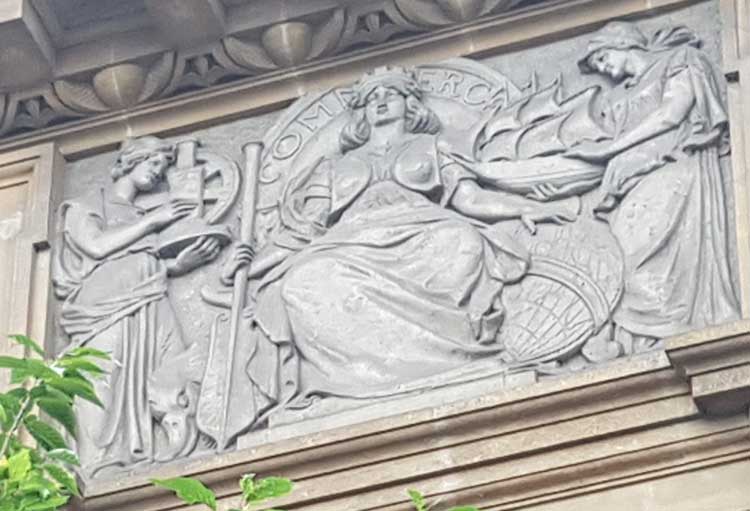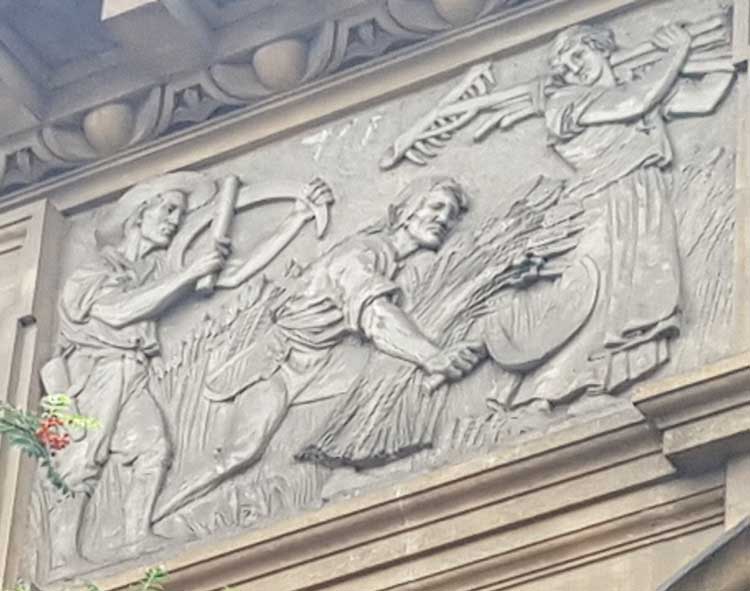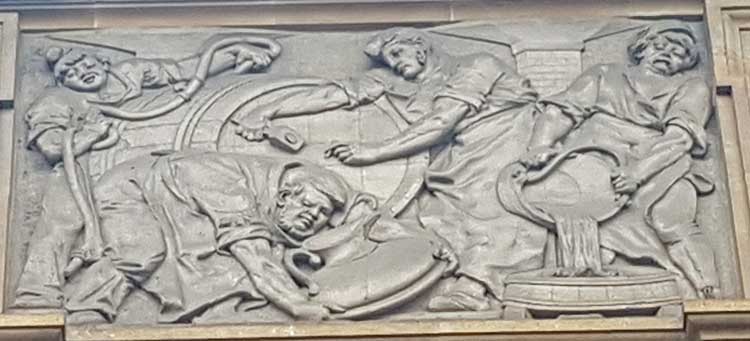 MOVED HERE IN 1976
When that building was demolished, in 1976, the friezes were moved to their current location on Britton Street, and here they remain, proud reminders of a long-gone past, when Clerkenwell was the centre of production for a drink that has a decidedly unsavoury history; and which, given that its 19th century incarnation became known as "Mother's Ruin", continued to afflict the lives of those who quaffed it long after its infamous 18th century heyday had passed.
Down the hatch!