As you head East from the City of London, you encounter some of the Capital's most intriguing streets.
Until recently the streets of Shoreditch, Spitalfields and Whitechapel were barely known to outsiders, and few Londoners, let alone visitors, dared to penetrate their warren like complexity.
Nowadays, this is a positively thriving part of London and it boasts a rich array of wonderful curiosities that range from intriguing street are to artifacts that are associated with both Jack the Ripper and the Elephant Man.
---
THE ERASMUS WIND VANE
The Whitechapel Gallery, 77-82 Whitechapel High Street, E1 7QX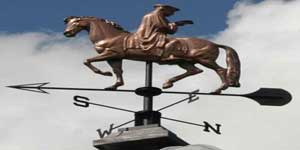 Look up at the cupola that surmounts the Whitechapel Gallery and you will see a striking weathervane that shows a man sitting backwards on horseback holding a book.
He represents the 16th century scholar Erasmus and was created in 2008 by the Canadian sculptor Rodney Graham.
---
THE WRONG ABBEY ROAD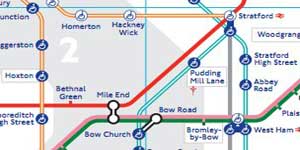 Since 1969, Beatles fans from across the Globe having been flocking to the iconic pedestrian crossing in St John's Wood that was featured on the Abbey Road album cover. But them, in 2011, a new Abbey Road DLR Station opened in West Ham, East London and, inevitably, fans began turning up at the wrong Abbey Road!
---
THE FORMER ST GEORGE'S MORTUARY
St George In The East, Cannon St Rd, E1 0BH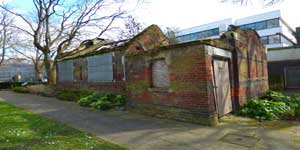 In the grounds of the church of St George In The East you will find a dilapidated brick shed.
In the 19th century this was the local mortuary and one of Jack the Ripper's victims was brought here on the night of her murder.
---
THE WIDEGATE STREET BAKERS
12 Widegate St, London, E1 7HP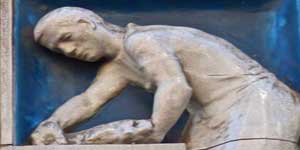 A few minutes walk from Liverpool Street Station you will find Widegate Street.
At first glance, there does not seem to be anything here to hold your attention. But, if you look up at the facade of the building at numbers 12 - 13, you will see a set of sculptures of Bakers.
They were created in 1926 by the sculptor, Philip Lindsey Clark.
---
THE DAREN BREAD GHOST SIGN
Stepney Green, London, E1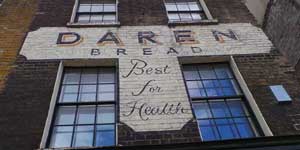 On the wall of a building on Stepney Green, in East London, you will see a sign that advertises Daren Bread.
Although forgotten today, Daren Bread was a household name in the early 20th century, and adverts for it extoled its health giving properties.
---
THE ALFRED HITCHCOCK MOSIACS
Leytonstone Underground Station, London, E11 1HE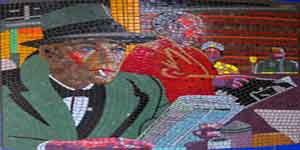 As you leave or enter Leytonstone Underground Station you will see a series of very colourful mosaics on the walls of the corridor into and out of the station.
They remember the film director Alfred Hitchcock, who was born in Leytonstone in 1899.
---