A JOURNEY INTO BYGONE LONDON
London is a city of surprising encounters.
You turn a corner, expecting to find nothing in particular, when, suddenly, a whole vista onto the past opens before you - eliciting the time honoured response of, "Well, I never thought this would be here!"
In essence, that is the theme of this walk. Surprising you and fascinating you with so many WOW moments that you'll be wowing for days to come.
WE BEGIN WITH A TRUE WOW MOMENT
The tour sets off for a short stroll along a truly historic thoroughfare, lined by modern eateries and drinkeries - those ubiquitous coffee shops and sandwich emporiums that can be found on just about any main road, in any city, in any part of the world - but then, suddenly, we turn a corner and WOAHHH!!! - a curious old building rises over us, one that dates back to 1764.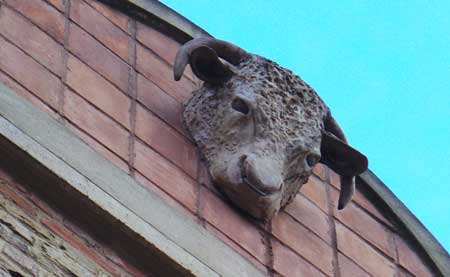 Or, as the Evening Standard put it, "Down a narrow lane, near Smithfield market, nestles London's best kept secret."
The old signs, advertising bygone traders that may have occupied the premises, are still there to be savoured, at least they are for those who know where to look - and, wait, why are all those cows heads staring down at us from the upper gables?
All will be revealed.
WHAT'S BATMAN DOING HERE?
Having gorged our curiosity on this vision of the things that have been, the tour takes in a curiosity that never actually was - Gotham Police Station from the Batman films no less!
How so?
Well, you'll hear all about it on a section of the walk in which the film makers art of make-believe meets the tour guides art of making you believe.
The tour then delves deeper into London's past as we Na na na na na na na na our way through some fascinating old streets.
AN OLD MEDIEVAL GATE
Then, as if from nowhere, KAPOW! - another remarkable relic suddenly confronts us, in the form of an old medieval gate that has witnessed the comings and goings of daily London life for nigh on six hundred years.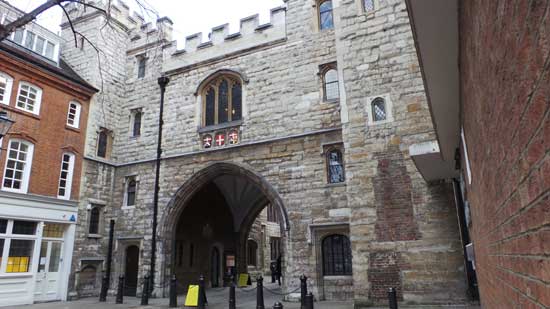 This remarkable survivor appears to have wrapped itself in a cloak of invisibility that has enabled it to ward off the advances of the property developers, who began moving in on its neighbours from the mid-19th century onwards.
There's so much to tell you about this old gate. You'll learn of its connections with William Shakespeare and Dr. Samuel Johnson. You'll hear tales of ancient monks and crusading knights. You'll hear about the days when it looked out onto a rural landscape in which parish clerks once came to practice archery and to which Dickens sent Oliver Twist on a mission that would result in his temporary rescue from the clutches of Fagin.
All in all, this stop will prove a true eye opener onto bygone London, and the wows will just keep on coming!
A TIME TUNNNEL TO MORE WONDERS
Having set the bar almost impossibly high with our first two stops, we set off to explore a tiny, timeless passageway, that echoes with the footfall of history.
Its flagstones slope at odd angles, its crumbling brick walls simply must have borne witness to many a nefarious deed. It is almost impossible to believe that this atmospheric little snickleway has managed to survive the march of time; but survive it it has and it will be our conduit to more historical surprises.
How about an old tavern, that is furnished as it would have been in the 18th century?
Or, perhaps, a terrace of perfectly preserved 18th century properties?
Might we tempt you with a visual snifter, as you look up at some of the curious reliefs that adorn the walls of a famous old gin distiller's former premises?
You will see all these, and more besides, as we wend our way through the historic streets of an area that has proved itself an adept survivor.
But, Richard won't just point these buildings out and move on.
He will people them with those who have lived in them, those who knew them, those whose stories breathe fascinating life into the streets around them. After all, it's people that make history, not bricks and mortar.
SECRET LONDON GETS MORE SECRETIVE
And so, having crossed over one of London's underground rivers - you won't actually know that you've done so, so Richard will ensure that he informs you of the exact moment when you are doing so - we move, seamlessly, into our next hidden enclave of historic London.
We will, in fact, be wandering over the site of the former gardens of a powerful prelate - gardens that long ago disappeared beneath a covering of paving stones and asphalt.
And yet, history, like nature, can prove incredibly resilient. Its tenacious roots run deep in this area, and from its germ have grown more hidden wonders that will surprise, astonish and fascinate you.
BLEEDING HEARTS AND DIAMOND GEEZERS
We begin our exploration by turning into one of London's most curiously named backwaters, "Bleeding Heart Yard."
The origins of the name are, probably, rather mundane; but, local folklore could never let such a name slip by without imbuing its origins with a colorful legend.
So, fasten your seat belts for a rollercoaster of a narrative that will feature the selling of a soul, a masked ball on a storm-tossed night, a mysterious, hooded stranger, a blinding flash of lightning, a distant scream of agonised terror, a hideously gruesome discovery - and then.... well, this chilling tale will conclude at the location where it occurred!
Inevitably, such an exquisite name drew the attention of Charles Dickens, and you'll hear of how he featured it in Little Dorrit.
Moving on from tales of devils and debtors, Richard will demonstrate that his walks can encompass contemporary events, as we drill into London's more recent history with a visit to the exterior of the Hatton Garden Safe Deposit Company, scene of one of Britain's largest and most audacious ever heists in April 2015.
SAVING THE BEST FOR LAST
By way of two charity children, that gaze down onto passersby below from an upper storey of a building that was, reputedly, the work of Sir Christopher Wren, the tour moves into its latter stages.
Now, given you'll have seen so many fascinating and surprising locations on this journey through London's hidden history, it might seem impossible to believe that what has gone before can be topped by what's yet to come.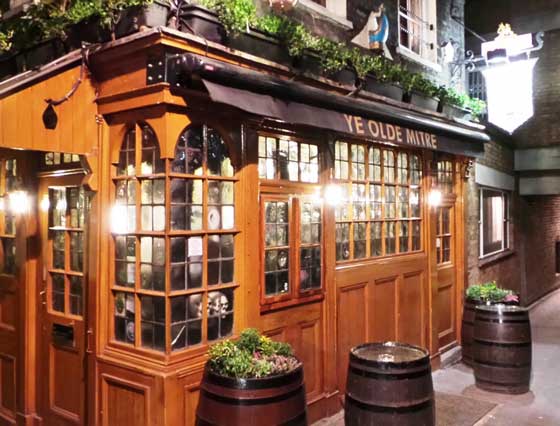 But what comes next really is a wonderful final section of a tour that is made up of wonderful sections.
There is, amidst the bustle of Hatton Garden, a mysterious, gated passage that is oh so easy to miss.
But, to miss it would be a great pity, as, when you step into it, you find yourself suddenly transported back to the 16th century.
Here you will be confronted by a tiny little hostelry that dates from the 1540's, in a beveled window of which you will catch a glimpse of a curious relic that Elizabeth 1st, supposedly, once danced around!
How's that for surprising?
A QUICK VISIT TO CAMBRIDGESHIRE
We then force our way through an even narrower section of the passage to squeeze past an ancient device that was intended to keep unsavoury characters out of the tour's final location, a delightful 18th and early 19th century enclave that was once part of Cambridgeshire.
Say what?
Yes, until relatively recently - in historical terms at least - these hidden houses once came under the jurisdiction of Cambridgeshire.
How this came about - together with some of the curious customs resulting from it - will make for a terrific penultimate stop on the Hidden London Tour.
A FINAL SURPRISE FOR A GRAND FINALÉ
Our final destination will be London's oldest Catholic church - a true surprise if ever there was one.
Why is it so surprising?
Well, for one thing, it is so hidden away that its a surprise anyone can find it to attend services!
For another, it has origins that stretch back into the foggy mists of time, when its surroundings were made up of lush pastures famed for their strawberries - at least that's what Shakespeare thought.
And, for one last surprise, despite the fact that, over the course of the tour, you'll have made twists and turns that will have completely disorientated you, you'll actually be a mere five minutes walk from the spot at which the tour began.
A FASCINATING TOUR IN A GREAT AREA
So, if you want to visit timeless and hidden locations at which London's past springs vividly to life; if you want to enjoy a little short of two hours uncovering historical gems and discovering fascinating facts and snippets of information; if you want to find places to which you will, most certainly want to return to in the future; then join Richard Jones for a voyage of historic and entertaining discovery as he leads you through the streets, alleyways, passages and courts of hidden London.