RICHARD JONES -BLUE BADGE GUIDE
Richard Jones conducted his first guided walking tour around London in June 1982 and, since then, he has built up a solid reputation for devising and operating creative tours that offer quality and reliability in equal measure.
Indeed, when Richard set out on that first walk, over 32 years ago, he was one of the youngest guides in the tourist business.
Many years have now passed, but Richard has never lost his enthusiasm for his subject, nor his love of London, and many of those who join his walks comment on how his passion for what he does really shines through.
He devotes a great deal of time to research, and, as a result, has acquired an encyclopedic knowledge of the City's past and present and this, coupled with his boundless enthusiasm, ensures that, when you join him for a walking tour of London, you are guaranteed an enjoyable and entertaining experience.
AUTHOR AND BROADCASTER
Richard is also the author of over twenty books that cover a wide diversity of people and subjects, such as Charles Dickens, historic London, Jack the Ripper, myths and legends and haunted Britain.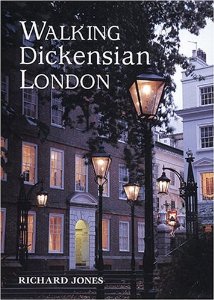 Many guides, when preparing their own tours of London, often use Richard books for research, a testimony to the respect in which he is held by many of his guiding colleagues. In fact, his book Walking Dickensian London is actually used for the literary segment on the course for the training of new guides in London.
One of his proudest moments was when his childhood hero, the renowned actor Sir Tom Baker, agreed to write the forward for his 2011 book Haunted Britain.
In addition to his writing output, Richard makes regular appearances on international television as an expert interviewee on subjects that have included the Norman Conquest of 1066, the depiction of giants in folklore and legend, Jack the Ripper, Dick Turpin, Charles Dickens and Harry Potter. Between 2003 and 2005 he was the historian on Living TV's cult show Most Haunted Live.
In 2010 he worked with legendary actor Sir Donald Sinden on his series of films on Great West End Theatres, for which he was given unrivalled backstage access to some of Theatreland's most historic establishments.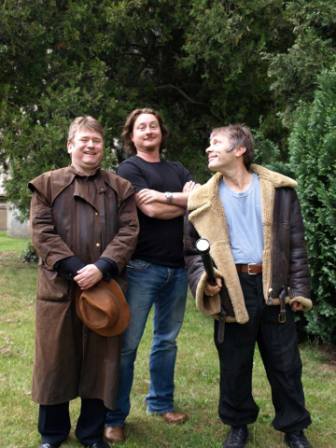 In June 2012 he presented segments for the Travel Channel's Hidden London Special and, in 2013, he guided Rory Bremner around Dickensian London for the programme Rory Bremner's Britain. He also appeared on Channel 4's Find My Past Charles Dickens special.
He has appeared on programmes alongside Vic Reeves, Michaela Strachan, Iron Maiden front man Bruce Dickinson and, on one notable occasion, he even took the group Green Day around on their own private Jack the Ripper tour.
In addition he has also written and presented two acclaimed documentaries, Unmasking Jack the Ripper and The Man Who Murdered Sherlock Holmes.
His Jack the Ripper documentaries drama/documentary has been hailed as "the best" and are used by many UK schools as part of their GCSE history syllabus. You can, if you wish, now watch his documentaries here.
A WALKING TOUR PIONEER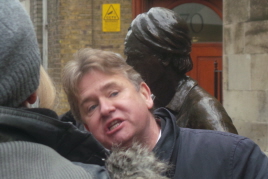 But Richard's main passion has always been the guided walks he devises and guides around the streets and buildings of historic London.
Indeed, when it comes to walking tours, he has always been something of an innovator and he was the originator of several tours that are now staple offerings by almost every sightseeing tour company in London.
In 1988, for example, he conducted the first ever tour of Beatles London; he was the first guide to offer Jack the Ripper Tours seven chilling nights a week; and his Secret London tour still delights people from all over the world, just as it did when he first led it, way back in 1984.
A QUALIFIED BLUE BADGE TOURIST GUIDE
Richard is a fully accredited Blue Badge Guide, the highest qualification that can be awarded by the Institute of Tourist Guiding, which is the governing body for guides in the United Kingdom.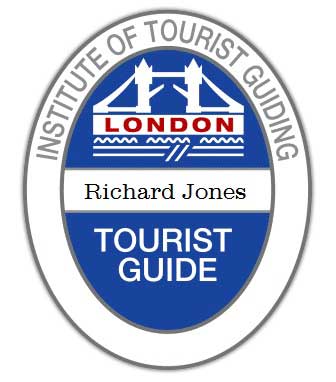 To gain this illustrious, and internationally respected, qualification candidates must undertake an in depth course of study that lasts almost two years, after which they must take a series of rigorous practical and written exams, which are designed to test their knowledge, competency and presentation skills.
Successful candidates are truly the crème de la crème of the guiding industry.
Indeed, a mark of the esteem in which Blue Badge Guides are held is the fact that they are the only external guides who are permitted to guide inside the Tower of London, St. Paul's Cathedral, Westminster Abbey, the Houses of Parliament and Windsor Castle.
However, Richard isn't just a proud holder of this sought after qualification, he is also a lecturer on the course for training new guides.
HE NEVER FORGETS YOU HAVE A CHOICE
One thing that Richard never loses sight of is that those who join him for a tour have a huge number of walking tour guides to choose from and, to that end, he will always endeavour to make every tour he does his best yet.
He'll always chat with you as you go round, and you'll, most certainly, find him friendly and affable.
He'll ensure that everyone can hear him and that, should you wish to, you'll have plenty of opportunities to sit down and rest.
In fact, he will go that extra mile (so to speak) to ensure that not one second of the time you give to exploring London with him is wasted, and you'll end your tour not only having learnt a lot, but having seen a lot as well.