Selected Sundays
11.45am
Outside Hampstead Underground
AND NOW FOR SOMETHING COMPLETELY DIFFERENT
CLICK HERE FOR DATES AND TO BOOK YOUR PLACES
Do you fancy a walk in a country village but don't want to stray too far from the heart of the town? Well, here's the perfect compromise. Join us for a delightful stroll through Hampstead, London's exquisite hill-top hideaway.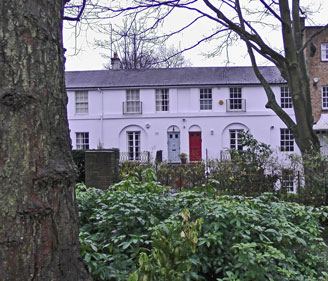 Although just a few miles away from the busy centre of London, Hampstead is unique in appearance, ambiance and history, and to explore its cobbled lanes, to gaze upon its picturesque residences, or to take in the jaw-dropping vistas afforded by its breezy heights, are experiences devoutly to be wished.
It is, put simply, London's most villagey village, and its timeless streets boast a myriad of understated attractions that range from atmospheric olde world pubs, to historic houses, to one of the most gloriously picturesque churchyards you could ever wish to encounter.
Add to all this, the awe-inspiring wilderness of its wild and untamed heath, and you have the ingredients for a truly memorable walking tour through a magical enclave that is so brim-full with places of interest that you'll most certainly want to return again, if only to be 100% certain that you actually did see those things you thought you saw on your first visit.
FAMOUS RESIDENTS PAST AND PRESENT
As we explore, we'll be walking in the footsteps of some truly illustrious figures, and your guide will regale you with intriguing facts and salacious gossip about various titans of stage, page, screen and rock who have walked, and who still do walk, the streets we are strolling through. Indeed, the roll call of those who, over the centuries, have sought respite in its sylvan lanes reads like a Who's Who of the Who's Who!
Elizabeth Taylor, Daphne Du Murier, D.H.Lawrence, H. G. Wells, John Galsworthy, George Orwell, Judy Garland, Sigmund Freud, Peter Cook, Lord Alfred Douglas, Dick Turpin, Robert Louis Stevenson, P. L. Travers and Peter O'Toole, are just a few of those who have either lived in the houses we will pass, or who have paid a visit to this leafy haven.
Some of them spent their formative years here, some of them moved here to enjoy the fresh air, whilst others retired here to ebb out their twilight years in a village that is perfect for ebbing out one's twilight years in.
Meanwhile, the likes of Sting, Michael Palin, Ricky Gervais, Ringo Starr, Boy George, Jonathan Ross, Judy Dench, Emma Thompson, Jeremy Irons Liam Gallagher, Helena Bonham Carter, Alan Bates, Ridley Scott, and George Michael are just a few of the famous faces that you might well have encountered in the streets of Hampstead in more recent years.
A STROLL ALONG THE HIGH STREET
Our walk around Hampstead begins with a delightful stroll along the village High Street where no fewer than 18 Grade 11 listed buildings will form a welcoming guard of honour to line our way.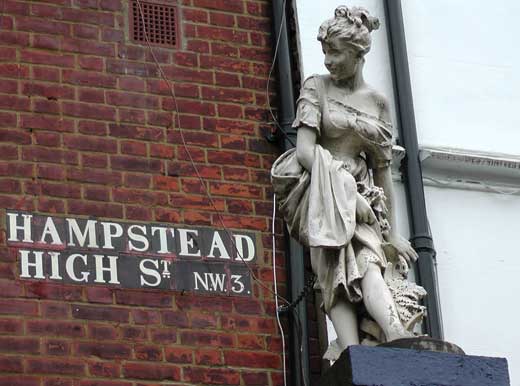 The High Street itself is, at first glance, not that special. You have to give it time to sink in and allow your gaze to penetrate the obvious and the immediately apparent. As it does so, you start to notice things. Little but curious things and, as you focus on them, it will begin to dawn on you that there's much more to this place than meets the eye.
For, behind the splendid shop fronts, purveyors of the quirky and the unusual vie for attention with the more mainstream, international brands, whilst an array of independent butchers, bakers, florists and artisan retailers hide away in the curious little alleyways that we catch tantalising glimpses in to as we descend the High Street.
As you walk, you'll most certainly be making mental notes about which of the shops and eateries you'll be returning to, once your tour has been completed.
A HANDSOME 18TH CENTURY PROMENADE
Then, via a twisting medley of back lanes - and having strode beneath the antiquated bracket of a gas lamp that is so large it's a wonder it hasn't brought its supporting wall toppling down into the street - we find, laid out before us, one of London's most exquisite 18th century promenades.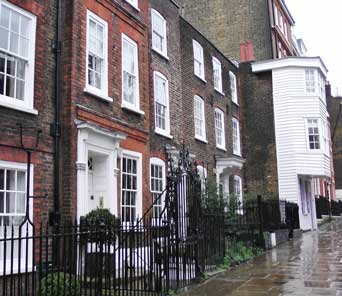 Church Row, the graceful sweep of which encompasses a stunning view of the parish church of St John's, is as delightful a blend of old world properties as you could ever wish to encounter.
Its eclectic mix of red, brown and dark brick, interspersed with white weatherboard façades, is still much as it appeared to William Makepeace Thackeray's daughter, Anne, when she described it as "...an avenue of Dutch, red-faced houses, leading demurely to the old church tower that stands, guarding its graves, in the flowery churchyard..."
ST JOHN'S HAUNTINGLY BEAUTIFUL CHURCHYARD
Having taken in the wonders of Church Row, we duck in through the gates of St John's Church to delve into the dark corners of the hauntingly beautiful churchyard - the oldest surviving unspoiled churchyard in Greater London no less.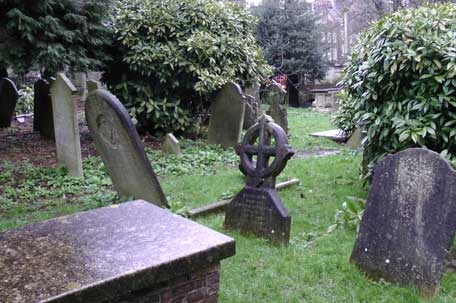 It is a truly special and magical place, more reminiscent of a country churchyard than of a London graveyard.
Twisting our way along the earthen paths, that snake through a jumbled tangle of foliage, flora and fauna, we will pause beside some of the timeworn tombstones that lean awkwardly across the final resting places of a motley mix of Hampstead's famous and forgotten one time residents.
The artist John Constable, clockmaker John Harrison (he of Longitude fame); the Lewelyn Davies boys who inspired J M. Barrie's creation of Peter Pan; Gerald Du Murier, the first actor to play Captain Hook; actress Kay Kendall, and surgeon and body snatcher Joseph Jordan, are just a few of the famous figures who rest in the parish burial grounds that straddle both sides of Church Row.
We'll then explore the 19th cebtury overspill curchyard to see the final resting places of, amongst others, the "Lost Boys" who inspired J. M. Barrie's evergreen creation Peter Pan, and of the actor/manager who first played Captian Hook on stage.
A SHARP ASCENT AND THE MONSTER OF HAMPSTEAD
Having made the acquaintance, so to speak, of many of the famous, the almost famous, the not so famous, and the not at all famous, permanent inhabitants of this extraordinary necropolis, we will launch ourselves at the lower slopes of the incline of one Hampstead's many hills.
As we ascend its sylvan slope we will pass several delightful little offshoots in the concealed corners of which the everyday life of Hampstead has been going on year in year out for centuries.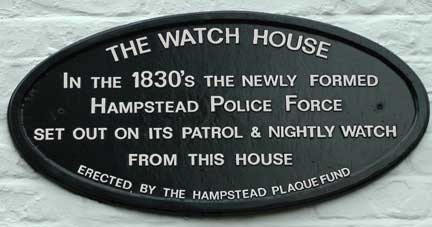 We will pass a line of picturesque cottages, one of which was home to Dame Judy Dench for many years. A little further up we will pass another lovely church where the man whom Winston Churchill dubbed "The Monster of Hampstead" used to worship, and further still we will pass the headquarters from which the first Hampstead Police Force set out in the 1830's to ensure that any roving ne'er do wells ne'er did well in the streets, lanes and alleyways of the village.
Having arrived, panting and breathless, at the summit of the hill we will pause to draw breath outside the very house where Robert Louis Stevenson lodged on several occasions. Contemplating the sheer loveliness of our surroundings we will ponder his comment that "Hampstead is the most delightful place for air and scenery in London. I cannot understand how the air is so good, it does not explain itself to me."
THE VILLAGE LOCAL AND A STUNNING VIEW
But the climb, which, don't worry, will have been at an extremely gentle pace, with regular stops to take in points of interest, will have been truly worthwhile, because here, where the hill crests, you will find some of Hampstead's true treasures and, for the next stops, points of fascination will come at you from every angle.
Dipping into a picturesque back lane, we will encounter the village local, the Holly Bush, a true throwback to bygone village life that has hardly changed in over a century or more.
Indeed, part of its Olde Worlde interior are still lit by gas lamps. So you'll no doubt want to come back just to sample the atmosphere, and when your guide has filled you in about the pub's fascinating history, well, you'll most certainly be back to mingle with the memories of such illustrious historical figures as Dickens and Dr Johnson, to name but two.
However, this little cul-de-sac has another surprise in store.
For, having traipsed past the charming cottages that line it, we pause at its end to gaze out across one of the most amazing vistas imaginable. To our right, will be the tower of St John's Church - and the fact we're level with the tip of its spire will be testimony to the climb we've just made! - below us are the rooftops of Hampstead, and before us, in the distance, a truly arresting perspective of the City of London skyline.
'COR BLIMEY ITS MARY POPPINS
Having taken in this stunning view, we delve further into the backwaters of leafy Hampstead passing the homes of an illustrious cast of residents, both past and present.
A Spice Girl, the portrait painter George Romney, the poet and dramatist Joanne Baille, author John Galsworthy, the cartoonist George Du Murier, the architect George Gilbert Scott, the artist John Constable, and a major Hollywood film director are just a of residents whose bygone and current dwellings we will stroll past.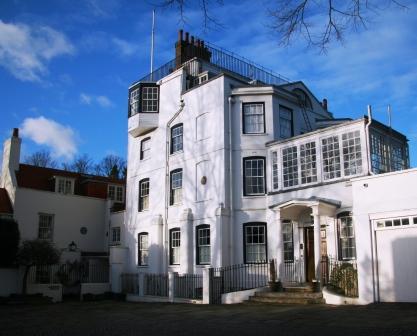 And, given that we will have already encountered the final resting places of a few of them - the bygones, not the currents - in St John's Churchyard, this part of the walk will be like re-acquainting ourselves with old friends!
We'll even stand outside the grand former home of Lieutenant Fountain North, a name that might not be immediately familiar to you, but his habit of firing a cannon from his roof to celebrate royal birthdays and British Naval victories may well ring a bell (as it, no doubt, did in the ears of his neighbours!) since it inspired P. L. Travers to have Admiral Boom do likewise from the roof of his house in Cherry Tree Walk in Mary Poppins.
HAMPSTEAD'S WILD AND UNTAMED HEATH
But, the true glory of Hampstead is, without doubt, its magnificent Heath - 800 acres of glorious wilderness that has been a tourist attraction in its own right for over 140 years.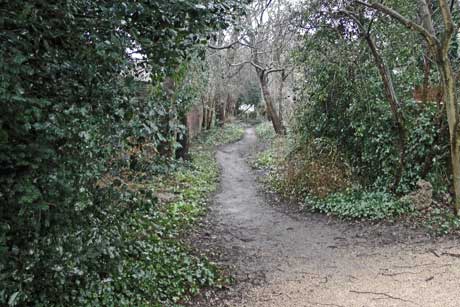 And so, weather permitting, we'll strike out across its outer edges to take in the views and to breathe in the energising heathland air.
And, as you go, your guide will pause to tell you something of its history. Of how, in times of plague Londoners would flee here to escape the disease ridden streets of the City below. Of how, at these times of pestilence, judges would hold court on what is still known as Justice Walk in their memory. Of how highwaymen and cutpurses once lurked hereabouts, appearing, as if from nowhere, to relieve unwary wayfarers of their money or even their lives. Of how its untamed splendour provided inspiration to artists, such as Constable, Romney and Hogarth; writers, such as Dickens, Leigh Hunt and Bram Stoker; and poets such as Byron, Shelley and Keats, whose house you may wish to visit once the tour has ended, subject, of course to its being open.
ODE TO A NIGHT IN JAIL!
Having crested the windswept heights of the Heath, we will begin our descent back down towards the village, passing a myriad of fascinating locations.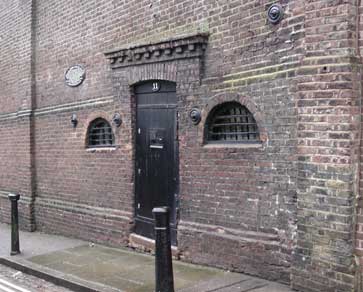 You will see the plaque, that shows you that, the spot you are standing on, is in fact level with the tip of St Paul's Cathedral.
You will pass one of the many former homes of Richard Burton and Elizabeth Taylor; and a line of pretty early 19th century cottages that would be more at home in a secluded country village. You will also stand outside a childhood home of Daphne Du Murier, now on the market for a cool £32!
And, as if all this weren't reward enough for the effort of having traversed the slopes of Hampstead, we'll even pause outside the 18th century parish lock up, where prisoners were once incarcerated overnight, awaiting removal to a more substantial place of detention.
'APPY 'AMPSTEAD AWAY FROM IT ALL
Hampstead has always been a magnet to the famous, the fashionable, the bohemian and to those who simply recognised its exquisite lanes, grand houses and unrivalled vistas as the perfect environment in which to get "away-from-it-all".
But, in the 18th century, it found a new lease of life when, for a time, it became famed as a spa resort and, as a result, fashion conscious Londoners flocked here to see and be seen as they took the waters.
Thus, the last section of our tour is dotted with reminders of its days of glory, such as the chalybeate Well, and two delightful pubs, The Wells Tavern, and The Flask both of which came in to being to cater to the needs of those long ago tourists, and both of which still offer a warm welcome today.
But then, in the blink of an eye, we find ourselves back on the High Street where our walk draws to its conclusion.
Here, you can visit those places that you made a mental note of earlier, or your guide will be happy to make suggestions as to other things you might like to do that will help you round off your visit to Hampstead in suitable fashion.
YOU'LL MOST CERTAINLY BE BACK!
But, although the tour itself will be over, and you will have bid a fond farewell to your guide and fellow walkers, your love affair with Hampstead will have only just begun.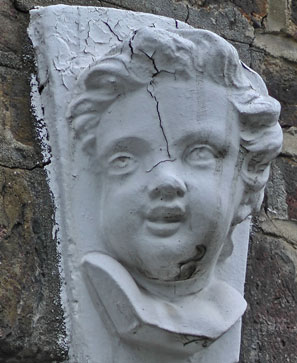 For, when you have wandered through its picturesque lanes, or walked with the titans of art and lieterature along its grand 18th century promenade.
When you have looked upon its pretty cottages, or gazed in awe at its grand houses.
When you have delved into the cubbyholes and corners of its tranquil churchyard, or felt the breeze on your face as you traipse across the windswept tussocks of Hampstead Heath.
When you have raised a tankard in one of the atmospheric village pubs, or ducked in through the low doorway of a curious little shop.
Then will you find yourself falling under a spell that has been drawing people to Hampstead for hundreds of years and, just like those who came here before you, you too will want to return to experience the secret places and the hidden treasure of the village that has been, justifiably, hailed as "The Jewel in London's Crown."