A HALLOWEEN GHOST WALK LIKE NO OTHER
It's Halloween, the ghostliest of ghostly nights - the night when the veil that separates this world from the next is at its thinnest, and just the slightest breeze might cause it to tear, allowing the phantoms of bygone London to cross over, and walk once more the places that were dear to them in life.
There's no night like this night for telling spooky stories.
And, there's no better guide to explore with than Richard Jones, the doyen of the darkness - a committed storyteller who knows just how to bring those stories to eerie, entertaining and creepy life.
So join London's undisputed Master of the Macabre, as he leads you into dark alleys, ancient churchyards and hidden courts to seek out the places where the City's ghosts are known to lurk.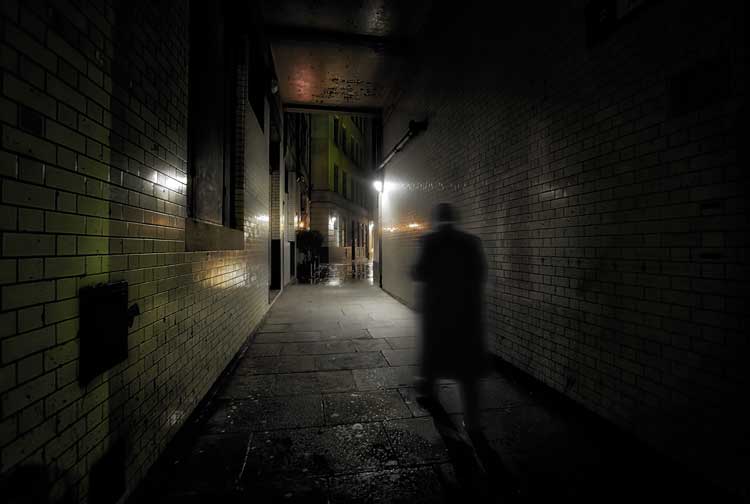 GHOSTS APLENTY AWAIT
Even the station at which the Halloween tour begins has a long history of haunted happenings to get your night off to a goosebumpingly spine-chilling start.
Workmen, labouring away in its darkest recesses in the early hours of the morning have been known to find that they are suddenly confronted by.........
Well, you'll hear the full story as you prepare to set off into the haunted hinterland of spectral London.
TWISTS AND TURNS
The introductory spooky tale over, the ghost walk then sets off into a netherworld of old, old alleyways in which the atmosphere is such that all manner of dark entities could so easily be lying in wait.
And, boy-oh-boy, are there some foreboding entities lurking in the shadows of these time-locked thoroughfares.
Devilish demons, assorted apparitions, and restless revenants abound.
You'll get the chance to photograph the ink-black window of one of the City's most historic hostelries from which a spectral something has been known to look down on passersby below.
You'll gaze up at the eerie tower of an ancient church inside which one of London's oldest hauntings occurred way back in the foggy mists of the City' haunted past.
You'll enter a tumbledown churchyard to hear one of Richard's eeriest tales, concerning the long ago death of a former parishioner whose eternal rest was rudely interrupted by the arrival of.....
You'll learn the full story at the exact spot at which the events described occurred - and, be warned, it is not a story for the faint of heart!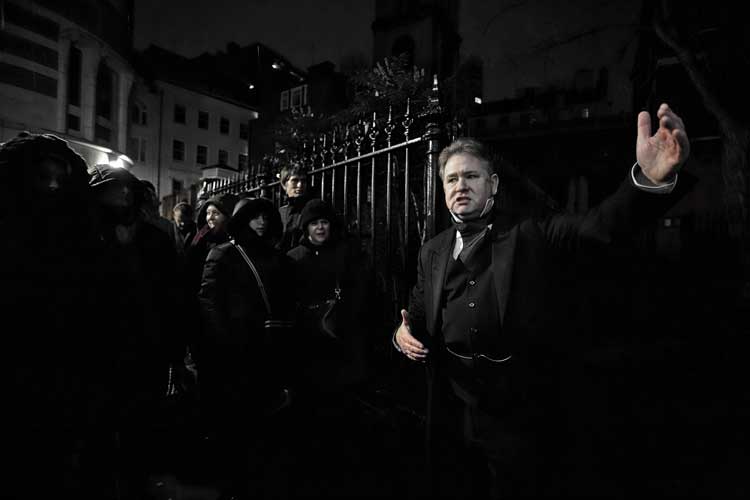 HAUNTED COURTS AND HISTORIC ALLEYWAYS
The Halloween ghost walk will then delve deeper into the ethereal underworld of the historic City to take you through a veritable labyrinth of courtyards and alleyways, some of which are so besmirched by the horrors of events that they have witnessed that you will just sense the darkness close around you as you enter them.
The art of the ghost story teller really comes into its own in these places, as Richard's narratives will both fascinate and frighten in equal measure.
You'll hear of the fearful feeling of foreboding that has been known to engulf some of those who cross the threshold of a particular alleyway.
You'll look up at one of the City's most magnificent and historic buildings, and hear of the ghostly encounters that some of those who work inside it have experienced.
And, if the possibility of either of those potential encounters are insufficient to tempt you to explore the dark alleyways of haunted London, then how about the chance to visit the spot where unsuspecting wayfarers have been known to feel icy fingers stroke the backs of their necks, as the ghostly voice of an invisible entity whispers their name?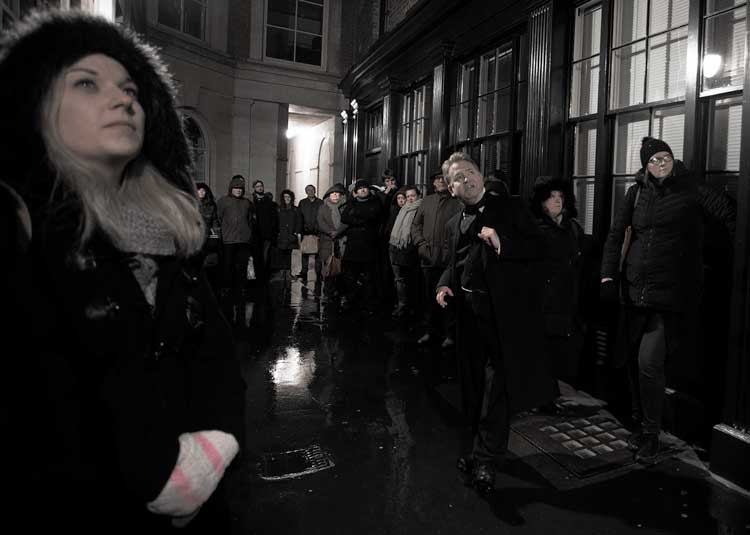 A SUITABLY HAUNTED FINALÉ TO A HAUNTING EVENING
And, as the hands of the City's clocks, nudge closer and closer to the witching hour, and the Halloween spectres prepare for their annual return to the places they knew in life, Richard will lead you into a final City Churchyard where we will end our evening alongside a grave around which tradition has woven a delightfully sinister tale that features all the elements of a truly great and chilling ghost story.
What better place could there be at which to end a chilling tour through the haunted streets of historic London?
LONDON'S GHOSTLIEST GHOST WALK
So, if you are looking for a Halloween ghost walk that is led by a guide who has written twenty books on ghosts, legends and sinister history, and you want to explore haunted London with a storyteller who is able to set just the right mood - then join Richard Jones's annual ghostly extravaganza - and be prepared to spend a few hours constantly looking over your shoulder!