THE TRAGEDY OF PETER PAN
By 1812 the churchyard of St John-at-Hampstead had become somewhat overcrowded, and it was, therefore, decided that an additional burial ground should be created on the opposite side of the road.
Throughout the 19th and early 20th centuries this overspill churchyard became the final resting place for the mortal remains of many famous Hampstonians (as well as quite a few non-Hampstonians), amongst them the du Mauriers and the Llewelyn Davies's.
THE GRAVE OF GEORGE AND GERALD DU MAURIER
In fact, the grave of George du Maurier (1834 - 1896) and Gerald du Maurier (1873 - 1934) can be seen through the railings from Church Row.
George du Maurier was a Franco-British cartoonist and author, who was known for his cartoons in Punch and for his novel Trilby.
His son, Gerald, was an an English actor and impresario who has the distinction of being the first actor to play the dual role of George Darling and Captain Hook in J.M. Barrie's Peter Pan, or The Boy Who Wouldn't Grow Up, which premiered at London's Duke of York's Theatre, on 27th December, 1904.
Gerald was also the father of the author Dame Daphne du Maurier (1907 - 1989).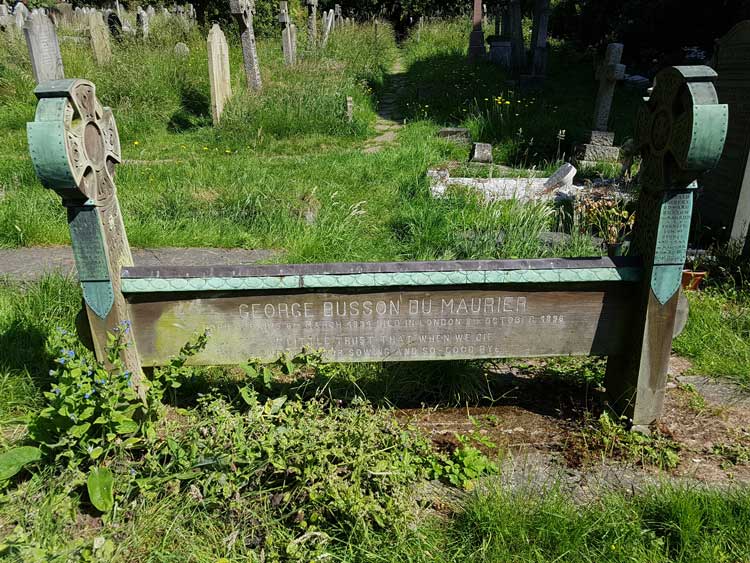 THE LLEWELYN DAVIES FAMILY GRAVE
A few graves along from that of George and Gerald, is the grave of Arthur (1863 - 1907) and Sylvia (1866 - 1910) Llewelyn Davies and their sons, George (1893 - 1915), John, or 'Jack' (1894 - 1959), Peter (1897 - 1960), Michael (1900 - 1921) and Nicholas, or Nico' (1903 - 1980).
Sylvia's maiden name was du Maurier and she was, in fact, George's daughter and Gerald's sister.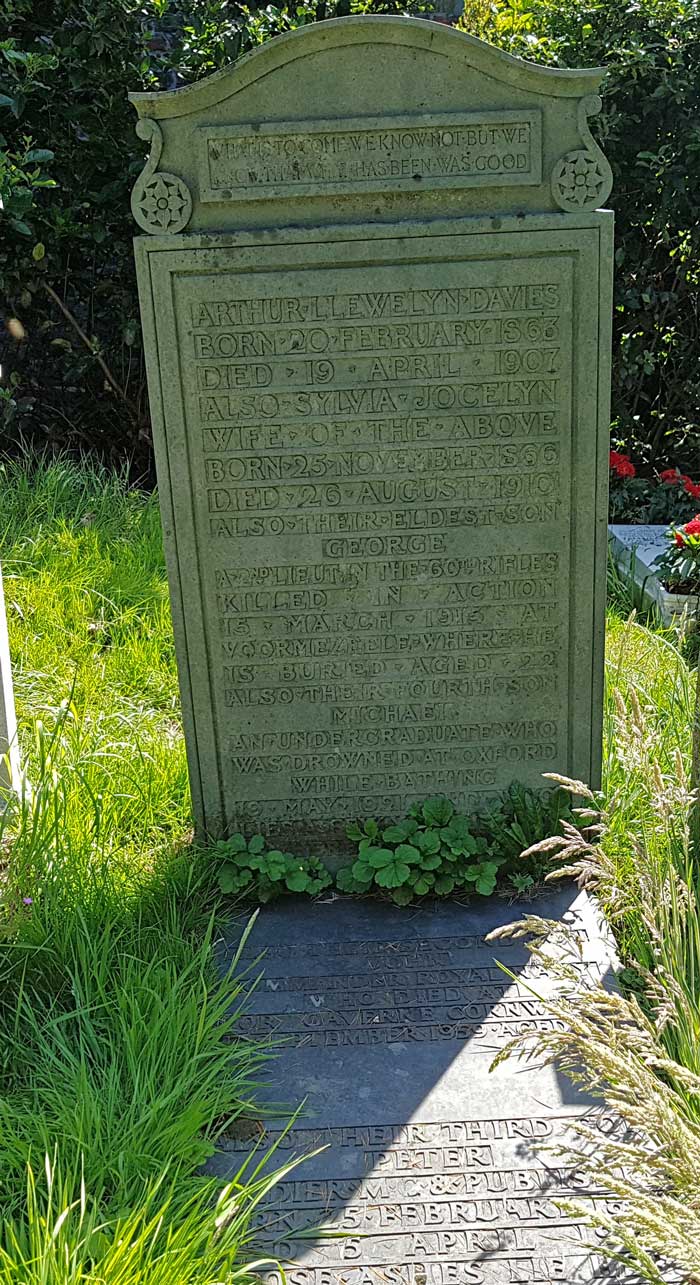 THE LOST BOYS
The boys were brought up in the Paddington and Notting Hill districts of London, and, one day in 1897, whilst out walking in Kensington Gardens with their nanny, Mary Hodgson (1876 - 1962), George and Jack met with and were befriended by the author J. M. Barrie (1860 - 1937), who would become an integral part of their lives, and they of his. They would come to know him affectionately as "Uncle Jim."
The Llewelyn Davies family would become the inspiration for the Darling family and the Lost Boys in Barrie's Peter Pan; and Peter Llewelyn Davies, unwittingly, given he was a baby at the time, would lend his name to the play's central protagonist; although the actual character of Peter Pan was an amalgam of the personality traits of all five brothers, or as Barrie put it, "I made Peter by rubbing the five (boys) together, as savages with two sticks to produce a flame. That is all Peter is - the spark I got from (the boys)."
The family's nurse, Mary Hodgson, was also included in the play as the character Nana, the dog/housekeeper, hired by Mr and Mrs Darling to look after the children.
THE INSPIRATION FOR PETER PAN
The character of Peter Pan was inspired by Barrie's older brother, David, who was drowned in an ice-skating accident in their native Scotland, two days short of his fourteenth birthday.
Their mother was utterly devastated by the loss of her son, and, Barrie tried to comfort her by wearing his dead brother's clothing and by whistling in the manner that he had done.
His mother's only comfort at her loss, was the fact that her dead David would remain a boy forever, and would, therefore, never grow up and leave her.
Referring to the central character in the original programme for the play, Barrie wrote:-
"Of Peter himself you must make what you will. Perhaps he was a little boy who died young, and this is how the author conceived his subsequent adventures..."
THE NAME WENDY
An intriguing bit of trivia is that it was Barrie's naming of the Darlings daughter as "Wendy" that led to that name becoming a popular name for girls in the first sixty years of the 20th century.
The name was inspired by Margaret Henley, the daughter of the poet W. E. Henley (1849 - 1903), who had been a great friend of Barrie's when he had lived in Edinburgh.
Little Margaret idolized Barrie and used to refer to him as "my Fwendy Wendy" - the latter part of which Barrie later bestowed upon his heroine in Peter Pan.
Tragically, Margaret never saw this immortalization of the name she had helped create, as she died in 1894, aged just four years old.
One final piece of trivia concerning the character Wendy Darling.
In the play, on her arrival in Neverland, Wendy is shot by the Lost Boy, Tootles. Peter Pan, and the other, more sympathetic Lost Boys, build a small house around her, in order to protect her whilst she recovers.
This became the origin of the name "Wendy House.".
THE LLEWELYN DAVIES FAMILY
Looking at the family grave in the overspill churchyard of St John John-at-Hampstead, it becomes apparent that the lives of the Davies family (they rarely used the double-barrel Llewelyn Davies surname) were also tinged with tragedy.
The father, Arthur, died in 1907, from salivary sarcoma, whilst the family were living in Egerton.
Following his death, Sylvia brought the family back to live in London, where she contracted lung cancer and died in 1910.
Having ensured that the family were financially secure during the illnesses of their parents, Barrie became one of the boys' trustees and guardians after Sylvia's death, and he continued to provide housing, education, and financial support for them until they were independent.
However, the boys went on to enjoy mixed fortunes.
George was killed in the first World War, in 1915. Michael was drowned, along with his close friend, Rupert Buxton, whilst at Oxford University, in 1921. Having served in the navy during World War One, John, or "Jack", married Geraldine "Gerrie" Gibb in 1917, by whom he had two children. He died from lung disease in 1959.
Nicholas, or "Nico", married Mary James, daughter of Walter John James, 3rd Baron Northbourne, in 1926, by whom he had one daughter.
As the last surviving sibling he was consultant for the 1978 BBC mini-series The Lost Boys. He died in 1980.
AND WHAT OF PETER?
As for Peter Llewelyn Davies. Well, he always resented his connection to his fictional namesake - the boy who never grew up. He was taunted about it whilst at school at Eton, to which he was sent very soon after his mother's death.
In 1940, lamenting the use that Barrie had made of his name, he wrote:-
"What's in a name! My God what isn't?! If that perennially juvenile lead, if that boy so fatally committed to an arrestation of his development, had only been dubbed George, or Jack, or Michael, or Nicholas, what miseries would have been spared me."
You can glean some idea of the frustration that this lifelong association must have caused him from the following press clipping, announcing the birth of his son, which is taken from the Western Morning News of the 21st June 1933:-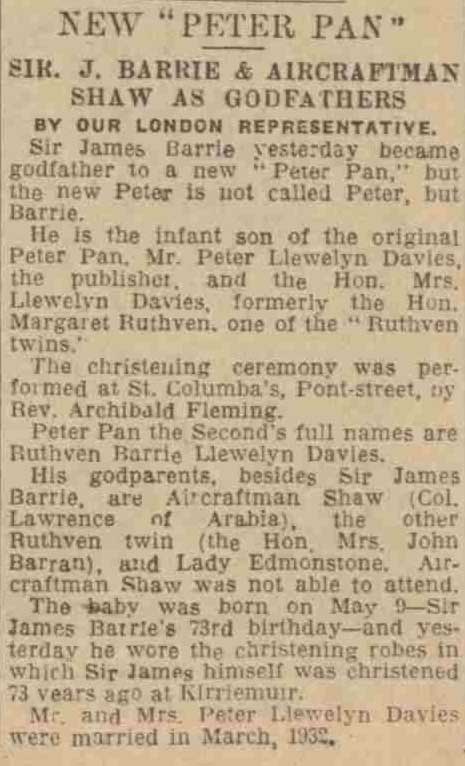 THE DEATH OF PETER PAN
Although he went on to forge a successful career as an editor and publisher, he never escaped from the shadow of Peter Pan and being forever associated with him.
By 1960 he was a chronic alcoholic and was suffering from emphysema.
He came to believe that the J. M. Barrie had exploited him, a belief that was reinforced by the fact that Barrie had cut him out of his will at the last moment.
He spent several years gathering and editing various family papers and letters with a view to publishing a history of his Llewelyn Davies's ancestors and relatives. Grimly, he dubbed this memoir The Family Morgue; and only got as far as the death of his brother Michael, at which point he gave up on the project altogether - possibly because of a suspicion that Michael had, in fact, committed suicide.
On the 5th April 1960, having spent the evening drinking at the bar of the Royal Court Hotel, in Sloane Square, he crossed the road to nearby Sloane Square Station, purchased a ticket, made his way down to platform level and threw himself under an approaching train.
At the inquest into his death it was ruled that he had killed himself "while the balance of his mind was disturbed."
But, sadly, even in death he could not escape being associated with his fictional namesake.
The press reported his tragic demise under headlines such as "The Boy Who Never Grew Up Is Dead"; "Peter Pan's Death Leap"; "The Tragedy of Peter Pan".
THE LOST BOYS AT REST
Today, the Lost Boys lie, together with their parents, in the sleepy burial ground opposite Hampstead Church.
Their grandfather, George du Maurier, and their uncle, Gerald du Maurier, lie just a few graves away.
Standing by their grave, you can't help but think that, for a story that has brought so much joy to so many people all over the World, the origins and repercussions of Peter Pan are tinged with an awful lot of tragedy and misery.
But, here in this north London burial ground, their names and memories are, fittingly, carved beneath those of their parents, and the five "Lost Boys" are, at least, together in death.
May they all rest in peace.