A UNIQUE HISTORICAL RECORD
At first glance the nondescript and, it must be said, somewhat scruffy brick wall along Myddelton Passage looks like any other wall. Children have chalked messages and childish symbols onto it. In places a profusion of greenery drapes over it. Here and there the brickwork has crumbled away. Yes, there can be no doubt about it, your first reaction, should you endeavour to find your way to this north London passage, would be "there's nothing to see here."
But, as with so many locations in London, first impressions can be decidedly deceiving.
TAKE A CLOSER LOOK
Look again at the wall and you start to notice something very out of the ordinary.
Scores of numbers , letters, and even dates, have been gouged into the brickwork of the wall that lines the left side of the passage.
MINDLESS VANDALISM?
Again, at first glance, you might be inclined to dismiss these crude carvings as nothing short of mindless vandalism, and, huffing and puffing, you might even vow to report these disgraceful examples of anti-social behaviour to the first policeman you chance to encounter.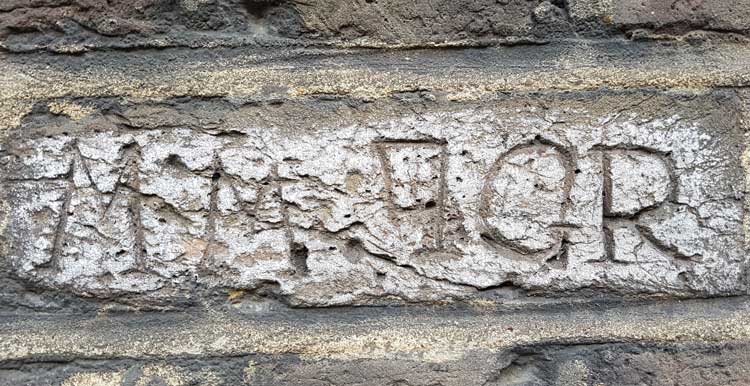 THEY ARE POLICEMEN'S INITIALS
However, the first policeman you encounter might not be as sympathetic to your disgust as you would like him to be - or, at least, he wouldn't have been a hundred or so years ago - because these initials and numbers are, in fact, a unique historical record, carved into the wall by bored, tired, and, possibly, slightly tipsy, 19th and 20th police officers.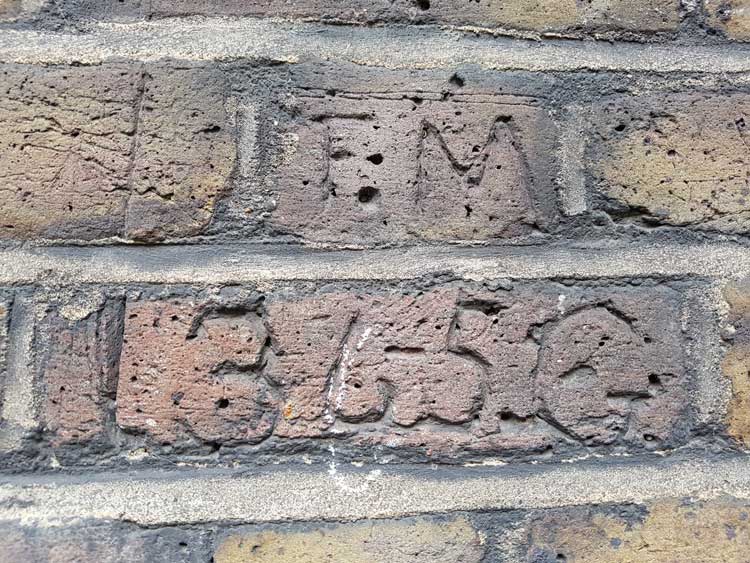 G DIVISION OF THE METROPOLITAN POLICE
The police officers who set this unique record in stone were, mostly, members of the Metropolitan Police's G Division, the Finsbury Division, based out of King's Cross Police Station.
On the whole, the officers simply carved their collar numbers followed by a "G" to denote G Division.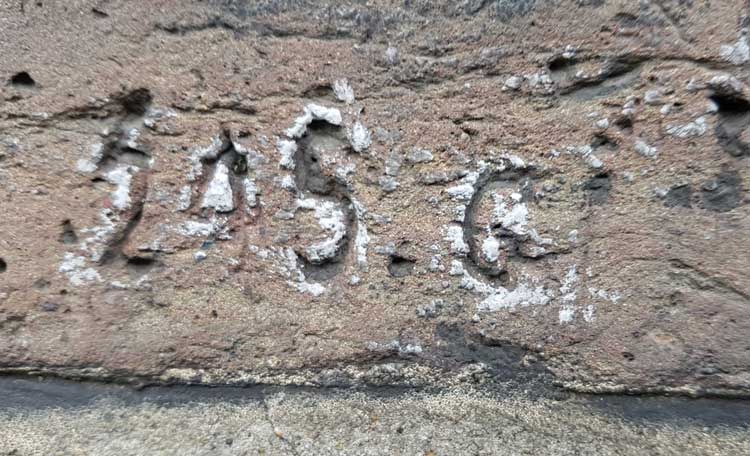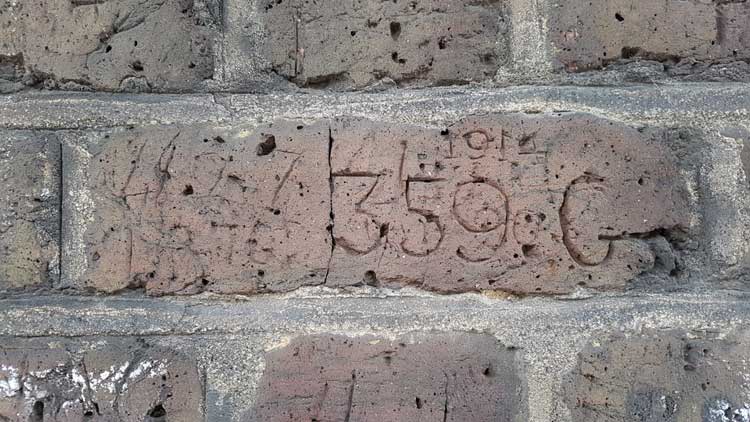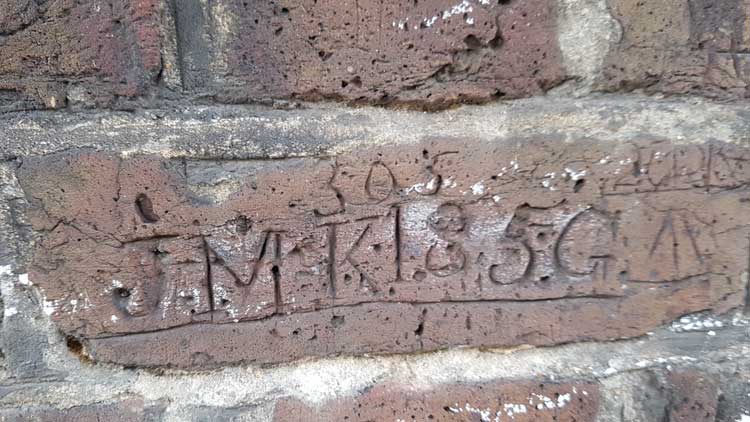 INITIALS, NAMES, DATES AND YEARS
But, every so often, some officers couldn't resist the urge to mark their territory further by carving their initials, or even names into the brickwork.
As a result, and thanks to the tireless efforts of Peter Guillery, of English Heritage, and Margaret Bird, of the Metropolitan Police Service historical archives, some of the individual police constables whose names appear on the wall have been identified.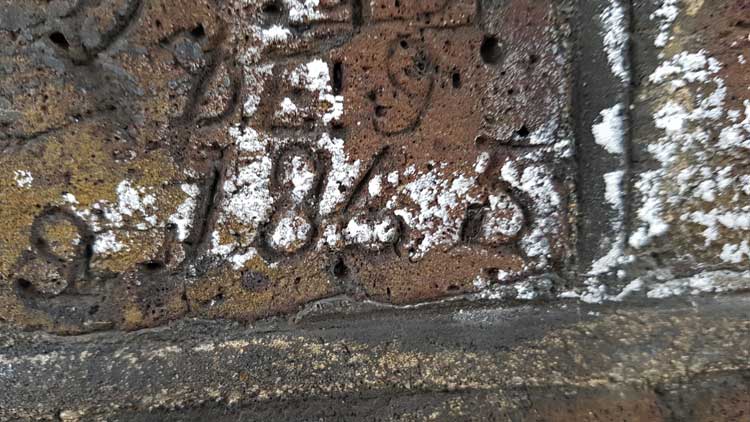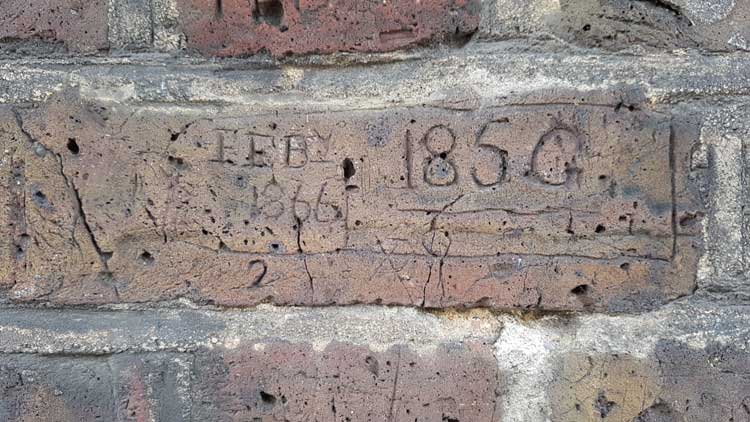 FREDERICK ALBERT VICTOR MOORE
So, for example, 365 followed by the barely discernable FAVM, is thought to have been the work of Frederick Albert Victor Moore, who became an officer with G Division in 1886.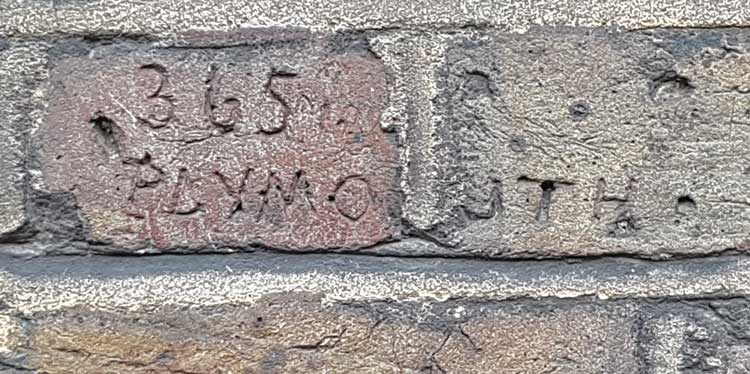 FREDERICK ALBERT HUNTLEY
Further along the wall and you encounter the initials "FAH" followed by the number 103.
This was believed to have been carved by Frederick Albert Huntley, from Hackney.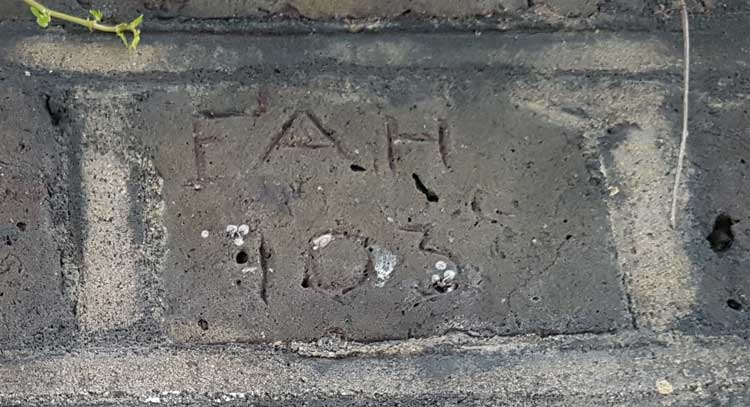 THOMAS KILPATRICK
Another set of initials reads "TK", followed by the year "1913". The author of this particular carving is thought to have been Thomas Kirkpatrick, a former gamekeeper from Dumfries who joined the Metropolitan Police in 1910.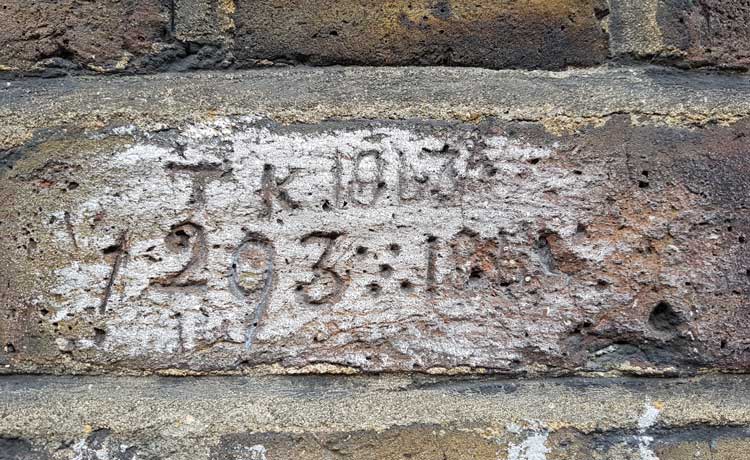 WHY DID THEY DO IT?
As to the reason why all these individual police constables took the trouble to immortalize themselves - or at least their collar numbers and occasional initials - with what is, when all is said and done, a blatant act of vandalism, we simply don't know.
One theory holds that Myddelton Passage had such a bad night time reputation in the 19th century that officers were assigned the duty of guarding the passage; a duty which they found so boring that they whiled away the hours by carving their names on the brickwork, just to keep themselves occupied.
Another theory holds that, having completed their final beat of the night, officers would gouge their numbers and initials into the bricks before setting off on the walk back to the police station.
To be honest, neither explanation seems that plausible.
It may have simply been a case of one officer decided to do it one night, another officer saw the number and decided to do likewise and, before long, it had become a ritual that all new officers joining G Division decided to follow, with some of them deciding to go further and carve their initials.
But, what a blessing it is for us today that they did so; for we are able to study this century and more old graffiti, and picture those long ago officers on their beats, whistling to themselves as their pocket knives (I presume they used pocket knives) dug into the brick and created a unique record of their presence here.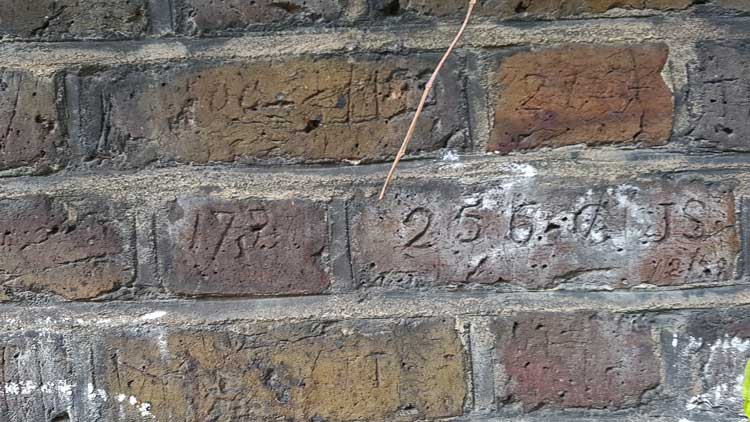 19TH CENTURY MYDDELTON PASSAGE
In the 19th century Myddelton Passage wasn't the pleasant backwater that it is today.
Indeed, the passage had a reputation for nefarious villainy and references to it crop up time and time again in the court reports of the Victorian age.
For example, Lloyd's Weekly Newspaper, featured an article in its edition of Sunday 20th September, 1874, on Charles Rowlands and Robert Owen, who appeared at Clerkenwell Police Court charged with riotous conduct.
The article made direct reference to Myddelton Passage:-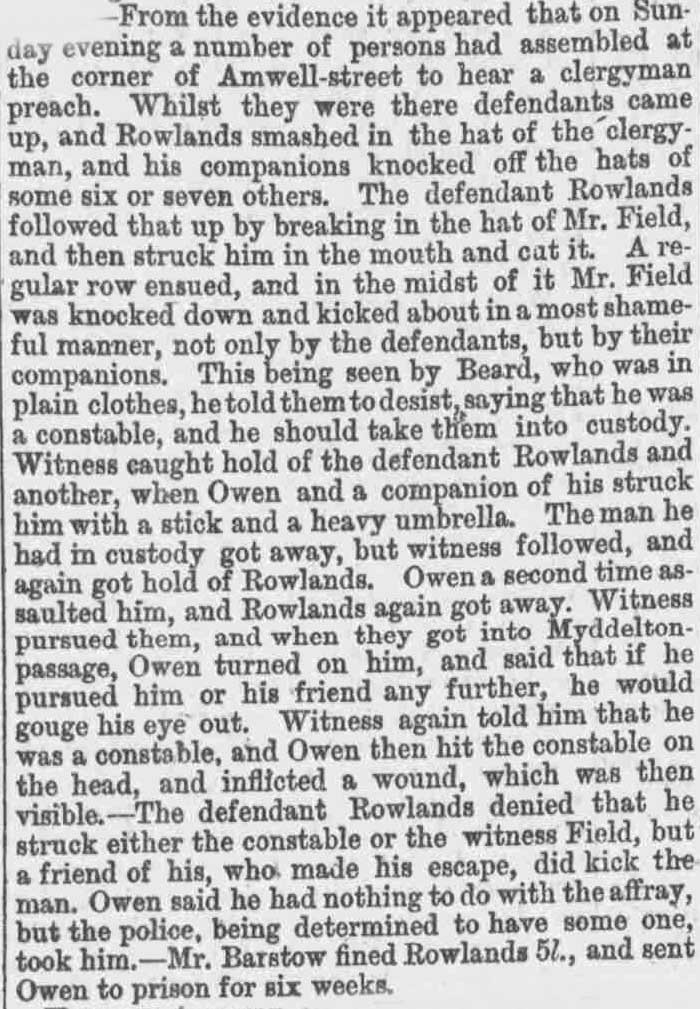 DISGRACEFUL BEHAVIOUR
The Islington Gazette, in its edition of Friday 9th November 1877, reported that:-
"William Walters, aged 23, a bootmaker, was sentenced to two months' imprisonment with hard labour, for disgraceful conduct at Myddelton-passage."
Sadly, the conduct was so disgraceful that the newspaper couldn't bring itself to report exactly what it was that William Walters did to warrant such a harsh sentence.
THE CLERKENWELL STABBING CASE
The reputation of Myddelton Passage had not improved by the closing years of the 19th century, as can be gleaned from the following article that appeared in the Islington Gazette on Tuesday 30th November, 1897.

I WONDER?
Reading the above two newspaper stories, I wonder if the initials and collar numbers of either Police Constable Collins or Constable Beard are amongst the names carved onto the wall of Myddelton Passage.
THE PASSAGE IN FICTION
George Gissing (1857 - 1903) mentions the passage in Chapter 8 of his novel The Nether World:-
"Pennyloaf then put on her hat and jacket again and left the house. She walked away from the denser regions of Clerkenwell, came to Sadler's Wells Theatre (gloomy in its profitless recollection of the last worthy manager that London knew), and there turned into Myddelton Passage. It is a narrow paved walk between brick walls seven feet high; on the one hand lies the New River Head, on the other are small gardens behind Myddelton Square. The branches of a few trees hang over; there are doors, seemingly never opened, belonging one to each garden; a couple of gas-lamps shed feeble light. Pennyloaf paced the length of the Passage several times, meeting no one. Then a policeman came along with echoing tread, and eyed her suspiciously."
You can, if you wish, read the entire chapter here.
WELL WORTH A LOOK
There can be no doubt about it, the police numbers and initials that various 19th and 20th century officers of G Division carved onto the brickwork in Myddelton Passage are a fascinating London curiosity.
It is well worth making the journey over there to see them for yourselves, you won't be disappointed.
And, as you stand there, staring at what appears nothing more than a blank wall, it won't be long before passersby will notice you and will begin approaching you to enquire what is so interesting about the wall - and you will be able to assume a superior, all knowing stance, as you proceed to enlighten them about the curious carvings left by those long ago police officers of G Division in Myddelton Passage.