Selected Sundays
11am
Borough Station
A JOURNEY THROUGH DICKENSIAN LONDON
The name of Charles Dickens is indelibly linked with London and, throughout his life, the great novelist had a love-hate relationship with England's Capital City.
On this walk you will journey through streets and places that Dickens both knew and wrote about.
Indeed, you'll follow in his footsteps on a Dickens-packed tour that will follow him from his childhood, on through his formative years as a budding author and into to his latter years, when he had assailed the dizzy heights of English literature to become one of the most famous, and instantly recognisable, people of the Victorian age.
FROM THE BEST OF TIMES TO THE WORST OF TIMES
Leaving Borough Underground Station, we pause alongside a local landmark that Dickens would have looked upon as he passed it en route to the years he would later remember as being the happiest and most settled of his childhood.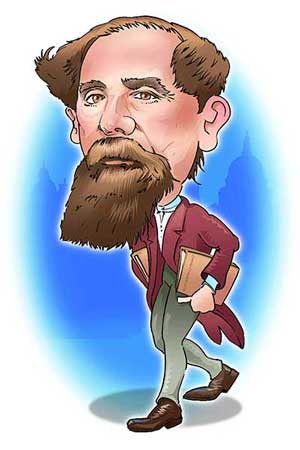 Six years later he passed it again when, having arrived back in London, he was forced to confront one of the most traumatic events of his young life.
Indeed, no sooner had he returned to the City of which he was destined to become the undisputed chronicler, than his father, John, was arrested for debt and he and the rest of the family - with the exceptions of Charles and his beloved sister, Fanny - were incarcerated in the Marshalsea Prison.
Left to his own devices, Charles felt totally abandoned by his parents and that feeling of abandonment never left him, with the consequence that, if there was one type of character that the adult Charles Dickens would portray better than any other writer, before or since, it was the abandoned child.
Thus, as we make our way through the historic Borough streets to locate the last surviving wall of the Marshalsea Prison, we really are exploring the very streets where the likes of Oliver Twist, David Copperfield and Pip were forged.
Then, suddenly, there it is.
The soaring brick wall of the Marshalsea Prison alongside which we will pause and discuss this troubled, and troubling, period in Dickens early life and reveal how, as you stand on these time worn flagstones you are, to quote Dickens "standing amongst the crowding ghosts of many miserable years."
Having charted Dickens confrontation with the loss of his childhood, our journey continues through a sequence of alleyways that are still as they were when Dickens explored them.
A VISIT TO A SECRET GARDEN
These will deliver us to a true highlight of the tour, a secret garden no less, which was established in 1887 by one of the greatest philanthropists of the Victorian age, a lady who, in her childhood years, had met and been influenced by Charles Dickens.
It is a lovely, and idyllic spot and, once you've discovered it, you'll no doubt want to make a mental note of its location so that you can return under your own steam. It really is that special a place.
SURPRISES ABOUND
The surprises come thick and fast then as we encounter the Crossbones Burial Ground, where paupers and prostitutes were buried from the 14th to the mid-19th century; duck into a splendid sequence of cobblestone courtyards, each one of which was once the entrance to an old coaching inn, the type of inn that Dickens himself would have known and from which he sent many of his most immortal characters galloping off along the highways and byways of merrie olde England to embark upon their adventures.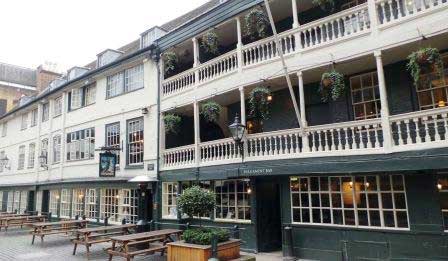 The majority of those inns have gone now. Ploughed into the London earth with the coming of the railways in the mid-19th century.
But, not all of them have been lost, for one of them managed to survive the gluttonous appetite of the age of steam and it nestles away from the busy Borough High Street, a true survivor of bygone London.
Having stepped into its courtyard, you will find yourself suddenly pitched back in time, surrounded by a picturesque gallery, ancient walls, and doorways so reminiscent of days gone by that you wouldn't be in the least bit surprised if Mr. Pickwick and his fellow Pickwickians were to come strolling out to greet you!
WHERE DICKENS CAREER TOOK OFF
Speaking of whom, the next cobbled yard we venture into is a true Dickensian landmark, for it was here that Mr. Pickwick met Sam Weller and, thereafter, Dickens reputation skyrocketed, as the public flocked to get their hands on the latest installments of Pickwick Papers, and to eagerly devour the latest adventures of Mr. Pickwick and his companions.
LONDON'S OLDEST MARKET AND GOTHIC CHURCH
From this set back Dickensian landmark, we venture into the heart of London's oldest market to hear how it featured in the aforementioned work.
Having passed the oldest Gothic church in London, we wash up on the banks of the Thames to picture the memorable, though stomach churning, opening of Our Mutual Friend, as a small boat bobs up and down on the murky waters of the Victorian river its occupants involved in a decidedly sordid nefarious activity!
NANCY'S STEPS
And so we ebb into the winter moments of our walk.
But, what a finish we have for you.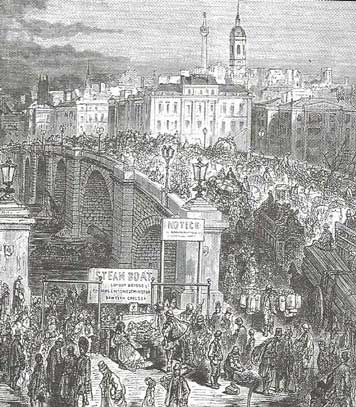 For, here in this timeless hinterland of Dickensian London, we gaze upon an old arch of London bridge, and look across at the very steps on which Nancy betrayed Bill Sikes to Mr. Brownlow in Oliver Twist.
Can there be a better location at which to end a relaxed and leisurely few hours spent exploring the streets and passageways of Dickens London?
And, since Richard Jones, your guide is an expert on the life, times and works of Charles Dickens, your passage through the timeless world of old and secret London will have been made truly memorable by extensive quotes from the pen of England's greatest novelist, coupled with some absolutely fascinating facts about the life and times of the man himself.