Ghosts, Ghouls and Graveyards
Night falls and, in its menacing wake, there come dark shadows that twist and writhe through the alleyways, courtyards and ruins of one of London's most historic neighbourhoods.
Eerie shafts of yellow moonlight punch their way through the clouds, bathing the area's ancient buildings in an almost ghostly hue. The gnarled branches of skeletal trees reach out and scratch lightly against the crumbling stones of the ancient city walls.
Somewhere, deep within the heart of the old city, something eerie begins to stir and, as it does so, the capital's hidden horrors come forth to chill the blood of those intrepid ghost hunters who are brave enough to join London's leading ghost walk guide, Richard Jones, for his world famous journey into the spectral hinterland of haunted London.
The Places Where Phantoms Lurk
Horrors aplenty abound on this eventful tour that delves into one of the City's most ghost infested quarters to uncover its most haunted places.
There's the creepy old graveyard where the fearsome spectre of the She Wolf of France has been known to cause fearless watchmen to turn heel and run.
There's the ancient church, the bells of which once counted down the final moments for hundreds of felons who were once hanged in the square across the road.
There's a crumbling stone tower from which a 16th century nobleman threw himself to his death and, in so doing, unleashed a family curse that is still active today.
There's the historic pub where something distinctly otherworldly lurks in the cellar, and which sometimes plods its way up the wooden stairs to wreak menacing mayhem on staff and customers alike.
And, if all this is insufficient to chill your marrow and send shivers racing down your spine, then how about the cobbled street where one of London's most infamous hauntings occurred in the 18th century?
Further And Further Back Into The Past
By this time, you'll be deep into the past - yet there will be many more horrors that will still need to be confronted.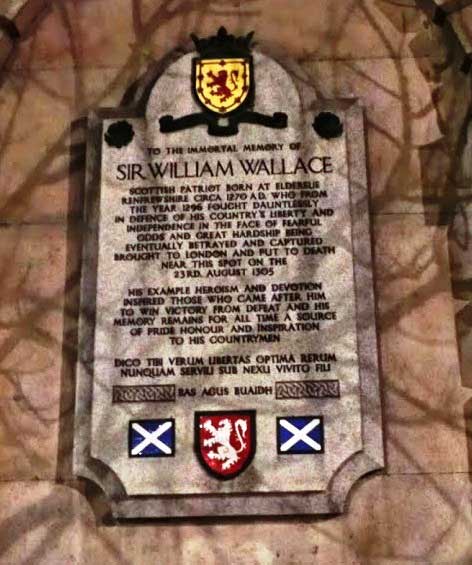 You must ponder the mystery of the "coffin lift" at one of London's oldest hospitals and, possibly, come face to face with the ghostly nurse whose restless wraith has been condemned to perform an eternal penance for a long ago misdemeanor.
You must visit the forlorn spot to which, on one long ago summer's day in 1305, no less a person than Sir William Wallace – Braveheart himself – was dragged on a hurdle to be hanged, drawn and quartered in front of a baying mob of medieval Londoners.
You must stand upon an ancient execution ground, where you will listen for the spectral screams of the unfortunate souls whose lives ended here amidst the blazing faggots of the fires of Smithfield.
One Of London's Creepiest Churchyards
Next up, in this film set quarter of old London, is a visit to an ancient churchyard where a ghostly cleric endures a nightly vigil amongst the time-worn tombstones, much as he has been doing for almost a thousand weary years.
This really is one of the creepiest spots imaginable, and tour participants often find themselves looking nervously over their shoulders - ever fearful of anyone, or anything, that might be lurking in the bushes!
Across the road, stand a medley of melancholic buildings where former residents lived though the horrors of the Great Plague of 1665. A year later, they would have watched the unfolding devastation of the Great Fire as it raged towards them from the City's eastern quarter.
Inevitably, the many events, tragic or otherwise, to which the ancient walls of these houses have borne silent witness have left their mark upon the fabric of the buildings, and bouts of paranormal activity have been commonplace over the years.
A Decent Night's Unrest
A few doors away, there stands an 18th century hostelry – once a nefarious haunt of the bodysnatchers - at which generations of bar staff have resigned themselves to the chilling knowledge that they must share their accommodation with a mischievous entity to whom a good night's sleep is something of an anathema.
Phantom Photos Where London Began
It's getting darker now, but the best and spookiest part of the night is yet to come as, by way of a series of truly atmospheric old back streets, you will journey back 2,000 years into the past to arrive at the very origins of London.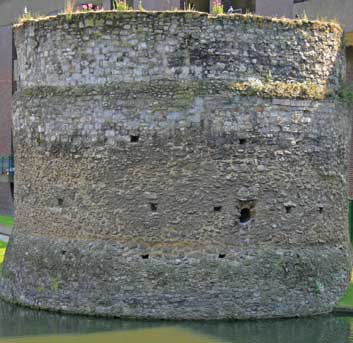 Here, surrounded by the City's ancient walls, you will seek the ghosts of Roman Londinium.
You will hear how, when the Roman's finally abandoned their settlement after nigh on four hundred years, the waves of invaders that arrived in their wake came to believe that the ruins you are gazing upon were haunted and, as a result, gave them a wide berth.
It seems they may have had a valid point. For, not only does this place crackle with history, but it is also the point on the walk where those taking photographs of the locations visited are often rewarded with the appearance of a ghostly figure on their pictures.
What better souvenir could there possibly be from a ghost walk than to take away your very own phantom on film – or at least on memory card – as a keepsake of your evening spent hunting for the ghosts of London?
A Final Chill On A Chilling Night Of Chills
But this place has one final horror to chill the blood of intrepid pursuers of the paranormal.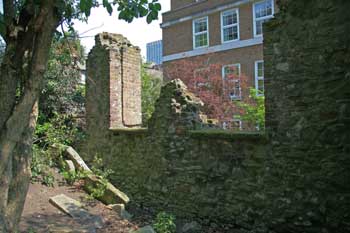 For, looming before you, will be the brooding remnants of a 17th century plague mound – a menacing mass of cold earth that oozes malevolence and hopelessness.
Its sinister ambiance, which seems to penetrate to the very marrow of those who gaze upon it, makes the prefect place at which to end our evening's endeavours to make the acquaintance of London's ghostly populace.
So, if you want to enjoy a night of thrills and chills, topped off with some excellent storytelling, then join London's master of the macabre on a journey through the old streets and ancient churchyards of the city that has dedicated 2,000 years to nurturing its enviable reputation for being the most haunted city on the planet.