St George In The East, 14 Cannon St Rd, E1 0BH
Shadwell DLR
In the churchyard of St George's in the East there stands a run down brick shed, the dilapidated appearance of which belies a sinister history that connects it to one of London's most infamous characters.
An information board provides some information concerning the intriguing and varied history of this tumbledown structure.
NATURE STUDY MUSEUM
Under the above headline, the board goes on to inform the curious urban explorer that:-
"This building, originally a mortuary, was converted to a Nature Study Museum in 1904 and opened to the public as a branch of the Whitechapel Museum.
This was a pioneering effort in an overcrowded inner city area that gave local people the opportunity to have more contact with nature.
During the summer months up to 1,000 people a day reputedly visited the Museum, mostly groups of local school children.
The exhibits included tanks of live fish and amphibians, stuffed birds and mammals, and displays of butterflies.
Immediately outside the Nature Study Museum was a wild flower garden with a beehive and an aviary.
Several specimen of trees were also planted in the gardens when the Museum was opened.
The Nature Study Museum was closed during the Second World War and, although was originally to have been a temporary closure, it was never re-opened and fell into disrepair."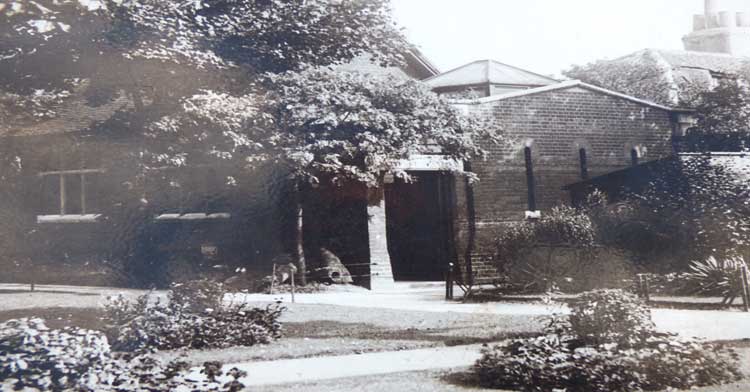 ITS CONNECTION WITH JACK THE RIPPER
Notwithstanding the fact that the place is tiny - and you wonder how on earth it fitted those tanks of live fish etc. within its confines - there is no mention on the board of the buildings most dubious distinction.
The mortuary that this building formerly served as was built in 1876.
On the 30th September, 1888, Jack the Ripper claimed his third victim, Elizabeth Stride in nearby Berner Street and, since this was the closest mortuary to the scene of the crime, it was to this tiny establishment that her body was brought.
You can't help thinking, as you gaze on this derelict little structure, that the atmosphere inside must have been, to say the least, overwhelming and stifling as the police and witnesses arrived to view the body. in the immediate aftermath of the atrocity, in the hope of identifying the victim.