AN HONEST DAY'S TOIL ABOVE HONEST BURGERS
As you stroll along Widegate Street in the general direction of Spitalfields, the last thing you might expect to encounter is a set of sculptures that err towards the ecclesiastical.
Yet, if you slow your pace as you pass numbers 12 - 13 Widegate Street, and then allow your eyes to ascend heavenwards - well at least to the upper storey of the building - a visual feast awaits your discovery in the form of four glazed sculpted panels showing the various stages in the bread baking process.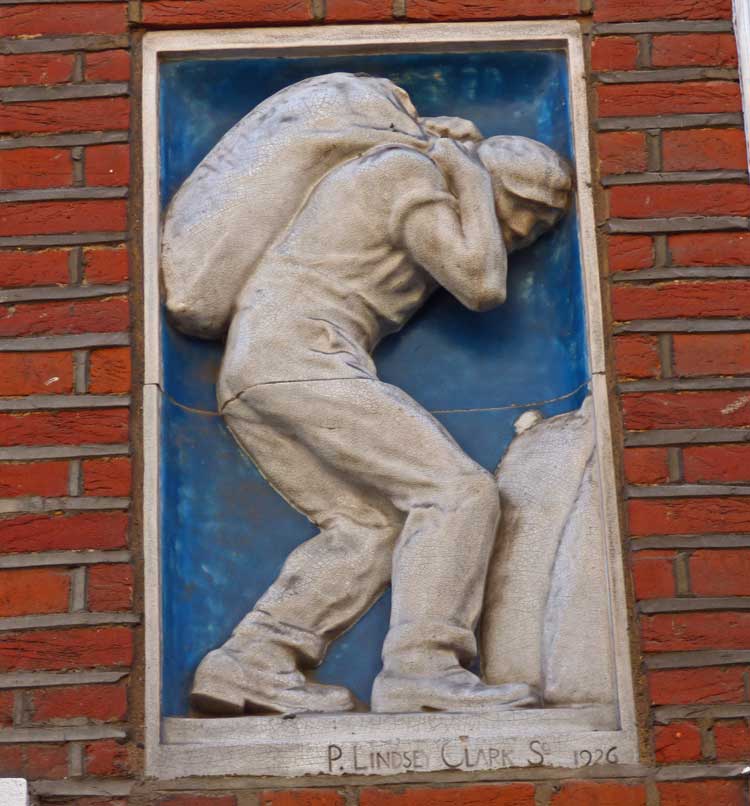 A WORK OF EXQUISITE ART
Now, it might not immediately strike you to use the words "baker" and "work of art" in the same sentence; but, on the wall of 12 Widegate Street, Philip Lindsey Clark (1889 – 1977) has created a delightfully whimsical grouping of sculptures that have, somehow, transformed the mundane process of bread making into something rather special.
Man might not live by bread alone, but, my goodness, he can, most certainly, be transfixed by the creation of it on Widegate Street.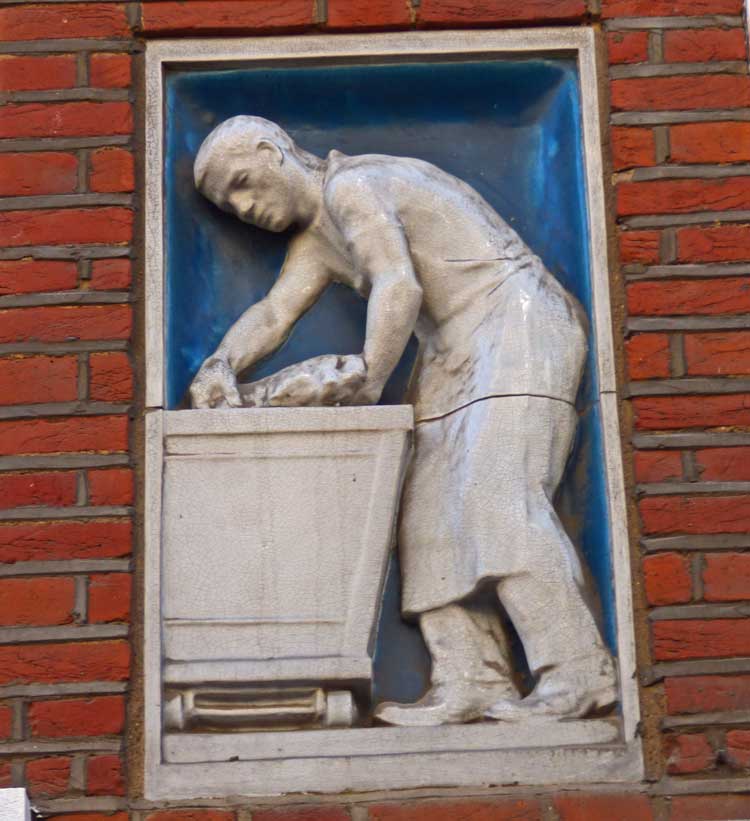 THE SCULPTOR PHILIP LINDSEY CLARK
Philip Lindsey Clark, was born in Brixton, south London. He was the son of Robert Lindsey Clark (1864-1926), sculptor, architectural sculptor and painter.
However, he grew up in Cheltenham where his father worked H.H. Martyn & Co. as head of the sculpture workshop. Between 1905 and 1910, Philip trained as a sculptor at his father's studio, and then, from 1910 to 1914, he moved back to London to continue his studies at the City and Guilds School in Kennington.
ENLISTS IN THE ARTISTS' RIFLES
As was the case with so many young men of the age, his career was interrupted by the outbreak of World War One, in 1914, and he enlisted in the Artists' Rifles, with which regiment he saw distinguished service in France, where he was given a commission in the 11th Royal Sussex Rifles'.
A DISTINGUISHED WAR RECORD
In December 1917, he was awarded the Distinguished Service Order (D.S.O) for "...conspicuous gallantry and devotion to duty when in command of the left flank company of the battalion."
In the course of the "stiff fighting" he was severely wounded by a piece of shrapnel in the head, but he fought on regardless and remained in command of his company for two days, until being relieved.
HIS CIVILIAN CAREER
Returning to civilian life, he continued his studies at the Royal Academy Schools between 1919 and 1921, and went on to forge a career as a noted and respected sculptor.
From 1930, his sculptures became increasingly religious in nature, and he eventually left London to become a Carmelite Tertiary in the West Country where he died in 1877 at the age of 88.
But, before leaving London, he left us a wonderful example of his talent for sculpture on Widegate Street.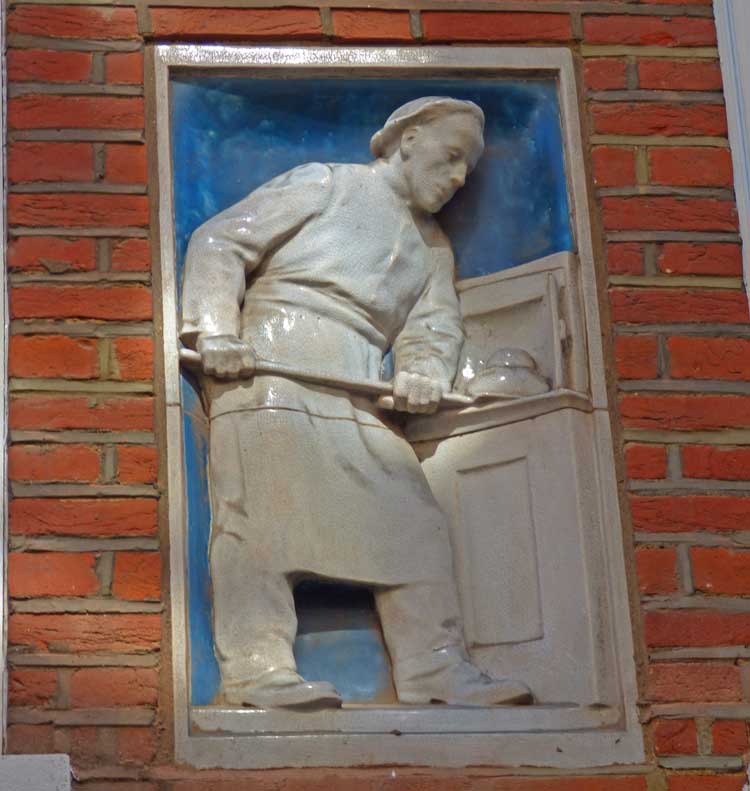 THE WIDEGATE STREET BAKERS
In 19126 he was commissioned to create the sculptures to adorn the new Nordheim Model Bakery at 12 to 13 Widegate Street, which was opened by Charles Naphtali Nordheim (1864 - 1941).
The building's designer was George Val Myers (1883 - 1959), who would go on to co-design the BBC's headquarters at Broadcasting House.
The figures which, given their distinguished history deserve to have much more made of them, are ceramic, with white and blue glazes, and they were fired by Carters of Poole, a company that went on to make many of the tiles for the London Underground, as well as the colourful ceramic tiles that adorn the facades of many early 20th century pubs.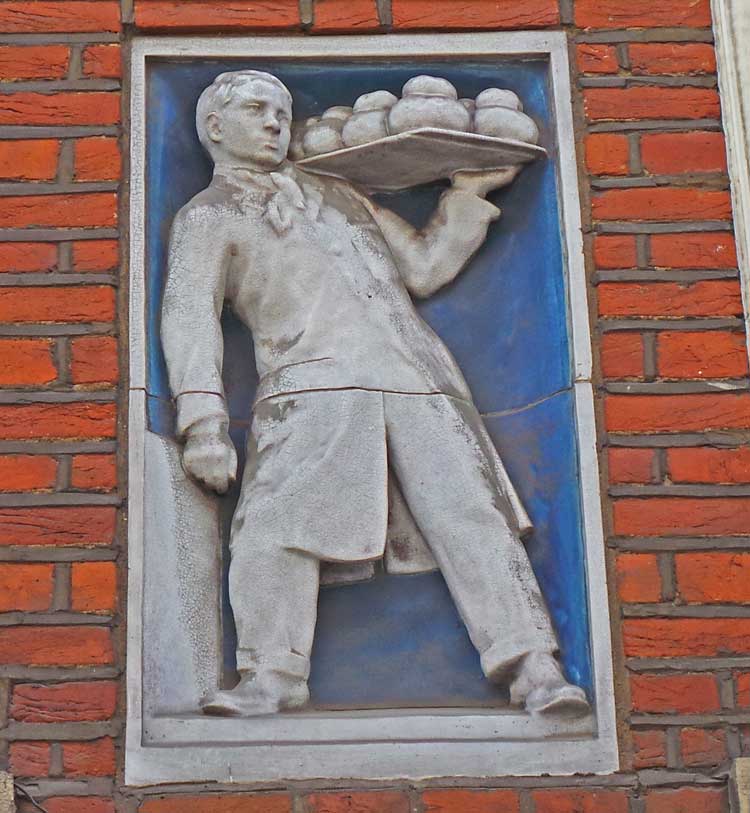 LOOK THEM UP
So, the next time you are in the vicinity of Liverpool Street Station (which is a few minutes walk away) why not take the opportunity of heading over to Widegate Street and making the acquaintance of the four bakers that, despite the fact that the premises they adorn is now Honest Burgers, still go about their task of creating perfect loaves, unobserved and unnoticed by the majority of those who pass beneath them?
They really are a joy to observe.