WE CAN WORK IT OUT
Imagine, having arrived in London and, as a huge Beatles fan, deciding to make a pilgrimage to the Abbey Road Crossing so that you can recreate the famous pose that appears on the Beatles album of that name.
You scour the tube map determined to plan your journey and there it is, Abbey Road Station.
So, off you go. Central or Jubilee Line to Stratford, a quick change onto the Dockland Light Railway and then one stop to Abbey Road.
Camera poised, you stride confidently from the station and look around to locate the World's most iconic pedestrian crossing.
HELP! I NEED SOMEBODY
And you look, and you look, and you look again.
But you just can't see it and you're starting to feel like a real nowhere man - or woman.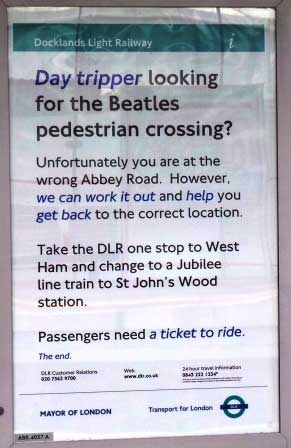 In fact, as you look around, something doesn't seem quite right.
You don't, for example, remember the council estate being on the album cover.
And, as for the ugly warehouses and the train depot that surround you, they look nothing like the tree-lined street that you remember being on the Abbey Road album cover.
Hopefully, at this point, a friendly local will come marching over and, desperately trying to suppress a seen-it-all-before smirk, will put you out of your misery by telling you that this East London DLR Station is, in fact, nine miles away on the other side of London from the Abbey Road that the fab four made famous.
They might also make you feel a little less embarrassed by pointing out that you're not the first person to make this mistake and you, most certainly, won't be the last.
In fact, bemused Beatles fans wandering around this little corner of East London have become something of a local sight for several years now.
CONFUSION SINCE 2011
Indeed, ever since the DLR Abbey Road Station opened in 2011 as many as 12 people a day have come waltzing out of it convinced they're about to recreate their own little piece of rock history by following in the footsteps of John, Paul, George and Ringo!
Most of them take their mistake in good humour.
Tourist Christie Johnson, for example, wasn't in the least bit phased by pitching up at the wrong Abbey Road. "I'm not a massive Beatles fan anyway," she observed, "I just wanted my picture on the famous crossing to show my friends. Now I'll have a different tale to tell. I'll say we tried, It'll get a good laugh."
GET BACK ON TRACK
Anxious, to Help Beatles fans to Get Back on track, Transport for London now display a helpful poster at the station informing searching fans of their mistake and giving them directions to St John's Wood Station, the correct alighting point for the Abbey Road.