CH CH CH CHANGES IN HEDDON STREET
Getting a plaque put up to yourself in London is something of an onerous task.
Death is, in most cases, a pre-requisite before your name will even be considered suitable for one of the said memorials being affixed to a building in which you were born, lived, worked, died or, in some notable cases, managed to do all four.
Oh and, on the whole, you have to have been a real person.
Unless, that is, you happen to be the human manifestation of an alien being with a mission to bring a message of hope to mankind in the last five years of its existence.
It also helps if you were created by one of music's most enigmatic innovators, David Bowie.
In which case, a plaque to your memory, even if you were a fictional character, on a west London street is par for the cause.
WHERE ZIGGY FLU TO EARTH
So it was that, In March 2012, the Crown Estate (an organisation you wouldn't immediately associate with an androgynous, sexually promiscuous, drug abusing, alien rock god), owners of Regent Street and its surrounding thoroughfares, installed a plaque on the wall of 23 Heddon Street above the spot where, on a cold and wet January night in 1972, David Bowie - who at the time was suffering from a severe bout of flu - had taken on the persona of his then alter ego Ziggy Stardust to be photographed for the album cover of his acclaimed The Rise and Fall of Ziggy Stardust and the Spiders From Mars.
The cover shot was one of several black-and-white (it was hand-coloured later by artist Terry Pastor) photos taken that night by photographer Brian Ward, whose studio was located on Heddon Street.
A POSSIBLE INSPIRATION FOR THE COVER
It has been suggested that the inspiration for the album cover may well have come from Michael Powell's 1960 film Peeping Tom, about a London serial killer who films his murders. The two street scenes are certainly similar, if not exactly alike.
It has also been observed that the hairstyle of Brenda Bruce - who plays, the prostitute whom the film's protagonist murders at the outset of the movie - is not unlike the style that Bowie adopted for his Ziggy Stardust stage appearances, albeit the comparison might just be co-incidental!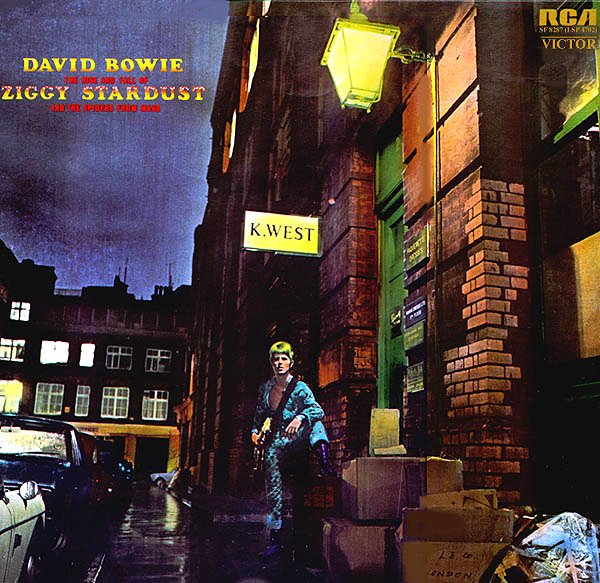 WAS THERE A HIDDEN MEANING?
The K. West sign that appears over Bowie's head on the album cover belonged to a furrier that, at the time, occupied part of the premises at 23 Heddon Street.
The sign has long since been taken down (apparently it was removed by an enthusiastic Bowie fan in 1982).
Lamenting its loss in a 1983 interview for Rolling Stone Magazine, Bowie told reporter David Sinclair:-
"It's such a shame that sign went...People read so much into it. They thought K.West must be some sort of code for quest. It took on all these sort of mystical overtones..."
Sign or no sign, the fact that it was outside 23 Heddon Street that Ziggy Stardust first landed on earth has afforded this tranquil London backwater a place in the annals of rock history and has made it site of pilgrimage map for Bowie fans from all over the World.
THE CROWN ESTATE HONOURS BOWIE
Thus, following several years consultation with David Bowie's management company, the Crown Office Estate decided to pay tribute to Ziggy, with his very own plaque
The Ziggy Stardust plaque was unveiled by Bowie fan Garry Kemp, of Spandau ballet, in the presence of Micky "Woody" Woodmansey, drummer with the Spiders From Mars, and Trevor Bolder, the Spiders guitarist.
David Shaw, representing the Crown Office Estate, even got into the mood by donning a particularly fetching pair of 1970's platform shoes, rounding off nicely his pinstriped suit.