THE COMMEMORATIVE CHURCH CLOCK
There can be little doubt about it, the church of St Magnus The Martyr boasts one of the most impressive external clocks of any church clock in the City of London.
In addition, an intriguing story lies behind the origins of and the placing of the clock, which took place the 18th century.
THE LATE SIR CHARLES DUNCOMBE
There are, it must be said, several versions of the story of how the striking clock came to adorn the tower of St Magnus the Martyr.
The following version appeared in The London City Press on Saturday 27th April, 1861:-
"The clock of this church, with its projecting dial, were presented by Sir Charles Duncombe in 1709.

The history of Sir Charles is one out of the many instances of men of humble birth rising to exalted station in the City.

When a poor boy, he made an appointment with his master to meet him at a certain time on London Bridge, but missed him on account of his not knowing the time.

He resolved that, if he ever rose in the world, to have a clock fixed in the vicinity.

Time rolled on; and what appeared to be but a day dream of the poor lad, became a reality, and in 1709 he was elected to the office of Lord Mayor.

In that year, mindful of his early resolve, he gave the clock. "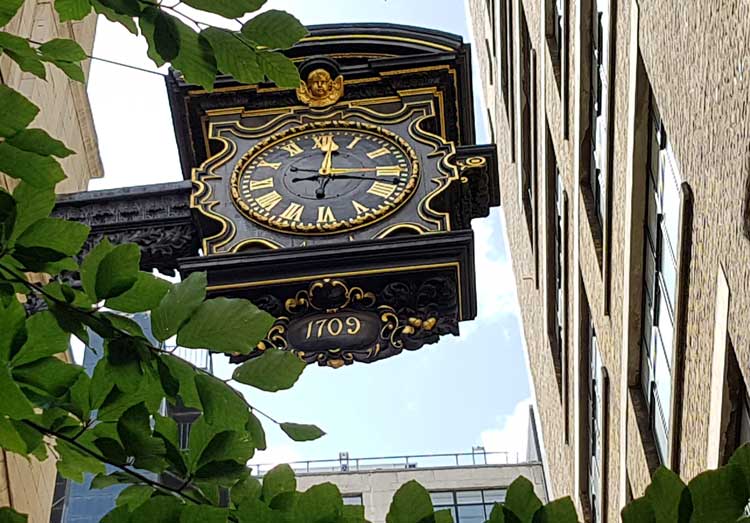 ANOTHER VERSION OF THE STORY
The version of the tale of the clock's origins that appeared in the London City Press is, however, just one of several, albeit they all attribute the clock to the munificence of Sir Charles Duncombe (1648 - 1711).
According to another version of the story:-
"The clock was erected in consequence of a vow made by the donor, who, in the earlier part of his life, had once to wait a considerable time in a cart upon London Bridge, without being able to learn the hour, when he made a promise, that if he ever became successful in the world, he would give to that Church a public clock ... that all passengers might see the time of day."
MADE BY LANGLEY BRADLEY
The clock' maker was Langley Bradley
The maker was Langley Bradley of Fenchurch Street, who had worked with Sir Christopher Wren on several projects, including the early clock that adorned St. Paul's Cathedral. Wren, evidently, was Bradley's work since, in a letter the Lord Chamberlain's Office in 1711, he went so far as to describe "a very able artist, very reasonable in his prices."
And so, whatever the truth of its origins, there is no doubt that Langley Bradley created a striking adornment for the tower of the church of St Magnus The Martyr; and, whether it was intended to remember a youthful malfunction of punctuality or not, it is a fitting tribute to the man who commissioned it the late Sir Charles Duncombe.