DON'T BE DEAD SHERLOCK
Please note due to building work, the phone box is currently not visible.
As television drama goes it was pretty dramatic.
Sherlock Holmes (as played by Benedict Cumberbatch) standing on the rooftop of the Pathology Department of St Bartholomew's Hospital waiting to leap to what will be certain death.
Watson arriving by taxi to stand helplessly on the other side of the road, only able to communicate with his friend by mobile phone.
Looming behind Sherlock, as he says his last sad farewell to his comrade, is the magnificent bulk of the dome of St Paul's Cathedral - a stunning view, it must be said, from this height.
"That's what people do isn't it?" Sherlock Holmes says sorrowfully, adding, in a suitably sombre tone, "leave a note".
With the tension mounting (oh I can hardly bring myself to watch!), he lowers his voice to say a final, heartfelt "good bye John"
And then, with Watson looking up, horrified by the scene that is playing out before him, Sherlock leaps from the roof and falls, flailing through the air, to land in a crumpled heap on the pavement below where an assortment of similarly horrified onlookers race to render what little assistance they can to the broken body that, until just a few minutes before, housed the mind of the World's greatest ever consulting detective.
Farewell Sherlock Holmes.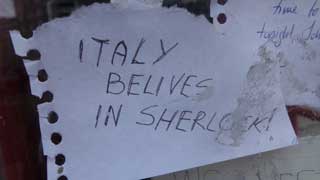 And hello fans of Sherlock Holmes who, ever since the death scene aired in 2012, have been making pilgrimages to Giltspur Street, in the City of London, to pay their respects to the memory of the great detective at the very spot at which he was taken from them in such brutal fashion.
In so doing, they have turned a perfectly ordinary red London phone box - which is clearly visible in the death scene - into a tourist attraction in its own right, as they plaster it with messages, daub graffiti across every spare inch of its exterior and interior, and tell Sherlock Holmes in no uncertain terms that the World is devastated by his loss.
WHERE HOLMES AND WATSON MET
There is added significance to this location as, in the story A Study in Scarlet, it was in the Pathology Department of St Bartholomew's Hospital that Watson was first introduced to Sherlock Holmes.
Indeed, there used to be a plaque on the wall inside the Pathology Department that announced the very spot where Sherlock Holmes and his, soon to be side-kick, Dr John H. Watson first came face to face.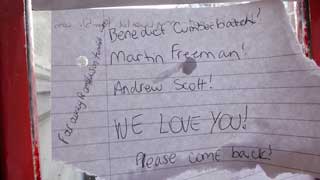 The plaque can now be seen inside the hospital's Museum, which is located just inside the main gate, next to the phone box, and which if you have an hour or so to spare, is open Tuesdays to Fridays from 10am to 4pm.
However for fans of Benedict Cumberbatch as Sherlock, it is the phone box that is the focus of attention and they come in their droves to write messages and, in some cases, to even lie on the pavement and recreate Holmes's crumpled pose.
And, if you haven't yet seen the episode featuring the leap, then I hope I'm not giving too much away by revealing that the phone box and its surroundings also feature extensively in the opening episode of series three!