SIR JOHN BETJEMAN'S COMES TO LUNCH AND STAYS FOR 20 YEARS!
One day in 1954, the late poet laureate, and founder member of the Slough Appreciation Society, John Betjeman, was having lunch with the architects John Seely (the 2nd Lord Mottistone) and Paul Paget at their home, which also served as their office, at number 41 Cloth Fair, when he suddenly announced to his hosts "But of course I've got to live here."
As it happened, as well as owning number 41, Paul Paget had also bought the majority of the other properties in Cloth Fair and was, therefore, in the enviable position of being able to oblige.
POET IN RESIDENCE
Thus, in August 1954, John Betjeman moved into two rooms above a shop at 43 Cloth Fair, paying an annual rent of £200.
Apart from a several months move to Rotherhithe - necessitated by the fact that his secretary, Tory Dennistoun, one night forgot to unplug a tape recorder he had bought her to help with dictation, and managed to burn the flat down - Betjeman would spend almost 20 idyllic years in Cloth Fair.
SIR JOHN DECAMPS TO CHELSEA
But, by 1973, a combination of ill-health and night time noise disturbance from nearby Smithfield Market had caused him to write to his, by then, landlord, the philanthropist John Smith - who, together with his wife, Christian, had founded the Landmark Trust in 1965 - regretting the fact he must leave Cloth Fair, and he duly decamped to Chelsea.
The late Poet Laureate's tenure at 43, however is still remembered with a blue plaque on the outside wall and by the fact you can, if you so desire, rent his old abode for a holiday stay, courtesy of the Landmark Trust,
THE SAILOR'S HOME COMING WINDOW
There is a true gem of a curiosity on the outside wall of 43 Cloth Fair in the form of a delightfully whimsical window that shows 'The Sailor's Home Coming.'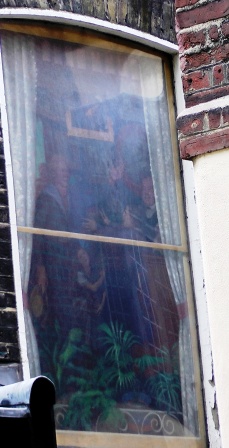 Viewing it can be somewhat tricky since it often catches the reflection of the gabled façade on the opposite side of the Court.
But, having craned your neck, shielded your eyes against the glare, and moved your head awkwardly from side to side, your eyes eventually focus on a group of faded figures, perpetually frozen behind a perspex frame.
Suddenly, your efforts are rewarded as you find yourself cast into the role of a time travelling voyeur, furtively peeking into a long ago happy re-union in which a ruddy faced sailor, freshly returned from his travels, is welcomed back into the bosom of his family.
His children hug him enthusiastically, whilst an exotic songbird, perhaps a souvenir of an earlier voyage to some far flung corner of the Globe, wobbles unsteadily over the whole harmonious scene.
Betjeman was extremely proud of this trompe-l'oiel painting, the origins of which are every bit as intriguing as the artwork itself.
NEIGHBOURHOOD WATCH!
When Paul Paget and John Seely lived opposite they became a little perturbed by the proximity of the window of number 43 to their own living quarters.
As Paul Paget recalled in an interview, given shortly before his death in 1985, "...the neighbours across the alleyway could see us carving the Sunday joint - it was so close that you almost felt as though you should hand a plate across..."
When they bought the other houses in the street (including number 43) they decided to give themselves a little privacy and promptly had the window bricked up.
BRIAN THOMAS SAVES THE DAY
However, they found staring out at a blank, brick wall somewhat un-aesthetically pleasing, not to say decidedly gloomy. So they got the mural and stained glass artist Brian Thomas (some of whose work can still be seen in St Paul's Cathedral) to create the Sailor's Home Coming Window in order to give them something to look at.
Problem solved! They were absolutely thrilled with the finished article which, as Paul Paget recalled, "...was a delightful thing to look at."
It still is a delightful thing to look at, and is just one of the many secrets to which this sleepy little corner of the City of London is privy.
So, the next time you find yourself in the vicinity of St Paul's or Barbican, be sure to make a detour to Cloth Fair and get a peek into a domestic scene that has been delighting residents and passersby alike for many, many years.
Long may it continue do so!