A TIME CAPSULE ENCLAVE
The little knot of streets that make up the Roupell Street Conservation Area are as close as it is possible to get, in this day and age, to slipping back into 19th century London.
The fact these streets have managed to survive the march of time, the bombs of the London Blitz, and the covetous eyes of the developers is truly remarkable; and, given their proximity to the busy Waterloo Road and Station, well, that makes them even more surprising when you chance upon them.
In fact, you can almost feel as though you've stumbled into your very own Brigadoon, and you want to get as many photos of them as you can before the mysterious 19th century houses and shops disappear for another hundred years!
Of course, that last statement is nothing more than romanticizing on my part, since Roupell Street, Whittlesley Street, Theed Street, Cornwall Road and Windmill Walk will, hopefully, be there to view day after day for many years to come.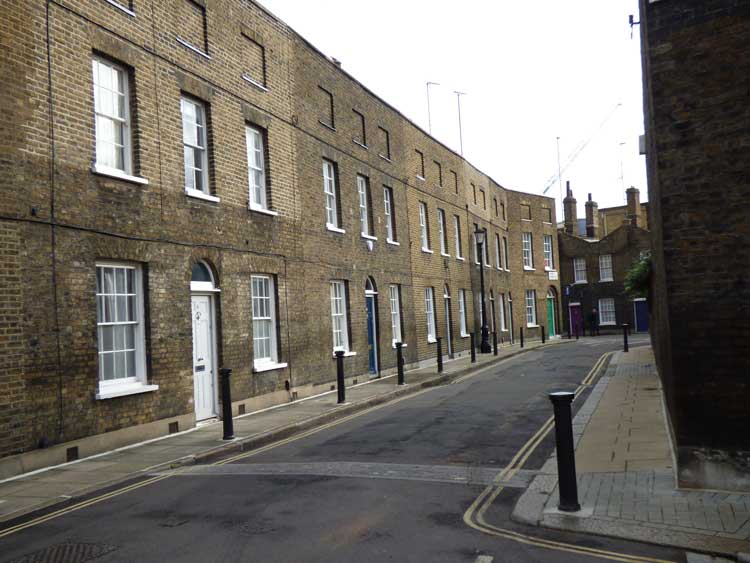 A FAVOURED FILM LOCATION
Even if you have never actually visited the Roupell Street area, there is a good chance you've seen it many times, since it has been used in many films a TV shows.
Mr Selfridge, Call the Midwife and Doctor Who, have all had episodes filmed here; whilst parts of the recent Kray Twins' biopic Legend, starring Tom Hardy, was filmed in Roupell Street.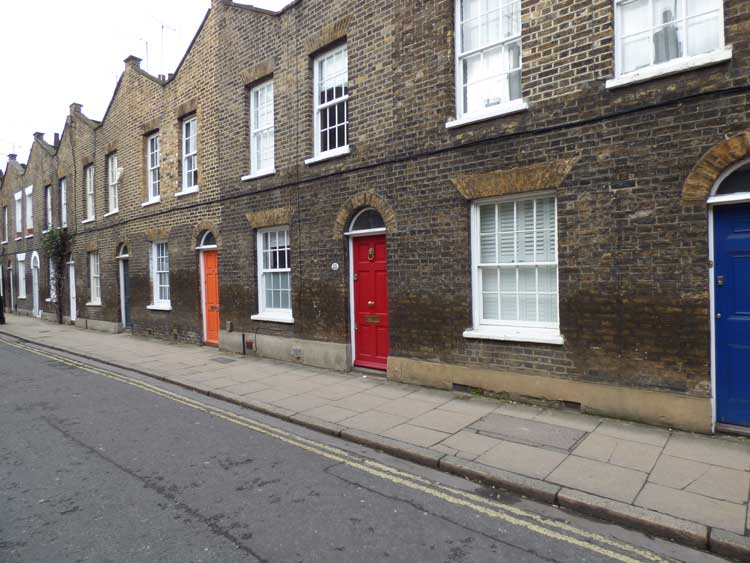 A HISTORY OF ROUPELL STREET
What is now the Roupell Street Conservation area began in the mid 1820's when John Palmer Roupell, a gold refiner, began erecting modest, two-storey abodes on what had, up to that point, been marsh land on the south side of the River Thames.
Initially, Mr, Roupell, evidently, had dynastic ambitions for his new development, since the streets were initially named after himself and various members of his immediate family.
So, what is now Theed Street was originally known as John Street; Whittlesey Street east was known as Catherine Street, after his wife; and Whittlesey Street west was known as Richard Street, after his son.
Unfortunately, thanks to a profusion of similarly named streets in the district, the proliferation of John, Catherine and Richard Streets proved a nightmare for the postmen, who had the unenviable task of delivering to them, and, to avoid confusion, the streets were changed to their current designations in the late 19th century; and. today, only Roupell Street survives to remember the man and the family who were responsible for the creation of this historic enclave.
Anyway, it wasn't long before the first phase of John Palmer Roupell's scheme was nearing completion, and, by 1829, around thirty houses had appeared.
DISASTER ALMOST STRUCK
But then, on Saturday 30th May, 1829, disaster almost ended the project before the houses could be let out to the artisan workers they were intended for.
The Evening Standard reported what happened in its edition of Monday 1st June 1829
"On Saturday evening a fire broke out in Roupell-street, Cornwall-road, in one of the new houses belonging to Mr. Roupell.

On the first alarm the engines of the Palladium and West of England fire-offices promptly attended, and, by the aid of a plentiful supply of water, the flames were prevented from spreading, and were completely subdued in about an hour, but not before one of the houses, nearly in a finished state, was totally destroyed, and the adjoining one considerably damaged.

The fire originated under these circumstances:- Mr. Roupell had bound himself by contract to have both houses finished by a given time, and the period fast approaching, men were employed to work beyond the usual hours.

Some of them were in the act of pitching some gutters, when the pot boiled over and set fire to the shadings and wood with such rapidity that it was with some difficulty all the workmen succeeded in effecting their escape.

Of course none of the houses were insured, as they were in an unfinished state."
Evidently, an important lesson was learned from this near disaster, and the precaution was taken to insure the various houses - a fact that can be attested to by the presence of metal insurance plaques that are affixed to the upper walls of several of the residences.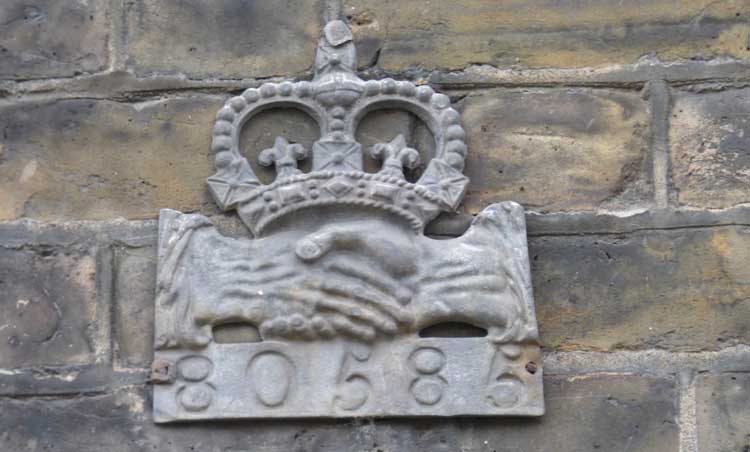 THE VILLAGE PUB
The streets were virtually all completed by the mid-1830's and, to this day, they still have the feel of a 19th century enclave, with corner shops and pubs adding to their overall historical ambiance.
The King's Arms is as much like a traditional village pub as it is possible for a 21st century hostelry to be, and you can almost sense the presence of many of the Victorian residents for whose needs it would have catered.
Although those long ago locals have left no visible signs of their presence here, every so often they crop up in the newspapers of the age; and we get vague insights into their everyday lives and, in some cases, the tragedies they endured.
Take, for example, the following story that appeared in Bell's New Weekly Messenger, on Sunday 19th March 1848:-
"On Thursday an inquest wad held at the King's Arms, Roupell Street, as to the death of Emma Whintle, aged 20, who died from the effects of a large quantity of arsenic.

The father of the deceased is a working silversmith, living at 11, Roupell-street, and she was employed in the straw-bonnet business, in Hatfield-street, adjoining.

On Wednesday she went home, and had her supper with her family, as usual, having 6rst taken two pills.

She slept with one of her sisters, who heard her get up in the night, When she was very sick.

In the Morning she got up again, appeared very ill, and fell down dead.

Mr. Brady, a surgeon, in the Blackfriars-road, was called in, and having analysed the contents of the stomach, discovered in it a considerable quantity of arsenic, which had evidently caused her death.

Her father and family being wholly unable to account for it, the hearing was adjourned to obtain, if possible, some further evidence."
Sadly I have been unable to find further reports on the death of poor Emma Whintle, so the cause must remain a mystery - although I suspect it may have had something to do with either her occupation as a hat maker, or with the two pills that she took on the night prior to her death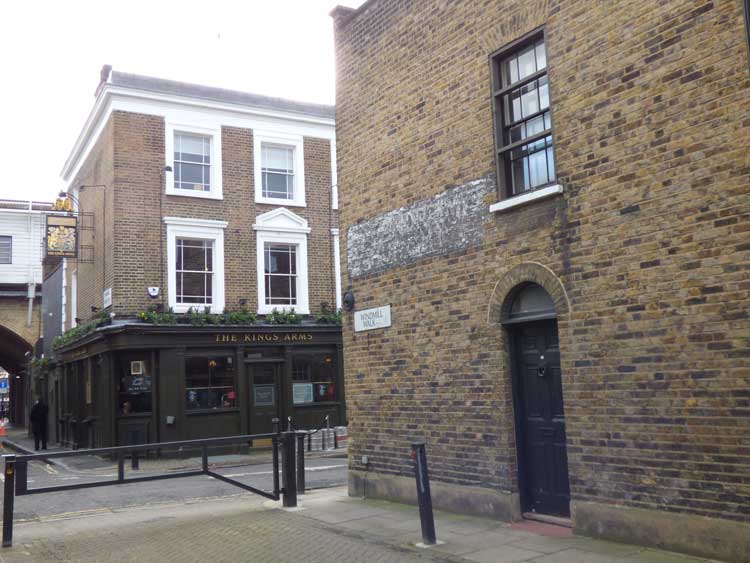 ST ANDREW'S SCHOOLS
In 1868 a new school, designed by Edmund Woodthorpe (1812-1887), opened on Roupell Street. The school catered not only for the educational needs of the district's children, but also for those of the adults as well.
The South London Press extolled the virtues of the new school in its edition of 31st October 1868:-
"These schools, the growth of which has for some time been watched with great interest, have at last reached completion.

The entire building consists of five departments, where the children of the mechanic will receive a sound education, while those of persons in better circumstance will be kept entirely select.

The infants (children under six years of age) receive their first educational impression in the centre of the block.

The total number of children now under instruction amounts to 1,000, being an increase of 100 in the space of one month. Five hundred more are expected.

On Monday night, evening classes for males were commenced under the superintendence of trained masters.

A great number presented themselves for admission and among them was a goodly proportion of men, attracted, no doubt, by the superior accommodation these buildings afford.

It is confidently expected that a great work will be accomplished among persons whose education has been neglected in early youth, and is a noticeable feature that intending members are requested not to apply for admission unless they will attend regularly; an entrance fee, to be returned at the end of the term conditionally upon attendance, being required as a pledge for the necessary attention.

We understand that a select class is also being formed at a higher rate of payment."
THE MARK OF HISTORY
The streets of this tiny enclave most certainly have an atmosphere that is unique in this part of London - perhaps in any part of London.
There are corner shops and pubs, that are more reminiscent of a Northern industrial town than they are of the busy South Bank district of London, and stepping into this historic knot of streets is as close as we can hope to get to venturing back in time to glimpse the streets of London as they were in the 19th century.