THIS PARROT IS DEAD
For many years, in the late 19th and early 20th centuries, "Polly", an African grey parrot of changeable gender, kept patrons at Ye Olde Cheshire Cheese, in Wine Office Court, off Fleet Street, entertained and amused with expletive-laden outbursts, and, in so doing, achieved international celebrity and cult status.
Polly took up residence at Ye Olde Cheshire Cheese around the year 1895, and so famous did he become that, when he eventually shuffled off this mortal coil, in October, 1926, he didn't end up pushing up daisies, but, instead, was, quite literally, nailed to the perch and placed on display in a glass case behind the bar of the hostelry he had ruled over for so many eventful years.
And there he sits to this day.
HOW TO MEET POLLY
To make Polly's acquaintance, you must turn into Wine Office Court from Fleet Street.
There, on the right, you will spot an antiquated-looking facade where a sign announces, "Ye Olde Cheshire Cheese. Rebuilt 1667."
Stepping over the time-worn step, give your eyes a few seconds to adjust to the atmospheric gloom within, and then turn into the first tiny room on the right, the one with the sign above it that announces, "Gentlemen Only Served In This Bar."
Stand by the bar, look up above the line of optics, and there, in a glass case, you will spy a bedraggled looking ex-parrot.
Say "hello" to Polly.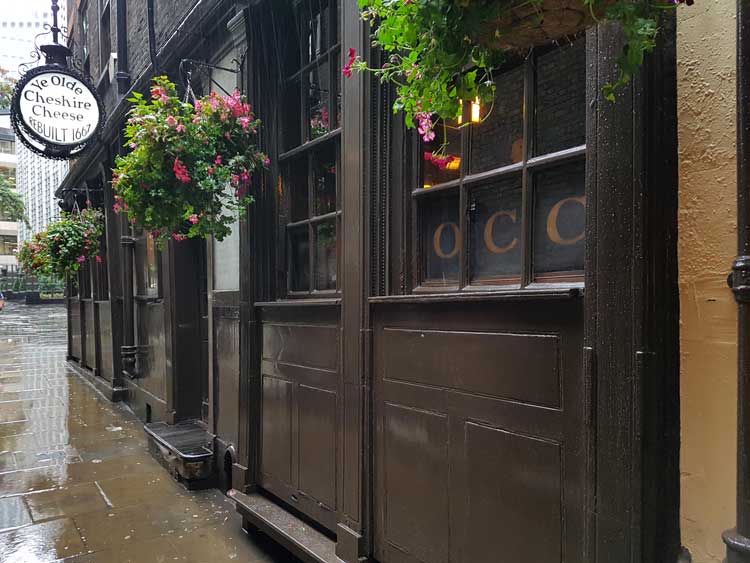 INTERNATIONAL EXPERT IN PROFANITY
He looks harmless enough, in fact, he looks like butter wouldn't melt in his beak.
But, this parrot was once so famous for its colourful outbursts that, following his death, on October 30th, 1926, newspapers the world over carried obituaries to mark his demise; and headlines, such as, "Famed Polly, Wicked Bird Passes Out", and, "International Expert In Profanity Pegs Out", announced his demise to a grief-stricken world.
However, Polly was possessed of other talents as well as being able to swear like a trooper.
He could, for example, entertain customers with his spot-on imitations of the fighting cats in Wine Office Court.
"Rats", "Scotch", "Puss", and "Hurry up with the pudding" were other well known words and phrases that issued forth from his beak.
His imitation of the popping of a cork, followed by the "glug, glug, glug" of the wine being poured, was another of his famous party-tricks - and one that he repeated so many times on armistice day, 1918, that he actually fainted from the exertion!
Journalists learned to refrain from discussing scoops anywhere near him, lest he would repeat what he had heard to the benefit of reporters on competing newspapers.
And, any lady visiting the Cheshire Cheese could look forward to being rewarded with a quick kiss from the tavern's superstar resident.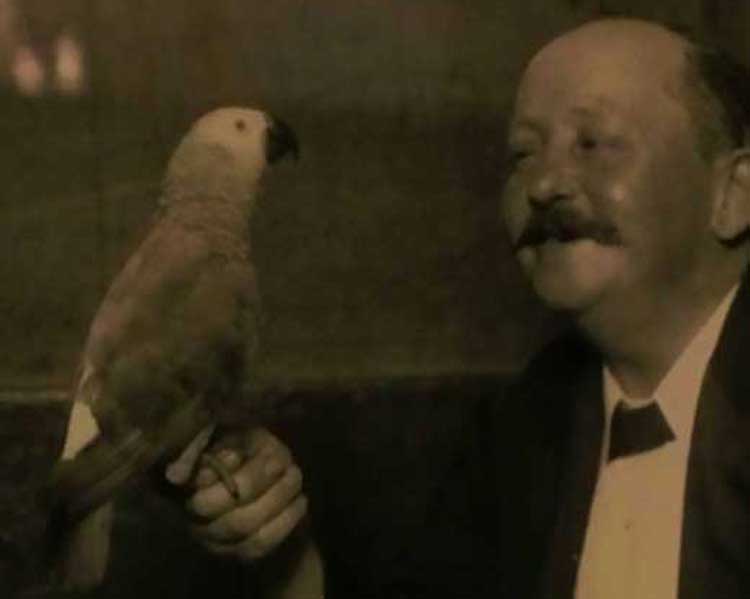 WHEN DID HE ARRIVE?
Interestingly, nobody seems to have been quite sure exactly when Polly had arrived at Ye Olde Cheshire Cheese.
Some of the articles that reported his demise said that he had been in residence for over forty years, which would make his arrival some time in the 1880's.
Several articles, that mentioned him in 1905, stated that he had been in residence for ten years, which would give him an arrival date of around 1895.
But, one thing that is certain is that, once he had arrived, Polly quickly became the Cheese's most famous resident, and anybody who was anybody would, when visiting London, make a point of paying their respects to Fleet Street's most celebrated character; and, by the early 20th century, Polly had become a celebrity of international renown!
JUMBO JUNIOR AT THE CHESHIRE CHEESE
In 1905, Polly was almost knocked off his perch by the arrival of another animal celebrity in the robust form of the elephant "Jumbo Junior".
The Henley Advertiser reported on the encounter between the two celebrities, in its edition of Saturday, 12th August, 1905:-
"The Cheshire Cheese, Fleet Street, has entertained many celebrities since the days of Dr. Johnson, but for the first time in its history it has just entertained an elephant, in the person of Jumbo Junior, from the Royal Italian Circus.

A number of American ladies who are visiting London were his hosts.

Guided by Signor Volpi, Jumbo arrived at Wine Office Court, where a large crowd had assembled to greet him.

He stepped out in a stately manner from his vehicle and marched up the court to face the fire of a regiment of snap-shutters.

He then went to the dining-room, where he ate a bunch of bananas and was introduced to a parrot.

A piece of steak kidney, oyster, lark, and mushroom pudding, for which the house is famous, was then presented to Jumbo, who ate it with relish. and afterwards the little elephant made his mark in the visitors book."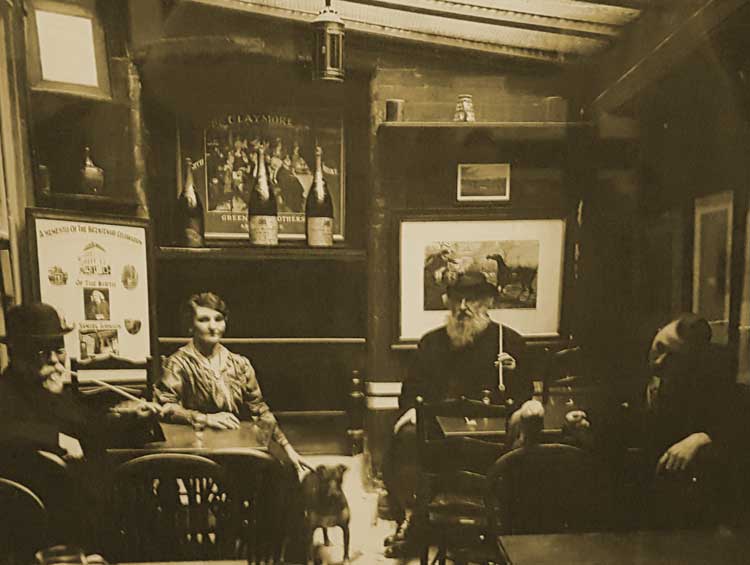 GRIEF AT THE CHESHIRE CHEESE
Not long after the meeting with Jumbo, great consternation gripped Fleet Street, when Polly upped sticks and made a break for freedom.
The Hull Daily Mail, reported the news on Thursday, 17th August, 1905:-
"There is grief in the Cheshire Cheese tonight. "Polly", the parrot, has escaped from the famous Fleet-street hostelry, and lost itself on a roof.

The bird, which could say almost anything, said nasty things to Mr. Choate once, insulted the waiters, said "Rats" to customers, and gave fictitious orders galore.

Moore, the licensee, had refused as much as £200 for the parrot."
HUNT ON FLEET-STREET - CAPTURE IN FARRINGDON-AVENUE
The London Daily News, carried an even full report on what had occurred, in its edition of Friday, 18th August, 1905, and broke the joyous tidings that Polly had been found:-
"Poll, the famous parrot at the Old Cheshire Cheese, in Fleet-street, was very repentant yesterday.

His light grey eye, like burnished silver, shone with its usual brightness, but there was so unwonted a restraint upon his customary pert familiarity that some American ladies who called upon him thought he could hardly be the bird of whose talents they had heard so much.

Overnight he had been off on an adventure, and, though evidently glad to be back once more in his cage and amid familiar surroundings, he refused to say a single word, either to express his sorrow for the terrible commotion he had caused, or to make known his joy at his safe return.

Indeed, had not his trembling on his return been so very marked, he might have been suspected of having been larking of malice aforethought, instead of acting under sudden impulse, for the moment one's back was turned he uttered a low gutteral "Rats!" and then whistled the first few bars of the now popular ditty, "Goodbye, little girl, good bye!"

This parrot is one of the best known in the world. He is as well known, in fact, in America as in London. He has discussed diplomacy with two American Ambassadors, and has talked with Mr. Chamberlain. Indeed, it is believed that it was after Mr. Chamberlain's interview with him that that poor parrot was invented which afterwards had to be killed because people saw truth instead of joke in his incessant refrain, "Your food will cost you more."

Poll has been for many years at the Old Cheshire Cheese, and is almost as talkative as Dr. Samuel Johnson himself.

In fact, as a gifted conversationalist, Poll holds the same place at the Cheese which it is said that Dr. Johnson held there.

Piqued, it is supposed, by the refusal of one of the barmaids to take a piece of sugar from his beak as readily as he would take it from her lips, Poll suddenly took to wing and flew straight out of the window to lodgment on a neighbouring roof.

He had frequently been allowed to be at large in the house, but had never before attempted to extend his liberty into entire freedom.

There, on the roof, he sat and screeched, "Puss, puss, puss!", "Hurry with the pudding!" and "Charley, Charley!"

Everybody in the house rushed out to try to recapture him.

But Poll simply hopped about the roof, and replied "Rats," "What' yours?" or "Have another," to all invitations to descend.

From roof to roof he was hunted, and the barmaids watched with tears in their eyes.

Then, just when it had been decided to appeal to the Fire Brigade to lend assistance, Poll disappeared.

For a couple of hours he was hunted high and low in all those curious old courts and alleys that lie off the northern side of Fleet-street. But not a trace of him could be found.

Then, a well-known poet, who regularly attends the Wednesday celebration of steak pudding, sat down to write his epitaph, to be pasted on the vacant cage.

But, about half-past nine, a man happened to notice what he thought was a curious kind of pigeon in Farringdon-avenue.

It was Poll.

There was no mistaking him.

He was solemnly stalking up the hill, muttering slowly to himself as he walked, "Pudding, pudding!", "Charley, where's my lark?"

He submitted quietly to being captured, and was recognised immediately he said "Charley, is the pudding ready?"

When he was returned, trembling and crestfallen, there was great joy in Wine Office-court.

But, once on his perch, Poll gave a single whistle of satisfaction, and promptly went to sleep, exactly as if he had thought that the less he said about his adventure the better."
THE CHESHIRE CHEESE PARROT LOST
However, having tasted freedom in August, Polly decided to head off for another voyage of discovery in September, 1905.
The Yorkshire Evening Post, reported the parrot's latest escape on Saturday, 30th September, 1905, albeit the newspaper was confident that the parrot would soon be found:-
"The famous parrot at the Cheshire Cheese, Fleet Street, has been lost.

Happily identification will not be difficult, owing to the parrot's peculiar habit of uttering the words "No, Sir -----" in the exact ponderous manner attributed to Dr. Johnson. So haunting was the pronunciation of those two words that many Americans were led to believe that the parrot really knew the great lexicographer in its youth. This may, of course, have been the case, but, as a matter of fact, the bird has only been at the Cheshire Cheese for about ten years.

All the same, as one of the most popular Fleet Street characters, Polly will be sorely missed, and "Poor Tom," the familiar head waiter, is as inconsolable as Ovid."
UNWONTED GLOOM IN WINE OFFICE COURT
The Irish News and Belfast Morning News, on Monday, 2nd October, 1905, explained Polly's method of escape, and pondered whether Polly had, possibly, been poached by a well-known Fleet Street publication, albeit the reporter was evidently unsure of the exact gender of the famous bird:-
"In spite of sunshine above, an air of unwonted gloom hung Saturday over the picturesque little court off Fleet Street, sought out by those who would discover the old Cheshire Cheese Tavern and tread the sanded floor, and consume the historic steak pudding, and sit in the well-worn seat of Dr. Johnson.

The truth is that the famous little hostelry has lost, for the time being, its hardly less famous parrot, who has for so many years presided over the umbrellas in the midst of the old-fashioned dining-room, and has conversed probably with more celebrities than any bird in the world.

On one evening recently, it seems, Polly, who had bean duly put to bed in the kitchen, pushed open the door of her cage, which must have been left unfastened, flew out into Fleet Street, and returned no more.

Rumour has it that she was seen being carried off in the direction of Bouverie Street, where the Punch offices now are. Can it be that the editor, hearing of Polly's fame as a humorist, took this summary means of attaching her to the staff?

In any case, besides being a renowned observer of life and manners, Polly was of a most trustful and confiding disposition.

On a previous occasion when she was lost she almost flew into the arms of an old habitué who was passing through Gough Square, and who escorted her home.

It is earnestly hoped that no worse fate has befallen her in this instance."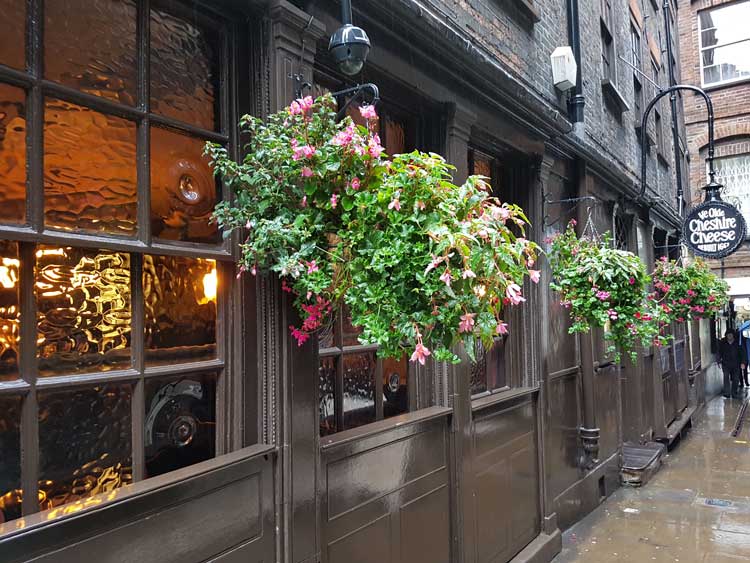 POLLY'S BACK!
Thankfully, as The Sporting News reported, on Saturday, 7th October, 1905, Polly's absence was, once again, only temporary:-
"The Cheshire Cheese parrot is back again, in fine feather and full of beans and bite.

It appears that he only just stepped out to return "Jumbo Junior's" (the elephant) call."
POLLY LEARNS TO SWEAR
During the First World War, Ye olde Cheshire Cheese became a popular haunt with soldiers visiting London on leave, and Polly ever willing to expand his vocabulary, listened in on their conversations with eagerness, and, pretty soon, curses and expletives were issuing forth from its beak!
Then came the end of the war, and the armistice day celebrations for which Polly performed the aforementioned famous feat of imitating the popping of a cork so many times that he fainted from exhaustion!
POLLY'S DISCRETION
Polly's colourful language led to a potentially embarrassing situation when, on Thursday, 4th December, 1919, Princess Mary, the daughter of the King, paid a visit to Wine Office Court.
The Hull Daily Mail, took up the story on Saturday, 6th December, 1919:-
"Princess Mary visited Fleet-street, London, on Thursday, and opened the new City Women's Club in Wine Office Court, an old-fashioned Georgian house, once the home of Oliver Goldsmith.

As the Princess, side by side with the Lord Mayor, left Wine Office Court, Old John Bull, the well-known head waiter of Ye Olde Cheshire Cheese, was seen standing in the forefront of the crowd with Polly, the notorious parrot, on his wrist.

Princess Mary stopped upon seeing the bird and stroked its head.

To her abiding credit, Polly did not indulge in that profane kind of chatter for which she is famous."
CHARLIE CHAPLIN MEETS POLLY
Almost two years later, in September, 1921, Charlie Chaplin paid a visit to London and, as The Nottingham Evening Post reported on Thursday, 15th September, 1921, he too dropped by to make Polly's acquaintance:-
"Charlie Chaplin spent a couple hours last night in Old London, exploring the quiet courts and squares that lie behind Fleet-street.

His starting point was the Olde Cheshire Cheese, where he dined unrecognised, save by the staff.

Mighty himself, he sat in the seats of the mighty. He tried the famous toasted cheese and talked to the equally famous grey parrot. And the parrot talked to him. Charlie had it in the sanded "box" with him, and Polly chattered like a real lady, and even sang a song.

Charlie shook hands with the entire staff, with the solitary exception of the parrot..."
THINGS A PARROT KNOWS
Politicians and government minsters were also known to converse with Polly, as was reported in The Dundee Evening Telegraph on Monday, 31st March, 1924:-
"The Chancellor of the Exchequer, Mr Philip Snowden, M.P., was the guest of the Treasury Department at a dinner at the Cheshire Cheese, and the manager of the hostelry was telling him that Mr Stanley Baldwin dined there when he was Chancellor, a waiter said to the famous parrot of the "Cheese" - "Tell the Chancellor what Mr Baldwin drank." "Scotch!", came the pat reply from the parrot.

"Well," cautioned Mr Snowden, laughingly, "don't you go and tell the next Chancellor who dines here that I drank ginger ale."
DEAN INGE'S ADVENTURE THE CHESHIRE CHEESE
Even William Inge, the Dean of St Paul's Cathedral - whose nickname was "the gloomy Dean" - was forced to crack a smile when he became the recipient of Polly's attentions.
Their encounter was reported in The Hull Daily Mail, on Friday, 3rd October, 1924:-
"Dean Inge was kissed on Wednesday night - by a parrot.

The scene was the Cheshire Cheese Tavern...The parrot, having had all the benefits of civilisation conferred upon it, has a free vocabulary.

Fortunately, the Dean is a little deaf."
FLEET STREET TALENT
Polly celebrated his fortieth birthday on 9th March, 1926, and, the next day, The Leeds Mercury paid tribute, albeit, once again, there was confusion over Polly's gender:-
"The birthdays of celebrities are public events, and an anniversary which has not passed without mention is the fortieth birthday yesterday of Polly, the famous grey parrot of Ye Olde Cheshire Cheese, Fleet-street's historic eating-house.

I have found, on taking American visitors to the Cheshire Cheese, that they are usually more enthusiastic over Polly than over the relics connected with Dr. Johnson.

Polly spends a great part of her time in the bar, and even when she comes upstairs and sits on the backs of the seats occupied by luncheon guests she is given to ordering "Scotch" in a loud voice and imitating the popping of corks among other things."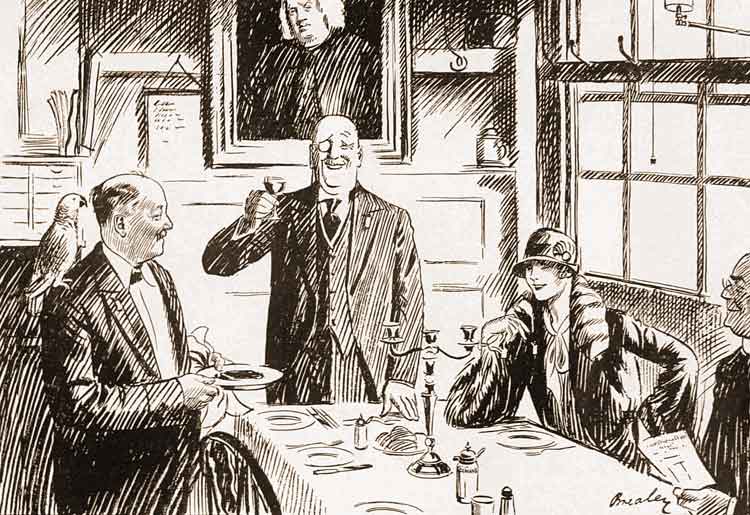 POLLY PUT ON THE SICK LIST
But, years of fluttering around a smoky pub were beginning to take their toll on Polly's health and, on Tuesday, 10th August, 1926, The Sheffield Independent carried the alarming news that Polly was seriously ill:-
"Polly, the 40-years-old parrot at the famous Cheshire Cheese tavern on Fleet Street, developed pneumonia on Saturday, and the specialist who was summoned ordered her into seclusion.

Although very ill, it is hoped, with careful treatment, that Polly will be fit for duty in a few weeks time.

Polly's fame is world-wide.

In language that is often more forcible than polite, she has expressed her views to visitors from all quarters of the globe.

In the war years, she was a great favourite with the Colonial soldiers who came to London, and to her intimate friends she will repeat some of the lively expressions she picked up as a result of that acquaintanceship."
A FLEET STREET CELEBRITY
The next day, according to The Leeds Mercury, Polly had shown some improvement:-
"I am happy to record that that the distinguished invalid, the parrot at the Cheshire Cheese, was reported by his medical attendant tonight to be rather brighter.

He has not yet regained the talking stage.

He is suffering from pneumonia, and, as he is forty-two years old, requires careful nursing. His room is being kept warm and he has been allowed a few drops of whisky.

This parrot, generally known as Polly, is by far the best-known inhabitant of Fleet-street. No editor in this street of ink has anything like the world-reputation of the Cheshire Cheese parrot.

The hostelry, owing to its associations with Dr. Johnson, figures in every intelligent tourist's exploration of London.

There he has his helping of the famous pie, which contains oysters, mushrooms, kidneys, and I know not what other delicacies.

The tourist invariably is welcomed by the parrot, who makes a point of kissing all lady visitors.

He talks a good deal, sometimes in Army language, but the best trick in his repertory, in my opinion, is his imitation of the drawing of a cork and the outpouring of a bottle of wine."
PNEUMONIA KILLS A FAMOUS PARROT
Sadly, however, Polly's health declined rapidly over the next few months and, on Monday 1st November, 1926 The Portsmouth Evening News, was one of many newspapers that carried the news of his demise, albeit yet again he was referred to as she:-
"Polly", the well-known parrot of the Cheshire Cheese public-house, Fleet Street, E.C . died last night after suffering from pneumonia for three months.

A fluent talker, "Polly," who was more than 40 years of age, was attended by Mr. Henry Gray, the veterinary surgeon.

During her life "Polly" was introduced to Princess Mary, Mr. Baldwin, Mr. Philip Snowden, and many other famous men and women.

With American tourists she was a great favourite.

She could imitate the drawing of a cork and the pouring out of wine.

During the war, when customers asked her, "What about the Kaiser?" she would reply, "To **** with the Kaiser.

"Polly's" successor is already in office.

It is a parrot with almost the same colouring as "Polly," and will be known as "Polly II."

The original Polly is to be stuffed."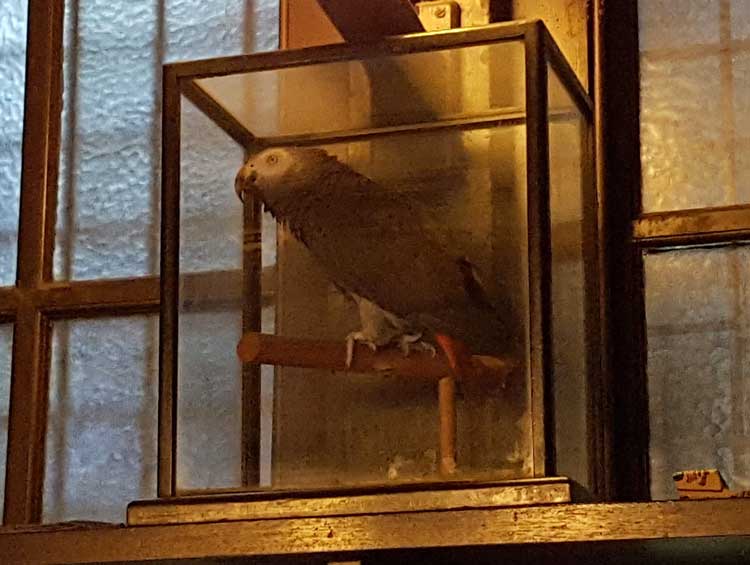 POLLY OF THE CHESHIRE CHEESE
The Lancashire Evening Post also reported her demise, in it edition of Monday, 1st November, 1926:-
Polly, "the old woman" of Fleet-street, who lived in a cage at the famous Cheshire Cheese, is dead.

In the course of 40 years, during which she was a popular figure at the inn, Polly received hundreds of thousands of visitors, from Prime Ministers downwards.

No American had really "done" London unless he had been introduced to Polly.

She had an engaging manner of kissing you if she liked you, when she was in the mood, with imitations of the drawing of a cork and the subsequent bubbling of an emptying bottle."
A GREAT BIRD
As far as The Exeter and Plymouth Gazette was concerned in its obituary, published on Monday, 1st November, 1926, Polly had been, quite simply "a great bird":-
"The death, after a long illness, of the Cheshire Cheese parrot has gloomed half London.

The news was broadcast last night with due solemnity.

So far as a grey and scarlet South African parrot can achieve greatness, that bird did. For 40 years it was the biggest personality in Fleet-street.

No really illustrious visitor to this country failed to secure an audience, at which the parrot always took the honours.

It was a gifted talker, even by the highest Army standards, and besides such side-tricks as imitating perfectly all the sounds of a public bar, not only swore like a cavalry S.M. but obviously knew the right time to do it.

I once saw it drop a cigarette box it was perforating. It promptly exclaimed just what most ex-Service men would say if they dropped a half crown down a grid.

Once, Princess Mary insisted on being introduced to Polly. It had to be done, but it aged the manager.

If anyone had mentioned the Kaiser, the King's daughter would have heard things not mentioned to a drunken cow-puncher."
HE'S ONLY HUMAN
The Sporting Times, on Saturday, 6th November, 1926 opined that the real cause of Polly's death had been overwork:-
"I was discussing with an habitué of the Cheshire Cheese the other day the sad demise of Polly, the Cheese's world-famous parrot.

He gave us his opinion that Polly had died of over work.

Customers were always getting the sagacious bird to show off, especially when country visitors were with them, and it undermined Polly's constitution.

"And, after all," added the worthy man with a sigh, "the bird was only human."
POLLY II DIES
Following a visit to the taxidermist, Polly I was put on display in nearby Anderton's hotel, before being returned to the pub over which he had held court for so many years.
His replacement, Polly II, never quite achieved the level of fame that had been achieved by its predecessor, albeit, as the following obituary, which appeared in The Belfast Newsletter on Wednesday, 10th August, 1949, makes clear, this second parrot was able to imitate something that must have set many a pulse racing during the Second World War:-
"Fleet Street's best-known tavern and haunt of journalists, is without a parrot for the second time in 63 years.

Polly II died last Saturday.

Since the death of Polly I, Polly II had occupied his corner of the bar.

He talked little but whistled a lot, and to the alarm of many during the war, acquired the whistle of a falling bomb.

Polly I was a conversationalist. He took his daily walk down Fleet Street for years and would chatter amiably all the time."
SAY HELLO TO POLLY
So, the next time you find yourself in Fleet Street, take a few minutes to step away from the crowded thoroughfare.
Duck through that timeworn doorway in Wine Office Court, make your way into the bar, and say a fond "hello" to Polly the wicked parrot.
Sadly, however, he/she probably won't respond; for, bereft of life, he rests in peace, nailed to the perch in a glass case above the bar.
Beautiful plumage though!