AN UNTIMELY DEATH
By the side of Queen's Ride, one of the roads that skirts Barnes Common, a flight of steps ascend to the roadside memorial to rock legend Marc Bolan (1947 - 1977).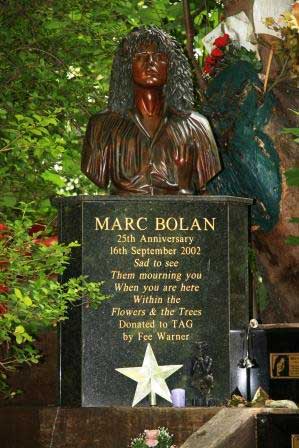 It was here that a fatal, early morning crash, ended the career of one of the great superstars of the glam-rock era, and it is to this spot that fans from all over the World still come to leave their tributes to another rock star who was tragically cut down in his prime.
At around 5am on 16th September 1977 Marc was being driven home by his American girlfriend, Gloria Jones, when she lost control of the car on this bend and smashed into a tree.
Marc Bolan died instantly after his side of the car took the full impact of the crash.
He was twenty-nine years old - just two weeks short of his thirtieth birthday - and, having just completed a television series, he was on the verge of making a comeback after spending the previous three years abroad as a tax exile.
The bronze bust at the top of the steps that lead up to the tree was unveiled on the 25th anniversary of the accident by Marc's son, Rolan.