LOOK INTO THE DARKNESS
I recently spent the best part of an hour on my hands and knees peering down through a metal grille in the middle of Charing Cross Road, and, I have to say, it was thrilling.
Busses, cars, taxis, white vans and huge trucks thundered by, their drivers casting puzzled glances at me as they passed.
For my part, I was terrified that one of them might, at any moment, mistake me for a speed bump, and slow down sufficiently to drive carefully over me before I had accomplished the task that had brought me to this busy spot on a hot August morning.
"What on earth were you up to (or should that be down to)?" I hear you ask.
Well, since you did ask, I had come in search of a supposed underground street that is reputed to be visible through this very grille on this very tiny island in the centre of Charing Cross Road.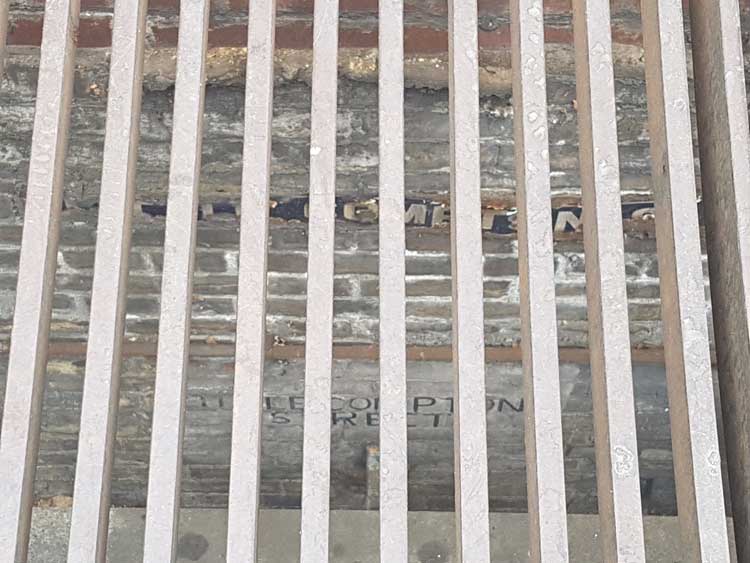 LITTLE COMPTON STREET
The street in question is, or rather was, Little Compton Street, and it was obliterated in 1886, when the Metropolitan Board of Works demolished it and its surroundings, in order to drive Charing Cross Road through one of Victorian London's most notorious slum districts to create a connecting link between Trafalgar Square and Oxford Street and Tottenham Court Road.
As The Daily News put it, on Monday, 28th February, 1887:-
"There can be no doubt that it is a work which has transformed, for good, a once unsightly, overcrowded part of London; and the change is so great that a person now visiting London for the first time during the past ten years, would be at a loss to recognise the site of quarters once familiar and notorious."
A BEGUILING GLIMPSE INTO A LONG LOST ROAD
Amongst the streets that disappeared in order that Charing Cross Road could be created was Little Compton Street, which was the name used for the eastern section of Old Compton Street, and which connected Old with New Compton Street.
At this point, however, history and folklore divide.
A tradition has grown up that, in the construction of Charing Cross Road, the Metropolitan Board of Works, quite literally, "rode roughshod" over Little Compton Street, and in consequence, this London street was buried beneath the new link road.
Consequently, according to one website, those in the know who pass the junction of Old Compton Street, where it intersects with Charing Cross Road, can stoop down over the iron grille in the middle of the road, and catch a "beguiling glimpse into a long lost road buried underneath the modern day streets of London."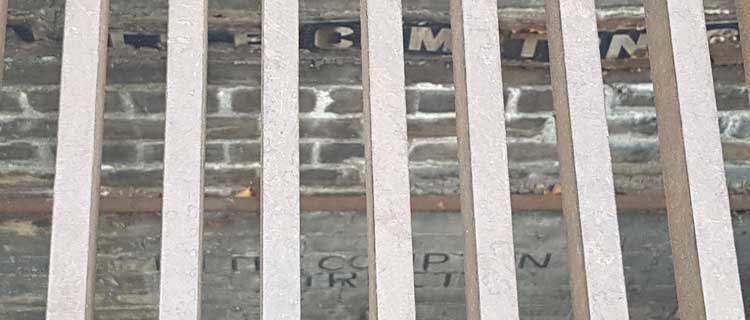 THAT'S WHY I WAS HERE
And it was that unmissable opportunity that had brought me to the middle of the busy Charing Cross Road on a hot August morning, where I got down on all fours and peered down into a Netherworld of grime and gloom.
To be perfectly honest, it didn't look much like a subterranean street.
In fact, it is hard to imagine a more unstreet-like street than that which is visible beneath the iron grate in the middle of Charing Cross Road.
But, what I did see, when my eyes finally adjusted to the gloom below, were two signs, both of which read, "Little Compton Street."
Unfortunately, photographing them proved, to say the least, an absolute nightmare.
Not only are the gaps between the bars of the grille so narrow that it is all but impossible to squeeze your camera through them, but the signs themselves are at such an awkward angle to the road above as to make getting a photograph of them both together a virtual impossibility.
Which is why I spent the best part of an hour on my hands and knees, crawling back and forth over the grille attempting to get a half way decent photograph.
IS IT REALLY A BURIED STREET?
However, as previously mentioned, aside from the two signs, what I was looking at looked nothing like a street. There were wires and pipes, fallen leaves, a discarded credit card, and what looked suspiciously like a cup from a discarded bra.
I also don't buy the claim made by one website that:- "At that time, the street level was much lower, running at the height of the basements of today's buildings."
So, if this isn't a buried section of a forgotten London street, then, what exactly is it?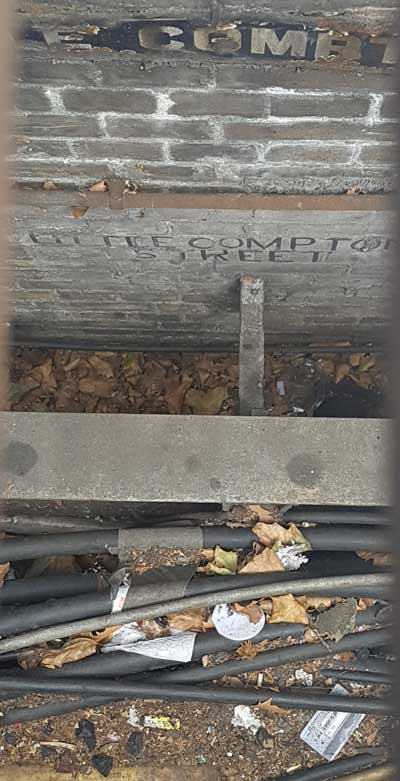 THE OPENING OF CHARING CROSS ROAD
Charing Cross Road was opened on Saturday, 26th February, 1887, and the opening ceremony was performed by Prince George (1819 - 1904), the then Duke of Cambridge. As a result, the new thoroughfare's junction with Shaftesbury Avenue was named Cambridge Circus in his honour.
On Saturday, 5th March, 1887, The Graphic took its readers on a stroll along the new road:-
"This new artery is a decided addition to the public convenience, as hitherto the only carriage-thoroughfare between Charing Cross and Tottenham Court Road was through two of the narrow streets which converge in the once famous Seven Dials.

It is a little unfortunate that the entrance of the new thoroughfare at Trafalgar Square should be only forty-five feet wide, in place of the sixty feet which it presently attains, and keeps up to the end of its career in Oxford Street. But this is a small matter and, taken altogether, the road, as a road, is everything that could be wished.

There is a subway, wherein the gas-pipes, water-pipes, and telegraph-wires dwell together, it is to be hoped, in brotherly unity; while the sewer-pipes, which belong distinctly to a lower social grade, have their habitation underneath the subway.

All this is just as it should be."
THE TRUTH IS DOWN THERE!
And therein lies the truth about this supposedly "buried London Street."
It is not a street at all, but is part of the subway network built beneath Charing Cross Road to carry the utilities for the emerging modern age of London; to be precise this one is, in fact, part of the Cambridge Circus utility tunnels.
By containing the utilities in a network of accessible subways, disruption could be kept to a minimum, as they wouldn't have to dig up the road every time something needed repairing or relaying.
BUT WHAT ABOUT THE SIGNS
Of course, this rather mundane explanation doesn't explain the presence of the two signs on the wall down there.
Well, the tunnels have numerous such signs along their lengths and they served a simple purpose.
Workmen, who had to descend into this subterranean labyrinth, in order to carry out maintenance and repairs, had to know where they were beneath the streets of London.
Short of popping up to the surface every so often to take a location check, the signs placed on the walls, at strategic locations, enabled, and still enable, them to navigate their way through the tunnels.
The upper of the two signs (the blue and white one) may possibly have been rescued from Little Compton Street when it was demolished, it certainly looks old enough, but the wall to which it is attached is certainly not a surviving wall from the old thoroughfare that managed to dodge the redevelopment of the area in the 1880's.
BUT IT IS INTERESTING
However, be that as it may, there is no doubt that the idea of a forgotten buried street is an intriguing one, and thus people in the know do like to stroll into the centre of Charing Cross Road, drop down onto all fours and peer into the darkness below, until, their eyes having adjusted, they focus upon these two curiosities of secret London.
And, let's be honest, there are worse ways to while away a hot August morning than drawing puzzled glances from passing motorists and passers-by alike, as you hunch over the grille and try your hardest to get your camera to focus on what lies below.