THE GRAFFITI GALLERY
Deep beneath Waterloo Station, a dismal, disused tunnel tunnel has, since 2008, enjoyed a new lease of life as an ever changing, unofficial, art gallery.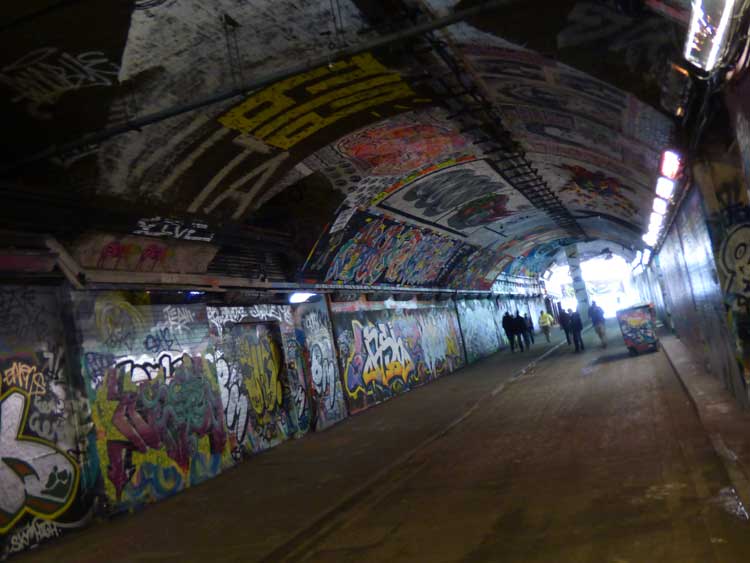 THE CANS FESTIVAL - MAY 2008
The Leake Street Tunnel - also known as the "Graffiti Tunnel" - - underwent its remarkable transformation in May 2008 when Banksy chose it as the location for the "Cans" festival that saw street artists - headed by Banksy himself - descend into the twilight world of the tunnel, and in a few days, the dark, grimy brick work had been transformed into a profusion of colour.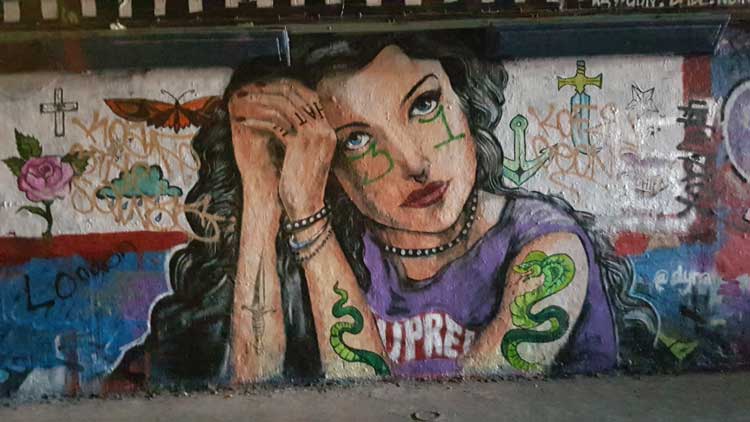 SUCH A FUN PLACE TO EXPLORE
Ever since, street artists from all over the world have been drawn to this gallery of the streets, and each week new "art works" are sprayed over old and the tunnel's brickwork becomes an ever changing canvas that makes the Leake Street Tunnel, the most fun tunnel you could ever walk through.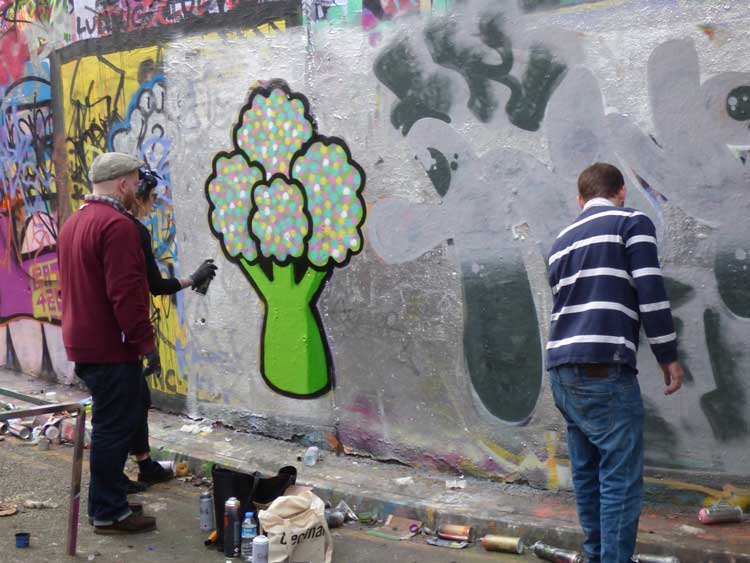 A TOTAL TRANSFORMATION
What would otherwise be the creepiest of place, one that you would avoid at all costs for fear of whatever nefarious characters might be lurking in this dark and cavernous underworld, is, instead, a sheer joy to encounter.
No matter what time of day you walk through it (within reason, I still wouldn't risk it in the dark!), you are assured of the company of many other like-minded individuals who have also come in search of an unofficial London attraction at which colour, humour and idiosyncratic design are mingled with political statement and social awareness to create something that is totally unique.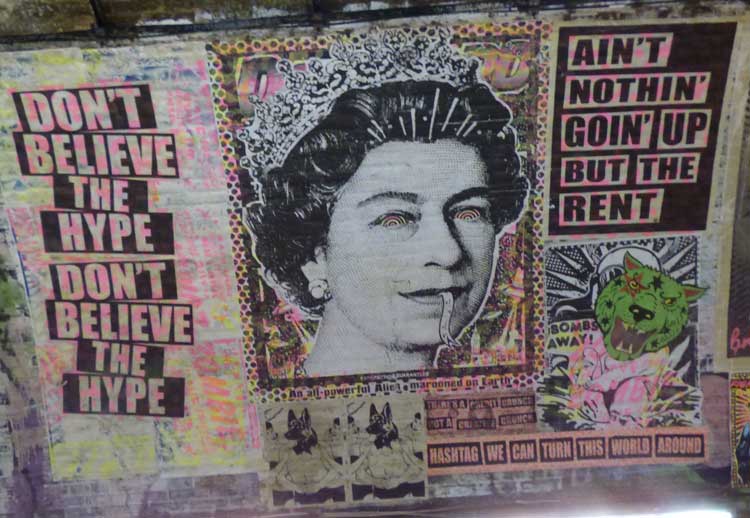 IT'S ALL SO FLUID
During your visit, you will probably encounter people of all ages adding to the artistic cavalcade that twists its way across every spare inch of the tunnel's brickwork; and many of them are happy to pause and chat, or even to pause and pose to allow you to record them at work.
But it strikes me during my visits just how fluid this whole place is - sometimes depressingly so.
For, the life span of each painstakingly created piece of art can be fleeting. In fact it can sometimes be a case of here today and gone tomorrow.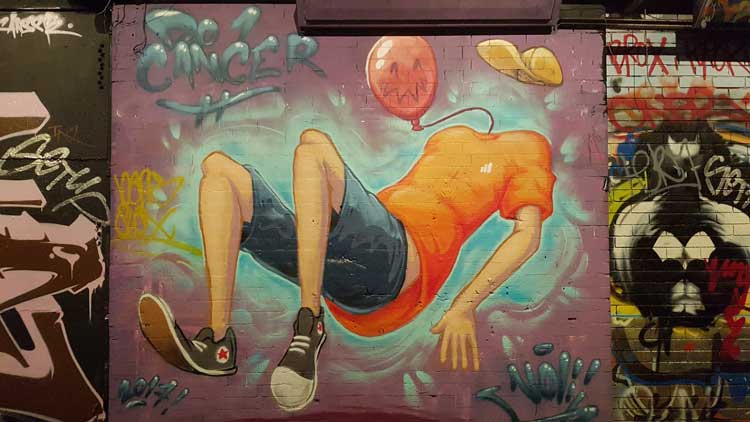 THE RUTHLESS WORLD OF STREET ART
You can watch someone dedicate the best part of a day to creating a masterpiece; and then, a few weeks - sometimes just a few days - later - along comes another spray can artist and paints over it.
Street art, it seems, inhabits a ruthless world in which sentiment plays little part!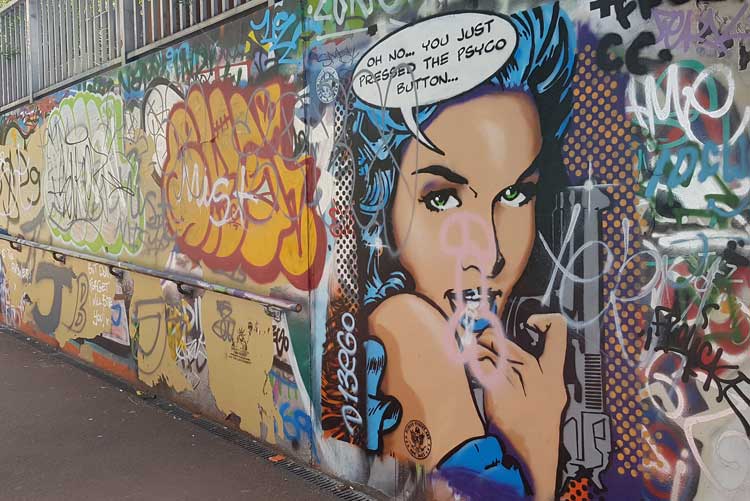 IT IS ALWAYS CHANGING
However, one artists loss is the public at larges gain, for it means that no two visits to the Leake Street Tunnel are the same.
Indeed, I took the photographs on this page over several visits, and each time I visited some of them had already been painted over!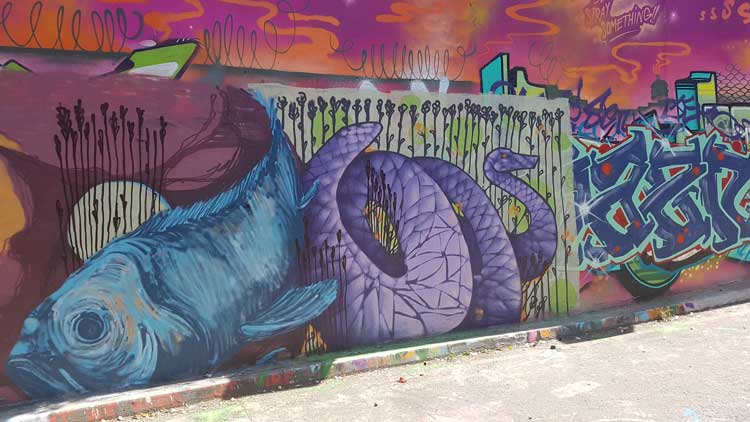 ALWAYS SOMETHING NEW TO LOOK AT
So, if you are the sort of person who enjoys the colourful and the unusual; and if you want to uncover a secret part of London, one that goes unnoticed by the majority of the thousands of visitors who converge daily on the South Bank and the London Eye, then head over to the Leake Street Tunnel; have your camera at the ready, and prepare to be pleasantly amazed!