NEW YEAR'S DAY 1881
It is probably one of the most memorable and famous fictional meetings in history - or at least in the genre of the detective story - Dr. Watson's meeting with Sherlock Holmes.
If you are one of those people who believes that Holmes was real, by the way, please disregard the word "fictional" in the above passage.
Anyway, let us join Dr. John H. Watson as he recalls his meeting with Sherlock Holmes in the first Holmes story A Study In Scarlet.
WATSON ARRIVES IN LONDON
Having been wounded in the second Afghan war, Dr. Watson has arrived back in England where, having "neither kith nor kin", and being, therefore, "...as free as air - or as free as an income of eleven shillings and sixpence a day will permit a man to be," he "...naturally gravitated to London, that great cesspool into which all the loungers and idlers of the Empire are irresistibly drained..."
Unfortunately, London proves to be more expensive than he had anticipated and, with his cash reserves rapidly dwindling, he resolves to "...take up my quarters in some less pretentious and less expensive domicile..."
A chance meeting at the Criterion Bar with "young Stamford, who had been a dresser under me at Bart's, leads to Watson learning of "..A fellow who is working at the chemical laboratory up at the hospital. He was bemoaning himself this morning because he could not get someone to go halves with him in some nice rooms which he had found, and which were too much for his purse."
Watson is eager to meet this person, but Stamford is a little reluctant to forge an introduction, warning Watson that, "You don't know Sherlock Holmes yet...perhaps you would not care for him as a constant companion."
THEY HEAD TO BART'S
But Watson persists, and so he and Stamford head off to St Bartholomew's Hospital where, to quote Watson's full account of the memorable encounter:-
"...we turned down a narrow lane and passed through a small side-door, which opened into a wing of the great hospital. It was familiar ground to me, and I needed no guiding as we ascended the bleak stone staircase and made our way down the long corridor with its vista of whitewashed wall and dun-coloured doors. Near the farther end a low arched passage branched away from it and led to the chemical laboratory.

This was a lofty chamber, lined and littered with countless bottles. Broad, low tables were scattered about, which bristled with retorts, test-tubes, and little Bunsen lamps, with their blue flickering flames. There was only one student in the room, who was bending over a distant table absorbed in his work. At the sound of our steps he glanced round and sprang to his feet with a cry of pleasure. "I've found it! I've found it," he shouted to my companion, running towards us with a test-tube in his hand. "I have found a re-agent which is precipitated by haemoglobin, and by nothing else." Had he discovered a gold mine, greater delight could not have shone upon his features.

"Dr. Watson, Mr. Sherlock Holmes," said Stamford, introducing us.

"How are you?" he said cordially, gripping my hand with a strength for which I should hardly have given him credit.

"You have been in Afghanistan, I perceive."

"How on earth did you know that?" I asked in astonishment.

"Never mind," said he, chuckling to himself. "The question now is about haemoglobin..."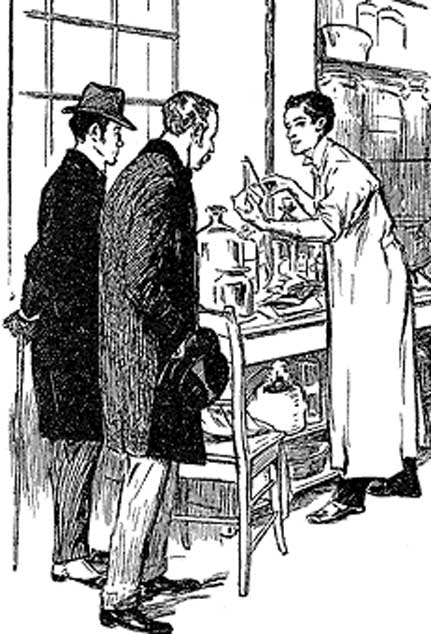 AND SO TO BAKER STREET
Having astonished Dr. Watson with this uncanny insight into his past, Holmes informs Watson that "I have my eye on a suite in Baker Street...which would suit us down to the ground."
So it is that, according to Watson, "We met next day...and inspected the rooms at No. 221B, Baker Street... So desirable in every way were the apartments, and so moderate did the terms seem when divided between us, that the bargain was concluded upon the spot, and we at once entered into possession."
DETECTIVE FICTION'S MOST ENDURING PARTNERSHIP
And thus, the greatest partnership in English literature was born, as the two men took up residence in a building that, as a result of their occupancy, was destined to become one of the world's most famous addresses.
Hundreds, if not thousands, of people a day make the pilgrimage to Baker Street to gaze upon 221B.
THE PLAQUE ON THE WALL
Far fewer make the journey to West Smithfield to step inside the tiny museum of St. Bartholomew's Hospital, where, on the wall, can be seen the plaque that used to adorn the wall of hospital's Pathology Department at the spot where the meeting between Holmes and Watson was reputed to have taken place.
The plaque reads:-
"AT THIS PLACE NEW YEARS DAY, 1881
WERE SPOKEN THESE DEATHLESS WORDS
"YOU HAVE BEEN IN AFGHANTISTAN I PERCEIVE"
BY MR SHERLOCK HOLMES
DR JOHN H. WATSON M.D.
AT THEIR FIRST MEETING."
If you are a fan of the Sherlock Holmes stories then this plaque is a must on your London itinerary.
You can even sit down and pick a well-thumbed copy of A Study In Scarlet and read the passage in which Watson describes their meeting.