ADAM AND EVE AND ENDANGERED CREATURES
Across the road from Nelson's Column, at the junction of Strand and Northumberland Avenue, there stands a curved building that is known as The Grand Building, or Grand Buildings. The building replaced the Grand Hotel, one of numerous hotels that sprang up in the vicinity in the late 19th century to accommodate those coming into London from all over Europe via the nearby Charing Cross Station which, in its heyday, was England's undisputed gateway to Europe.
To say that this building got off to an inauspicious start would be, to say the least, a classic case of understatement. For, as it was nearing completion, in March 1990, the Poll Tax riots erupted around Trafalgar Square, and the building materials and scaffolding, that then encased the building, were torn down to provide ammunition for the rioters - which, as starts go, is a pretty dramatic one.
Fortunately, the building emerged relatively unscathed from the haze of the confrontation, and it is now home to an arcade of shops, one of which, Waterstones, makes for a pleasant spot in which to while away a few moments, or even hours, perusing their volumes of books, whilst enjoying a coffee in their first floor coffee shop.
EXAMINE THE EXTERIOR FIRST THOUGH
Many of those who duck into Waterstones to enjoy the aforementioned pursuits, might notice a series of carvings that adorn the Trafalgar Square facing facade of the building.
They are, it must be said, delightful, and they deserve far more than the cursory glance that passersby tend to give them, that is if they give them a glance at all.
The carvings, which were created by legendary stone carver Barry Baldwin, are well worth a close study, as they are, to coin one of my favourite words when describing London locations, wonderful!
BEGIN ON THE STRAND
Since the building actually curves round from Strand to Northumberland Avenue, I would recommend beginning your visual exploration by the very first Strand arch of the building.
Each arch is surmounted by a carved face, and each face has its own distinctive expression.
FACE ONE
So the first face as we set off along the arches, looks skywards, her (or his?) hair appears to be blowing wildly in the wind, whilst the upper lip appears to have twisted into a slight Elvis Presley-like snarl - or is that just my overactive imagination?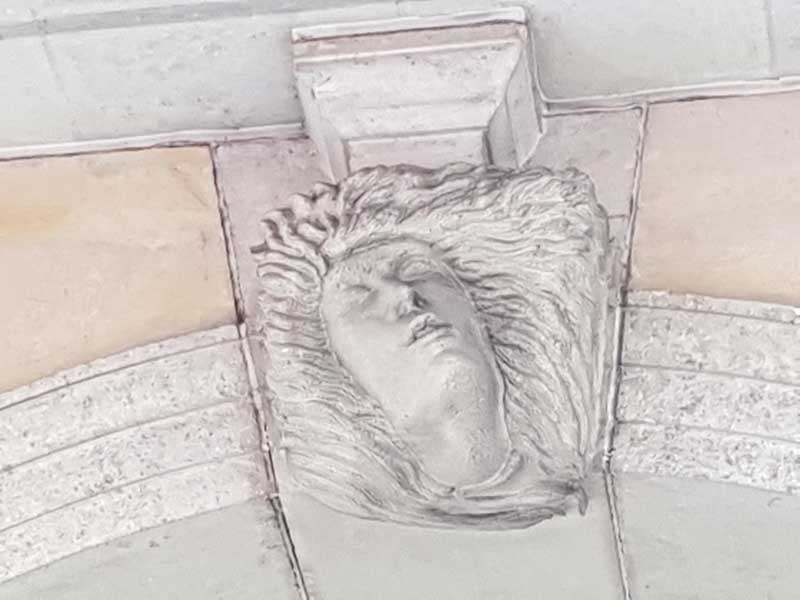 FACE TWO
As we approach the second arch, the face that surmounts it appears to be turning awkwardly away from us, perhaps curious to know more about the comings and goings on nearby Trafalgar Square, or watching the furtive footfall of those passing in and out of Waterstones.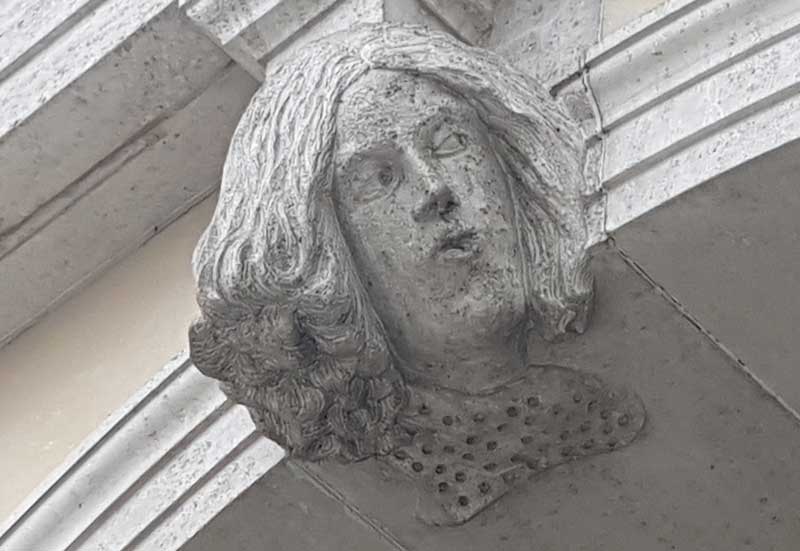 FACE THREE
Face three is also turning and staring to its left, albeit its mouth has cracked slightly into the beginnings of a benevolent smile.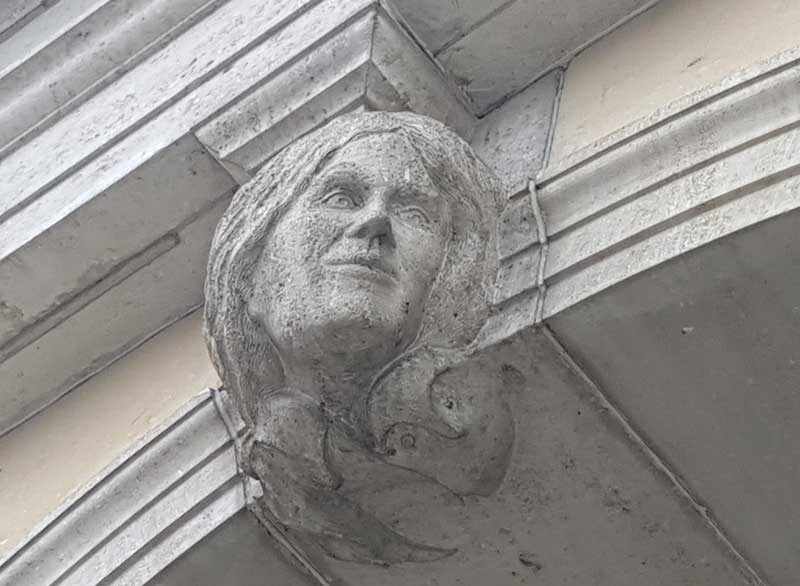 FACE FOUR
Face four, on the other hand, is casting a crafty sideways glance at face three, perhaps a little enamoured at the serenity of its neighbours smile?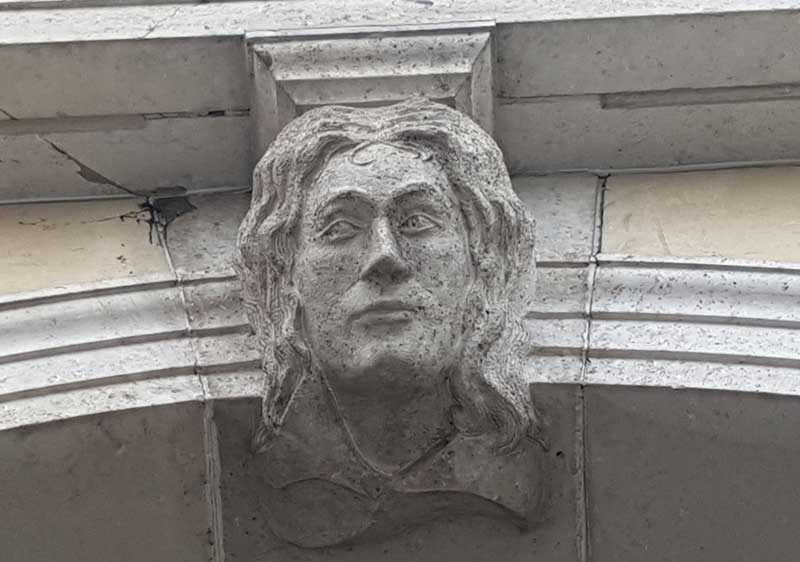 FACE FIVE
Looking up at the fifth carved face you can't help feeling that you are in the presence of a 70's rock god, Brian May in his Queen heyday was the comparison that sprang most immediately to mind.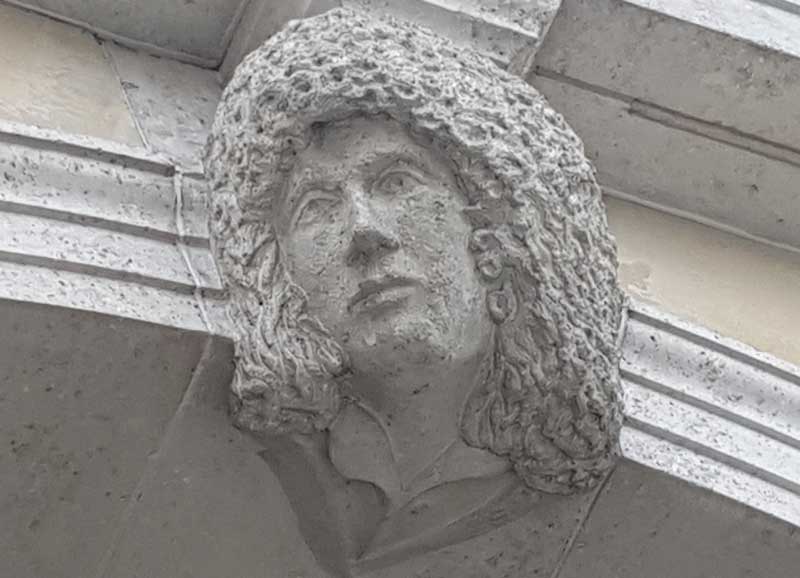 FACE SIX
The next face along bears an anxious expression, perhaps remembering the Poll Tax riots that ushered in the completion of the building that it adorns?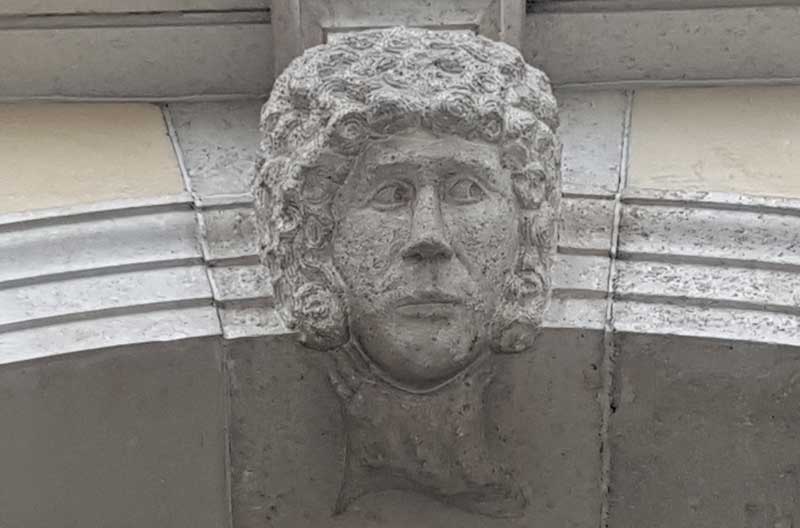 FACE SEVEN
I have to confess that face seven is one of my favourites. It is, in some ways, reminiscent of Steve Coogan in the guise of Alan Partridge, and the carved tie adds a wonderful touch of whimsy.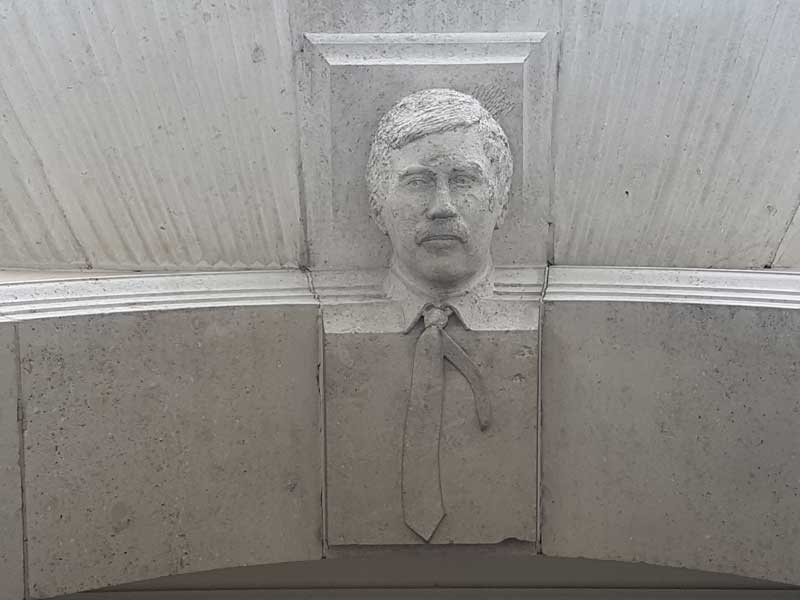 FACE EIGHT
There can be no doubting the gender of the eighth face along. The features are all feminine, right down to a pony tail and ear rings. She appears to be casting a teasing glance back towards Mr Partridge, albeit her head seems to be resting on some sort of platter.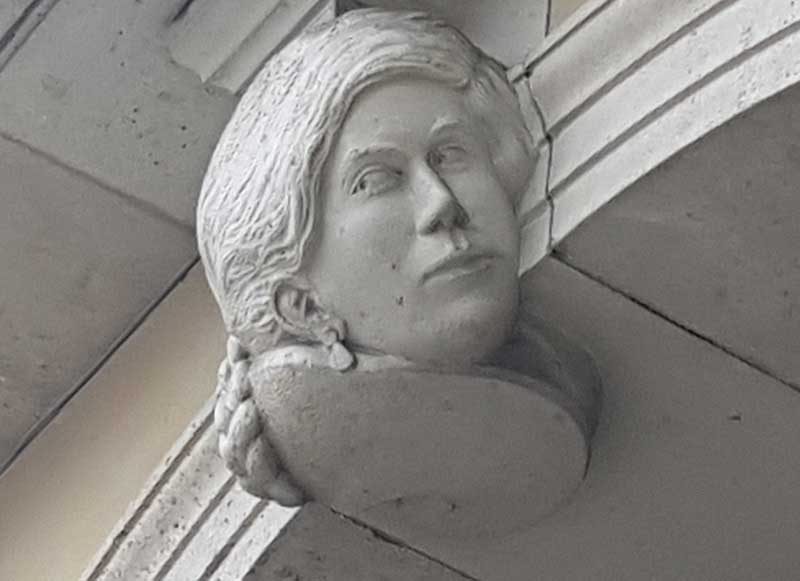 FACE NINE
Moving round onto the Northumberland Avenue facade of the building, we are presented with a figure that, I have to say, reminds me of Tom Baker in his "Dr Who" days. His hair is ruffled, a scarf wraps around his neck, and his mouth is slightly open as though about to deliver a clever line or observation.
FACE TEN
Our next face wears an expression of baffled confusion, one eye is closed and its mouth is twisted into a snarl.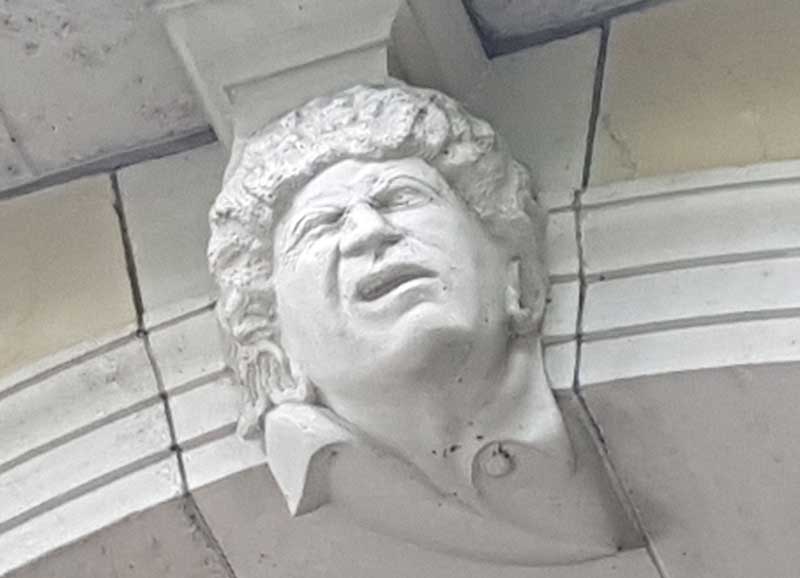 FACE ELEVEN
The eleventh face in the sequence appears to be undergoing some form of divine experience, its eyes are cast heavenwards, its expression gives the impression that it is terrified that something is about to fall on it from a great height!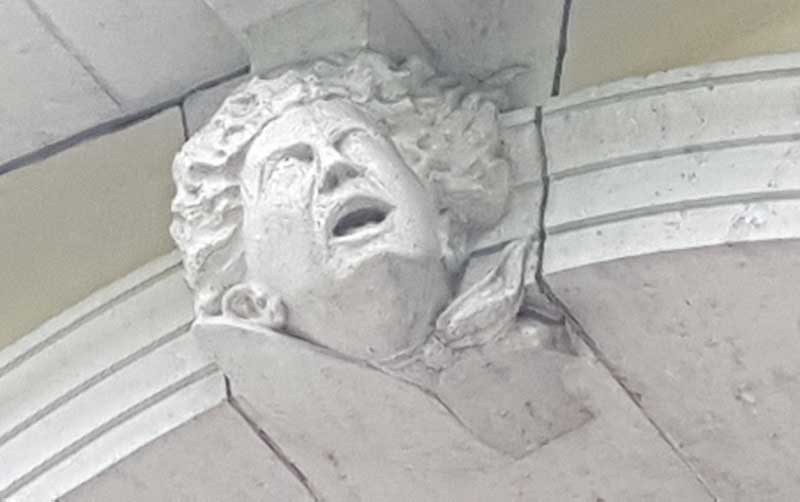 FACE TWELVE
Face number twelve is poking its tongue out, perhaps deriding its fellow carvings, or perhaps mocking passersby below, it's difficult to tell.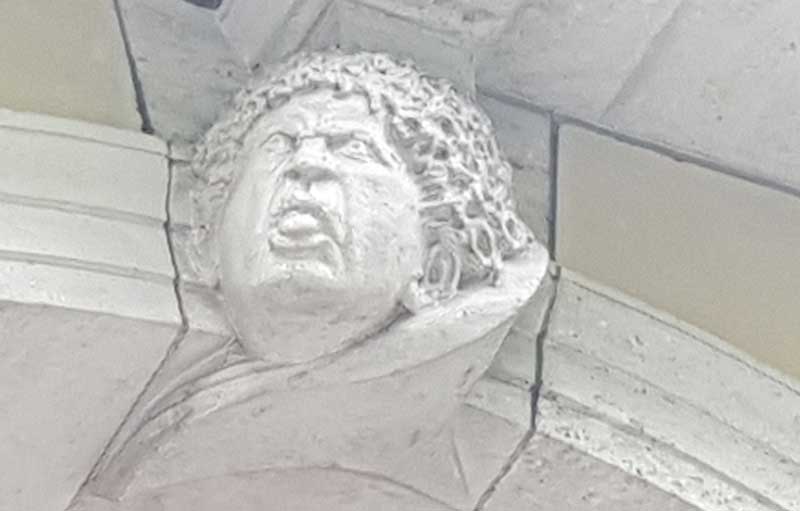 FACE THIRTEEN
This particular face appears to be joining figure eleven in a moment of divine ecstasy.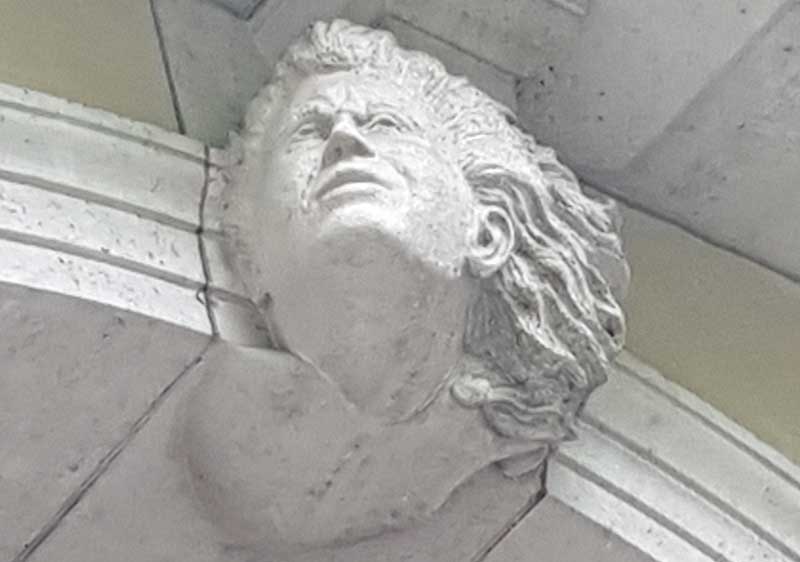 THE ENTRANCE - ENDANGERED SPECIES
All this brings us to the main entrance to the building where Barry Baldwin treats us to an exquisite carving entitled, "Endangered Species."
On either side of the arch are shown Adam and Eve, surrounded by seventy endangered creatures.
On the left panel Eve has turned her back on us and is not in the least bit perturbed or embarrassed by her nakedness. Indeed, she is so pert that you get the distinct impression that she has spent her time in the Garden of Eden toning those glutes in preparation for the day when a passing serpent will persuade her to take a bite of the forbidden fruit and she will become all too conscious of her nakedness.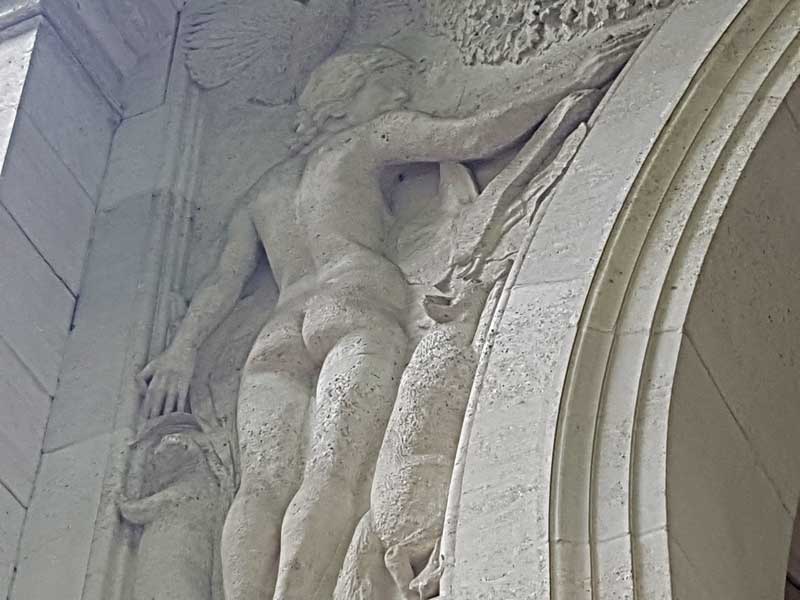 THE CREATURES AROUND EVE
A fox has squeezed itself on the panel alongside her, whilst on the panels beneath her are carved birds, and a particularly startled-looking baboon.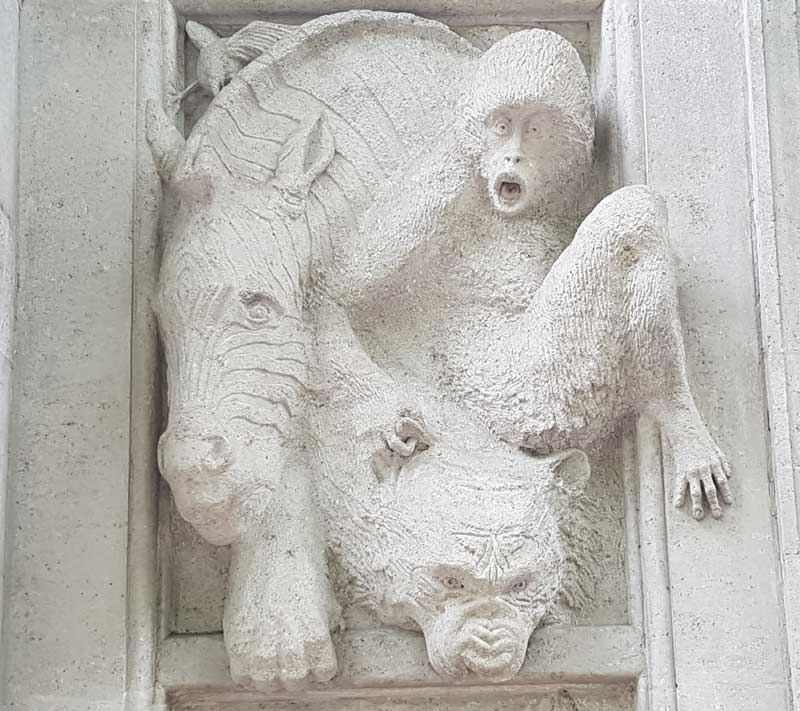 GOD AT THE ELEVENTH HOUR
Over the central arch, to Eve's right, there is a "somewhat disillusioned God-like keystone head," to quote Barry Baldwin, "the hands of his wristwatch indicating The Eleventh Hour..."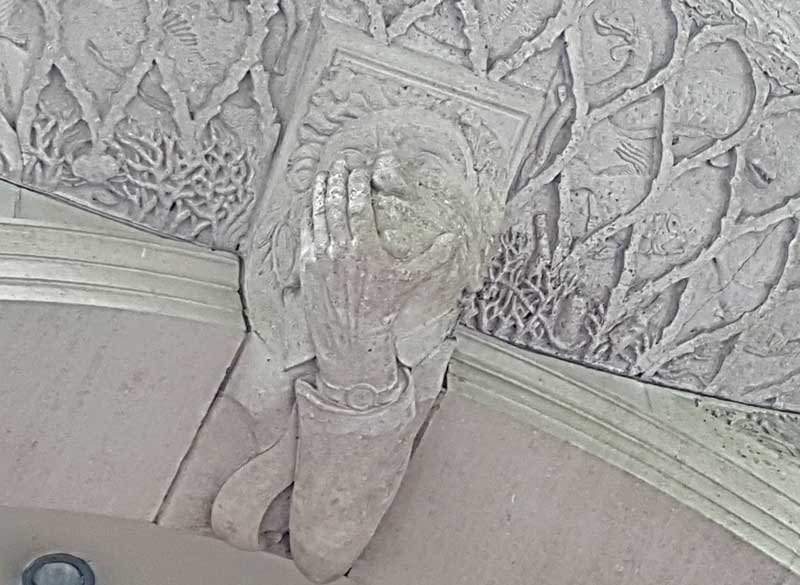 ADAM AND THE SERPENT
Meanwhile, on the opposite panel from Eve, an extremely agitated Adam skips in agony as a ferocious looking serpent sinks its teeth into his bottom. It's enough to bring tears to your eyes!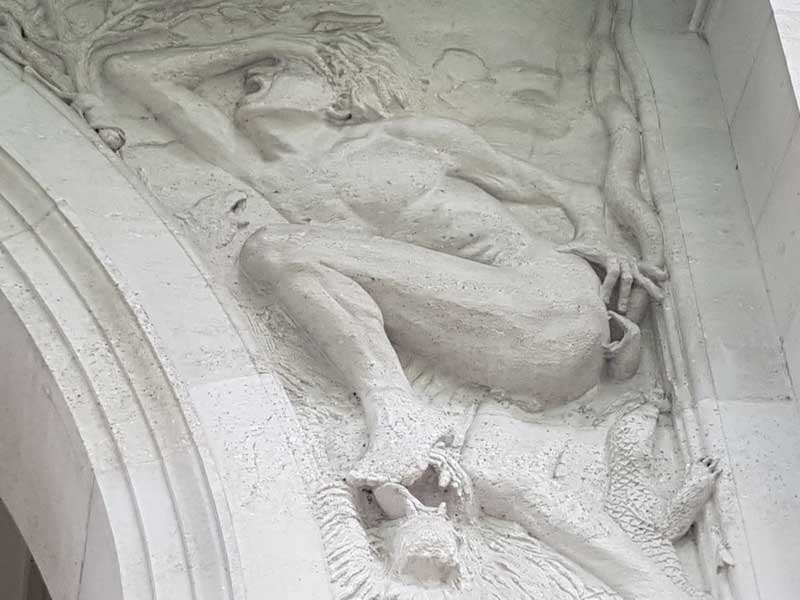 THE CREATURES BELOW
Beneath Adam are carvings of a giraffe's head, a bat, a lizard and this very depressed looking gorilla.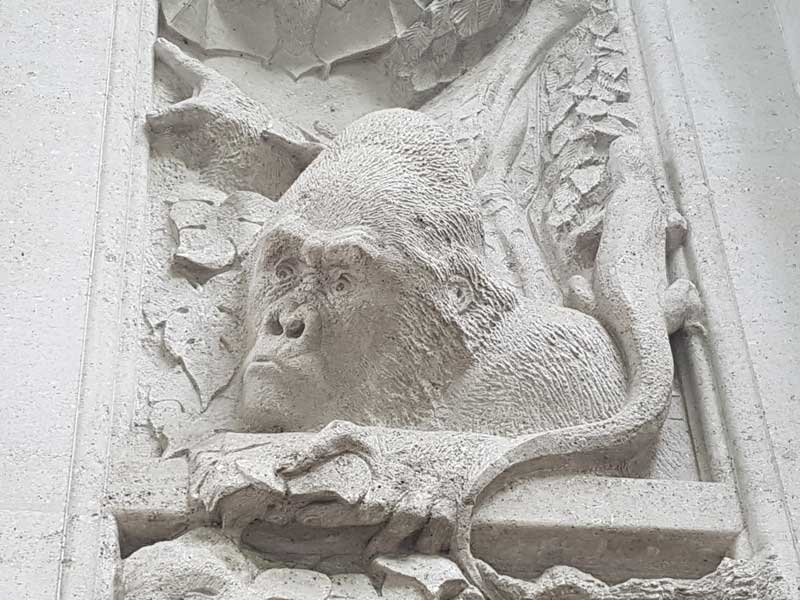 BE SURE TO TAKE A LOOK
So, the next time you pay a visit to Trafalgar Square, be sure to cross over to where Strand curves round into Northumberland Avenue, and admire these exquisite carvings by Barry Baldwin.
And, as you stand looking at them, you'll be surprised by how many passersby will become curious about what could be so fascinating that it has caused you to obstruct the pavement staring upwards; and, before you know it, you'll be joined by an equally admiring band of amazed onlookers.