TURN THE LIGHT ON
Today, we're spoilt. It's all just too easy.
Take lighting, for example.
You walk into a dark room, flick a switch, and - tadaaa - instant illumination, quite literally, at your fingertips.
But, what must it have been like for those first households that installed what, to many of them, would have been this new fangled thing, electrickery?
EARLY EXAMPLES OF VERY IMPORTANT THINGIES!
University College London has a very interesting display that provides some wonderful examples of early - to be honest I'm not sure what to call them(!) - thingies that would change the world, and which, in a display cabinet in one of the cloister buildings, are shown in their earliest, or almost earliest, incarnations.
You can, for example, admire a very early electric meter which dates from the 1880's, when commercial use of electricity was becoming more widespread and it was important that electricity suppliers could bill their customers accurately, an elusive feat that several of them still haven't managed to master 125 years later!
It is also intriguing to learn that the Thermionic Valve was, to quote the slightly faded information board that hangs alongside it, "born in Britain at University College London", a joyous arrival, which, no doubt, proved something of an unexpected surprise to the person who gave birth to it!
AN EPOCH MAKING DISCOVERY
A Thermionic valve is, as you are probably only too well aware, better known as the Radio Valve and it was a hugely "epoch making discovery" which made possible "WIRELESS TELEPHONY, BROADCASTING, THE REMARKABLE NEW "BEAM" SYSTEM OF WIRELESS TELEGRAPHY, TELEVISION, and having many other applications of the greatest utility."
THE LIGHTS GO ON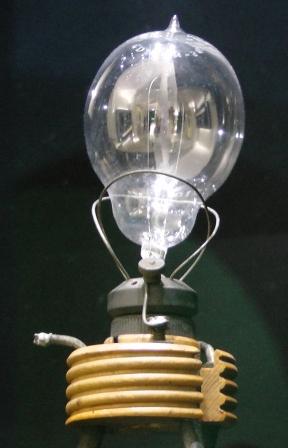 But, my favourite part of the display, by far, is the particularly fine example of a 19th century light bulb.
It's massive and it must have been an absolute pain in the arm to lug a replacement up a ladder when it needed changing.
But it is also accompanied by a poster that the company responsible for it, Edison, put out in order to allay any fears or confusion that their customers might have had about this new fangled miracle in a glass shell.
After all, these were people who, up until then, had used either candles or gaslight, or both, to light their rooms.
So, some confusion as to how this strange little glass jar looking contraption actually worked was to be expected.
HOW TO TURN THE LIGHT ON - NO MATCH REQUIRED
Obligingly, the poster left the reader in no doubt as to how to get the best results from the bulb:-
"This Room Is Equipped With Edison Electric Light. Do not attempt to light with match. Simply turn key on wall by the door."
So that's why we talk about turning the lights on and off.
A GOOD NIGHT'S SLEEP - NO PROBLEM
Reassuringly, the poster then went on to advise that:-
"The use of Electricity for lighting is in no way harmful to health, nor does it affect the soundness of sleep."
How thoughtful of the company to have gone into so mush detail in order to ensure that their customers are left in no doubt about how to use their product.
I HATE TO BE PEDANTIC BUT....
Except, and I hate to be pedantic here, how would you have known all this without first turning the light on to be able to read the poster?
Sweet dreams!