Good heavens! We've past the half way mark for 2017 and the year is fast ebbing, so much so that I'll soon need to get started on my Christmas list!
But, in the meantime, here is the list for July 2017.
I've tried to create a varied list this month and have included all sorts of famous figures, from Sherlock Holmes to the Beatles and even Sir Thomas Browne (who he?).
So, you can join thousands of enthusiasts on the Abbey Road pedestrian crossing and annoy the heck out of drivers by attempting to recreate your own version of the famous album cover. You can also stand by the plaque that remembers the meeting between Dr Watson and Sherlock Holmes and read about that meeting in the story in which it featured.
You can pop inside a delightful church and discover some wonderful murals that were created by Jean Cocteau.
You can look up at three devils that will be looking down on you. And you can enjoy the church inside which the diarist Samuel Pepys used to worship and inside which he was buried, following his death.
And, if all that hasn't worn you out, then how about a rare opportunity to climb over 200 stairs inside a north London clock tower from the top of which you can enjoy an absolutely stunning view?
THIS MONTH'S WALKS
For those of you who have enjoyed the Secret London Tour, my new Hidden London Tour will premier on Sunday 16th July 2017 at 2pm, and will explore a completely different part of London. Click here for full details.
Speaking of the Secret London Tour, it will be operating again on Sunday 23rd of July at 2pm. Click here for full details.
On the monring of Sunday July 23rd 2016 the Charles Dickens in Southwark tour will make its return at 11am.Click here for full details.
The Inns of Court Tour, which explores one of my favourite sections of London, will take place on Tuesday 25th July at 2pm. Click here for full details.
Looking ahead to August, the Hidden Hampstead Walk will makes its last appearance of the summer - and its penultimate appearance of 2017 - on Sunday 20th August at 11.45am Click here for full details.
THE GREAT FIRE ANNIVERSARY WALK
Finally, on the 2nd and 3rd of September, the Great Fire of London Walk will blaze through the streets of the City following the trail of destruction left by the conflagration. The Saturday tour is almost full, and the Sunday tour is almost half full Click here for full details.
I look forward to saying "hello" to old and new friends alike.
REGULAR FACEBOOK UPDATES
So, all in all, there are some great locations to get out and about to in London and, as per usual, they're all free, so enjoy.
Just to remind you that I also post updates and additional venues on our Facebook page, so you might like to join us and like us (as in Facebook likes!) to ensure you're kept fully up to date on what's happening in London during the weeks ahead.
As ever, if something changes in the weeks ahead I will put the update on the Facebook Page, in order not to bombard you with emails.
So, without further ado, here is my July 2017 list of ten things to do in London.
---
VISIT THE CHURCH OF ST GHASTLY GRIM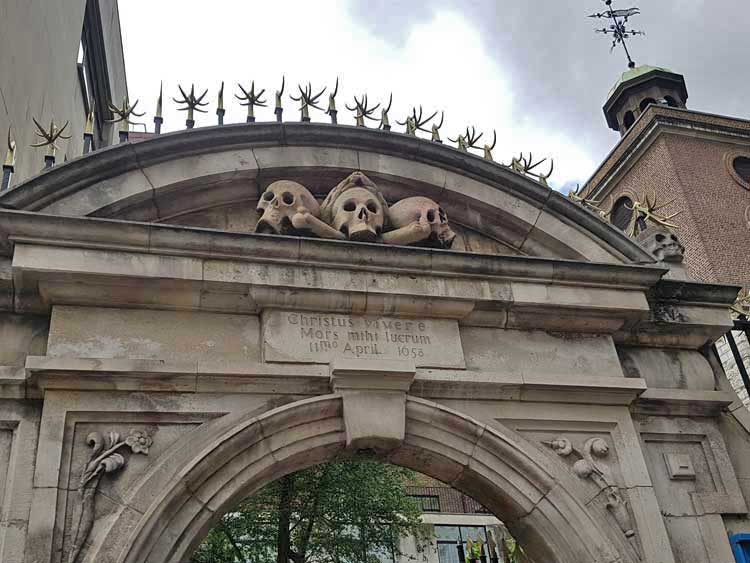 ST OLAVE'S CHURCH
St Olave's Church, 8 Hart St, London EC3R 7NB
Open Monday to Thursday 7am to 5pm. Friday 7am to 4pm
Nearest Underground Station: Tower Hill
There are so many reasons to visit the church of St Olave, Hart Street.
Firstly, it is a lovely and extremely historic City church.
Secondly, it was where Samuel Pepys used to worship, and was also where he was buried.
Add to both of those reasons the fact that you enter the churchyard through one of the most macabre gates imaginable - in consequence of which Charles Dickens dubbed it the church of "St. Ghastly Grim" - and the question shouldn't be, "should we visit it", but rather "when shall we visit."
---
FOLLOW IN THE FOOTSTEPS OF THE FAB FOUR
THE ABBEY ROAD CROSSING
Nearest Underground: St John's Wood
Once upon a time, in a suburb far far away, four lads from Liverpool were pondering where to have themselves photographed for the cover of their latest album.
"Why don't we do it in the road?", they queried, "and have ourselves photographed striding across a nondescript north London crossing?"
And so it came to pass that they stepped of the kerb of the long and winding Abbey Road, and turned the crossing (or at least a crossing that is close to where the crossing they walked across was in 1969) into an international tourist attraction.
Day in and day out, Beatles fans from all over the world make the journey to Abbey Road and proceed to annoy the drivers by attempting to recreate one of the most iconic album covers of all time.
Why don't you join them?
---
ADMIRE THE JEAN COCTEAU MURALS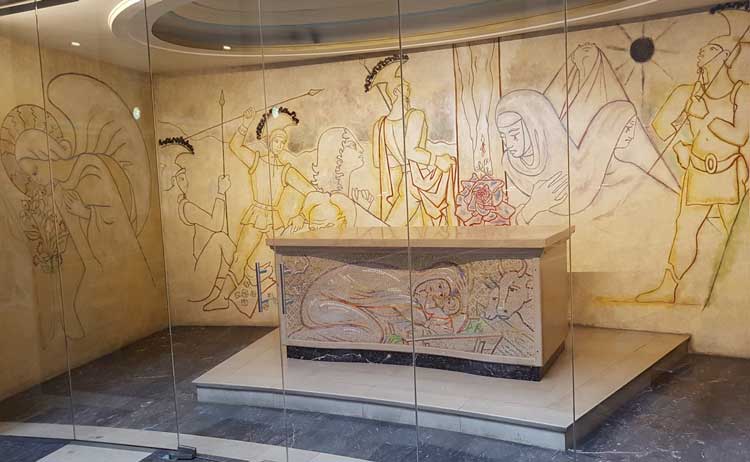 THE CHURCH OF NOTRE DAME de FRANCE
Notre Dame de France, 5 Leicester Place, London, WC2H 7BX.
Free, but a donation would be nice.
Nearest Underground Station: Leicester Square or Piccadilly Circus
Tucked away in a side street of Leicester Square you will find one of London's loveliest churches - Notre Dame de France.
The church's interior is an art gallery in its own right, with numerous tapestries and art works adorning its walls.
However, there can be no doubt that the artistic highlight of the church is the three murals that adorn the walls of a side chapel.
Painted by the French writer, designer, playwright, artist and filmmaker, Jean Cocteau, these murals show scenes from the life of the Virgin Mary, and, I think you'll agree should you pay the church a visit, they are an absolute delight to explore.
---
MARVEL AT THE SIGHT OF OLD LONDON BRIDGE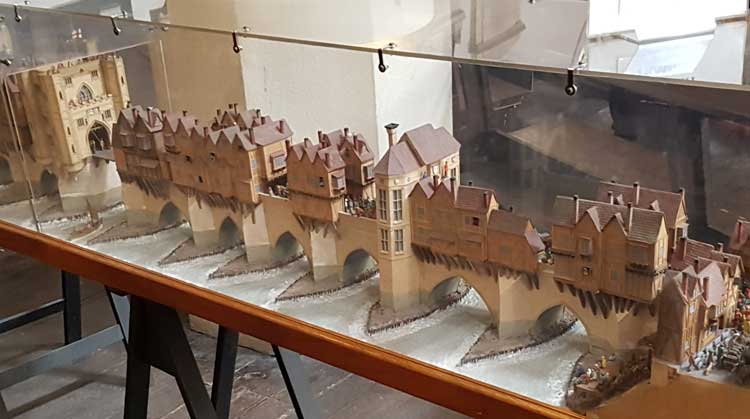 THE CHURCH OF ST MAGNUS THE MARTYR
Tuesday to Friday from 10.00am to 4.00pm.
The Church of St Magnus The Martyr, Lower Thames Street, London, EC3R 6DN
Nearest Underground Station: Monument.
For many centuries the little church yard in front of the church of St Magnus the Martyr provided the main City side access onto old London Bridge.
The church itself is an absolute joy to visit, not least because inside you can find a scaled down model of Old London Bridge, resplendent with the houses and shops that once spanned its length across the river.
This model was created in 1987, and it provides us a vivid idea of what the old bridge would have looked like.
Full Details
---
SEE THE HARDY TREE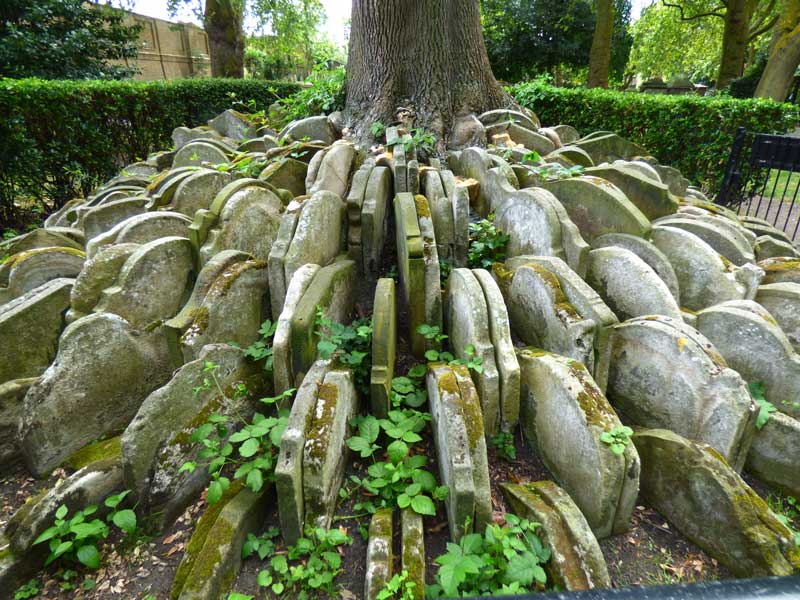 OLD ST PANCRAS BURIAL GROUND
St Pancras Old Church, Pancras Road, London, NW1 1UL
Nestling behind St Pancras Station, unobserved by the majority of those who pass through the busy concourse, day in and day out, is Old St Pancras Burial ground, where notable burials include, Mary Wollstonecraft, the mother of Mary Shelley, and Sir John Soane.
But one of the most curious sights in the old graveyard is "The Hardy Tree."
In the days before he became famous, the novelist Thomas Hardy was planning to become an architect.
As part of his training he was given the unenviable task of clearing a large number of the graves to make way for the railway heading into King's Cross and St Pancras Stations.
Being of an artistic nature, he had the idea to plant an ash tree in the midst of a pile of tombstones; and that tree has now grown into what is known as the "Hardy Tree."
It is, without doubt, a London curiosity.
---
REMEMBER MEGGIE ALBANESI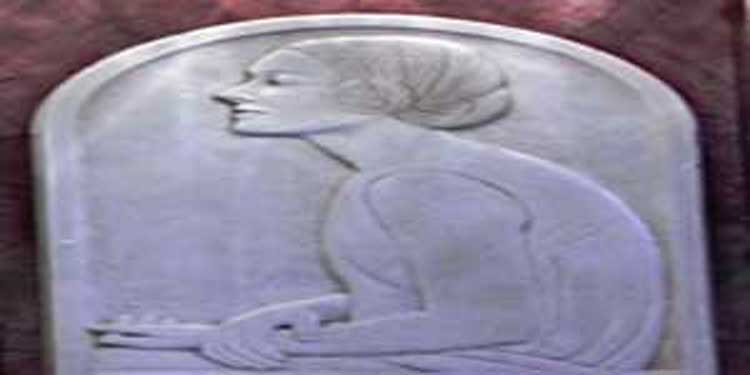 ST MARTIN'S THEATRE
Weekdays 10am to 4pm and at performance times
Inside The Foyer, St Martin's Theatre, London, WC2
Nearest Underground Station: Tottenham Court Road
On the wall inside the foyer of the St Martin's Theatre there is a plaque that shows the outline of a woman.
The plaque urges anyone who notices it to "Remember Meggie Albanesi."
Were it not for her untimely death, at a relatively young age, Meggie had the potential to become one of the great actresses of the London Theatre scene.
Her story is a tragic one.
---
SHIVER AT THE SIGHT OF THE CORNHILL DEVILS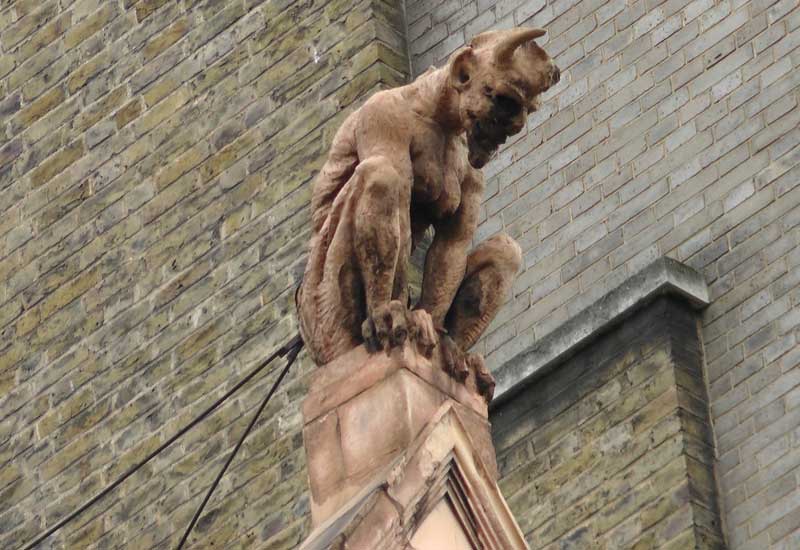 ST PETER UPON CORNHILL
54–55 Cornhill, London, EC3V 3PD
Nearest Underground Station: Bank or Monument.
On a rooftop on Cornhill, in the City of London, a group of menacing devil's look down upon passersby below.
Since many passersby fail to look up, they remain oblivious to the existence of the unholy trio.
This is such a pity since the devil's, reputedly, remember a long ago feud between the vicar of a church and an architect who wanted to design a magnificent and expansive building that would encroach slightly onto the land of the vicar's church.
Full Details On This Website
---
ASCEND THE CALEDONIAN PARK CLOCK TOWER
TAKE THE TIME TO DO IT!
Sunday 30 July 2017
Tours will run on the hour from 12pm, last tour starts at 4pm.
Caledonian Park, Market Road, Islington, London, N7 9PL
Free. But, it is on a first come first up basis
Nearest Underground Station: Caledonian Road
"Visitors wishing to climb the 220 steps to the top of the clock tower need to have a reasonable level of fitness, must be able to walk unaided and should be confident with heights and being in confined spaces."
So warns the website that extols the virtues of Caledonian Park's "Grade II listed Clock Tower with original working clock mechanism." and which offers "a panoramic view of north London and the City from the viewing platform."
Built in 1853, and rising to a height of 155 feet (47.5m), the clock tower is open for occasional public visitations and, the last Sunday of this month just happens to be one of those occasions.
However, could I just draw your attention to that opening quote again? Especially that bit about the 220 steps!
Full Details On This Website
---
READ A STUDY IN SCARLET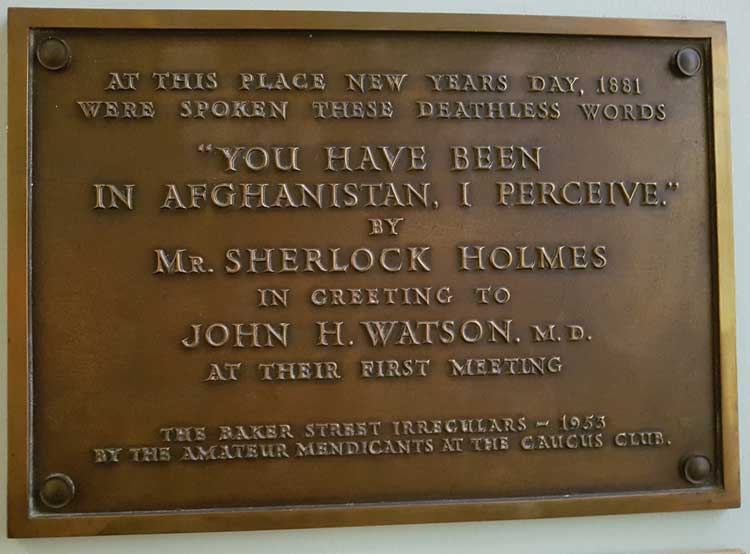 ST BARTHOLOMEW'S HOSPITAL MUSEUM
Tuesday to Friday 10am to 4pm
St Bartholomew's Hospital Museum, 19 Giltspur St, London EC1A 9DD
Free, but donations are requested.
Nearest Station: Barbican, Farringdon or St Paul's
One of London's loveliest small museums is that of St Bartholomew's Hospital.
For those of you who might not be aware of it, Bart's has the distinction of being London's oldest Hospital to stand on its original site; and it has been here since 1123.
So, as you can imagine, it has acquired an awful lot of history over the course of its existence, hence the reason why this is a must visit place.
It was at St Bartholomew's Hospital that Dr. John H. Watson first met with Sherlock Holmes in the first of the Holmes stories - A Study In Scarlet.
This memorable meeting was, for many years, commemorated by a plaque on the wall in the Hospital's Pathology Department.
However, that plaque has now been moved to the museum where it can be enjoyed, along with some of the incredible artifacts that the museum has on display.
You can even sit alongside it and read the passage in the book that describes the meeting of the famous detective double-act.
More Information
---
SEE A CABINET OF RARITIES
THE ROYAL COLLEGE OF PHYSICIANS
Monday to Friday 9am to 5pm. Till 27th July and then from 1 September to 1 December 2017.
Royal College of Physicians, 11 St Andrews Place, Regent's Park, NW1 4LE
Free, but donations are requested.
Nearest Underground Stations: Regent's Park and Great Portland Street
If the above video has not whetted your appetite for a visit to this exhibition, then permit me to quote from their website:
""A cabinet of rarities" - the curious collections of Sir Thomas Browne, will explore RCP physician, philosopher, collector, and polymath Thomas Browne's curious approach to the world through his writing and his collection.
Browne (1605–1682) saw the extraordinary in the ordinary, and introduced over 700 new words to the English language, while inspiring literary greats such as Virginia Woolf and Edgar Allan Poe.
His collection reveals a fascinating perspective on 17th-century scientific and medical research.
Further Information
---
SEARCH FOR THE PHILPOT LANE MICE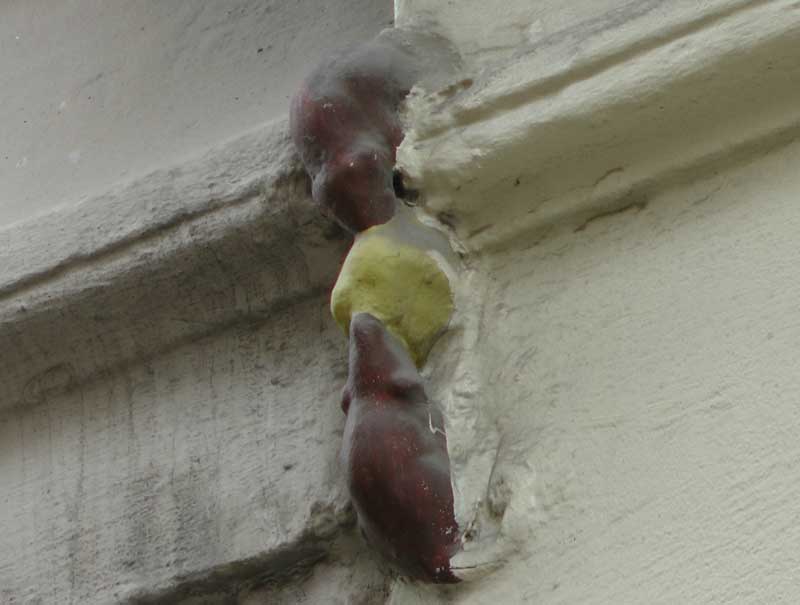 IF IT'S CHEESE YOU'RE LOOKING FOR
23 Eastcheap, London. EC3M 1DE
Nearest Underground Station: Monument
With the summer holidays almost upon us, those of you with children or grandchildren, might like to take them to the junction of Eastcheap and Philpot lane and set them the task of spotting London's smallest outdoor statues.
The building that they adorn has recently undergone a full facelift and, for a time, they were obscured by scaffolding and then painted over so as to make them indistinguishable from the wall behind them.
But all has now been put right with a splash of brown and yellow paint - and the two mice fighting over their piece of cheese are now back in residence.
Full Details
---