Our London Walking Tours offer you one of the best value and most entertaining ways to discover and explore one of the world's most fascinating cities.
| | |
| --- | --- |
| JACK THE RIPPER TOUR - LONDON | |
| | |




London's leading Jack the Ripper Tour that is led by experts on the 1888 murders that shook Victorian London to its very core. Our walk is the only one that begins right in the heart of the area where the murders occurred and which goes straight into the dark and sinister olf alleyways that have changed little since Jack the Ripper stalked their shadows.

Full Details of the Jack the Ripper Tour.



.

DICKENS AND SHAKESPEARE
| | | | |
| --- | --- | --- | --- |
| | | | London was to Shakespeare and Dickens a wonderful inspiration. It stimulated their greatest characters and stories some wonderful some horrific. They in turn made it their own, peopling it with their own creations giving us a rich legacy that lives on. |



.

HAUNTED LONDON
| | | | |
| --- | --- | --- | --- |
| | | | As twilight creeps through the old City we set of into the alleyways that time has not touched to hear the tales of the ghosts that have been seen here. Join us on a sinister, spooky haunted London walk. |


THE LONDON DISCOVERY WALK
| | | | |
| --- | --- | --- | --- |
| | | | This is a great walk for t those who live and work in central London. It takes you into some of the older alleyways and hidden away courtyards, but also looks at some of the City's better known buildings. |



.

INNS AND TAVERNS OF THE OLD CITY
-
| | | | |
| --- | --- | --- | --- |
| | | | This is one of our most popular pub walks. It is unsurpassed for the variety of its sights, the antiquity of its pubs, and the fascination of its commentary. It is a walk where ghosts are said to lurk alongside literary memories. But is also your opportunity to ejoy a great night out on our London pub walks. |



.

HIDDEN HAMPSTEAD
| | | | |
| --- | --- | --- | --- |
| | | | Leafy Hampstead is one of London's treasures. It is more countryside than capital, and its peaceful streets exude a charm and appeal that is guaranteed to both enchant and fascinate. So come along and experience this informative walk in Hampstead. |



.

SECRET CITY
-
| | | | |
| --- | --- | --- | --- |
| | | | Come and join us on a great tour that will show you the hidden places in London. Courtyards and other secret places all await your discovery on our Secret City London walks. |



.

GHOSTLY HAMPSTEAD BY NIGHT
| | | | |
| --- | --- | --- | --- |
| | | | Discover the London of Bram Stoker's Dracula and the amazing enigma of Dr Jeckyll and Mr Hyde. Hampstead has a myriad of secrets to tell when the sun sets and the flickering gas lights come to life. |

In addtion to our variety of walks, you can also enjoy a London Treasure Hunt that takes you through some of the capital's most atmospheric streets. Our London Treasure hunts are ideal office get toegthers, hen parties and stag parties as well as for London team building. Each team is provided with a wallet that contains everything they will need to participate. You get a sheet of cryptic clues, a sheet of observation queations and a photo challenge round. The teams then set off into their chosen area of London to try and solve the clues, find the answers to their questions and enjoy a pleasant two hours exploring the historic streets of the neighbourhod..So if you are looking for London Treasure Hunts then look no further.
We also offer an exciting range of free London walks, that you can undertake at your own pace and in your own time.
By exploring on foot you can proceed at a gentle pace and leave behind the busy main roads to enter the backstreets and hidden alleyways where history was made and time stands still.
IMAGINE YOURSELF
Wandering along cobblestone streets that have changed little since the days when Dickens knew them.

Or stepping inside ancient buildings that remain just as they were when Shakespeare visited them in the early years of the 17th century.

Think what it would be like to enjoy a drink in an historic riverside tavern whilst being regaled with exciting tales of pirates and pressgangs.

Picture yourself searching for ghosts in tumbledown churchyards.

Or hunting Jack the Ripper through some of the East End's most atmospheric and sinister alleyways.
All of these are possible on one of our London walks because each one of our walks has been carefully crafted to ensure that you see as much of the hidden and historic City as possible.
Our Guides are experts who are passionate about London.
Each London Walking Tour guide has been chosen for their in depth Knowledge, their friendly personality, and their exceptional presentation skills.
They won't point at buildings and bombard you with dry dates and dusty old facts. Their dramatic approach will breathe life into the history that surrounds you, whilst the enthusiasm of their delivery will almost convince you that you have been transported back in time.
Our guides are drawn from all walks of life. Some are published authors who have appeared on worldwide television. Several hold the coveted blue badge, a distinction that indicates that they have achieved the highest standards in the guiding profession. Others are experts on a particular subject with a true and contagious passion for that subject. All of them are dedicated to ensuring that the time you spend in their company will be iformative, entertaining and truly memorable.
No rush, just gentle stroll and plenty of time to enjoy the tour.
Our tours are gentle strolls on which you can ask questions, discuss the places visited, and chat with your guide and fellow walkers as you enjoy two or so hours of leisurely, informed entertainment. We won't rush you round, but will give you time to absorb your surroundings and take in everything that you will see and hear.
We are the only London walks company that lets you watch the walk first.
It is our belief that people like to know as much about the tour BEFORE they take it. Knowing about a destination before you visit it helps you enjoy it so much more. That is why with each of our tours we provide you with a step by step photographic guide to the routes we take here on our website.
Furthermore, ours are the ONLY London walks that allow you to watch videos of your guide presenting the highlights of the tour. This way you can actually see the locations visited and decide whether you relish the prospect of spending two hours in a particular guides company! No other walks company provides you with this depth of detail BEFORE you take the tour.
We also limit the number of participants on our tours.
We have long been different from the other London walking tour companies in that we ask people to book in advance. There is a very good reason for this. Most London walks advertise that "there is no need to book, just turn up." The problem with this approach is that they have no way of knowing how many people will do as requested and "just turn up." There might be 12 people, there might be 200 people. We don't think it fair on our clients to be lumped in with a seething mass on an unsightly cattle drive through the streets. Where is the fun and enjoyment in that?
We like to limit the number of participants on our tours to a sensible and manageable figure. To be able to do this we need to know how many people will be on the tour. That is why with our walks BOOKING IS ESSENTIAL.
As a result, when you join our walks, you know that you can look forward to exploring the streets of historic London in smaller more intimate groups.It's better for you, it's better for the locals, and its better for the guide.
Because we issue full receipts, and don't accept cash payers at the start of our walks, you have the security of knowing that you are dealing with a fully accountable and legitimate business.
If, for any reason, you find you can't make the tour we are happy to either transfer you to another date or even issue a refund, providing you give us reasonable notice.
We're Green and always have been.
Long before the current trend for all things green, we were embracing eco-friendly tourism. We have been doing so since 1982 when our co-founder, Richard Jones, began promoting the concept that walking was far and away the best way to see London. In those days most people toured London on pollution belching buses. But those who joined Richard's tours soon discovered that there is an alternative and that walking is by far the best way to really see this wonderful City. Buses and coaches simply can't get into the backstreets and hidden places where the real London waits to be discovered.
Nowadays everyone is going green and stressing their environmental credentials. We, on the other hand, have no need to jump on a fashionable bandwagon since we always have been and always will be 100% green.
Our London walks are totally accessible to all.
Just because we do London Walking Tours doesn't mean that our walks cannot be enjoyed by the less mobile. Indeed, it is our desire that our tours be accessible to all, and to that end we have implemented a rigorous disabled access policy.
As far as is possible all of our walks are wheelchair friendly. We cross roads by crossings or at corners that have ramps. Steps are kept to a minimum. Our guides pay particular attention to those with walking difficulties and ensure that the pace is such that they have no problem in keeping up.
For the hearing impaired we can provide detailed visual notes for each of the tours. In 2008 we are looking to introduce a closed loop hearing aid system, and, on designated walks we will also be offering a sign language service.
For the visually impaired we have tried to make our tour commentaries as descriptive as possible, and regularly assess our routes for potential hazards or obstacles.
We would welcome any advice or suggestions that would help us to achieve our goal of total accessibility for all.
So why not give us a try and discover our welcome difference.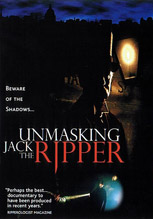 Request a copy of our recent documentary based on the Jack the Ripper walk.
RRP £12.99. £4.99 to those booking a walk with us.
View the DVD catalogue of Walks online
Choose a walk:




Todays London Blog
Since 1982 our Jack the Ripper walk has been introducing Londoners and visitors alike to the dark alleyways and sinister thoroughfares where the Jack the Ripper murders occurred.
Find out more >


WALK for health
Walking can be the best way to see London.
It's also healthy and good for our planet!
Find out more >


Testimonial
"Richard Jones keeps ahead of the pack with impeccable research, and having honed his performance in more than 5,000 guided tours"
London Evening Standard
Read more >
New on DVD


SHAKESPEARE IN LONDON
Young William Shakespeares' life in London and the people
And events that shaped his life and his early romantic encounters.
Find out more >