| | |
| --- | --- |
| Start: Outside St Paul's Station. | Duration: 2 hours 30 minutes. |
| Best Times: Daytime. | Worst Times: When it's dark. |
AN ENJOYABLE AND CHALLENGING EXPERIENCE
The St Paul's and Smithfield Quiz Trail offers you an enjoyable and educational experience that is part self-guided walking tour and part treasure hunt.
By following the directions on your Quiz Trail sheet, you will pick your way through the historic streets of one of London's most fascinating quarters to seek the solutions to 58 questions that are dotted around the route that you will be following.
The solutions to your challenges could be located anywhere. They might be on blue plaques (of which there are an abundance on this quiz trail); they could be on information boards, statues, and even on the tombstones in some of the delightful churchyards that you will encounter as you make your way around the route.
No matter where they are, they are viewable on the route, some of them more spottable than others, but the big question is - will you notice them?
A GENUINE JOURNEY OF DISCOVERY
The St Paul's and Smithfield Quiz Trail is a genuine journey of discovery in the course of which you will uncover some pretty amazing places.
You will, for example, walk through London's only surviving City gate, a proud and time-battered remnant of bygone London.
You will find a church that was made famous by the nursery rhyme "Oranges and Lemons."
You will see the Place in which the King once hung his clothing.
Then there's the opportunity to visit London's oldest parish church, a true time-capsule, which has been administering to the spiritual needs of Londoners for almost a thousand years.
And, if the aforementioned attractions are not sufficient to coax you out onto the streets of historic London, then how about a tranquil garden that is home to one of England's most poignant memorials?
HOW DOES IT WORK?
Well, to be honest it is simplicity itself.
First off, you will need to get a copy of the St Paul's and Smithfield Quiz Trail.
To do so, simply click the download button, enter your name and email, print off the Quiz Trail, and away you go.
That's all there is to it - I told you it was simple!
Once you have the PDF of the Quiz Trail, choose a day on which you wish to do it, make your way to the start point, which is outside the Exit 2 (The Cathedral Exit) of St Paul's Underground Station, and then just follow the detailed instructions and directions.
As you do so, start answering the questions.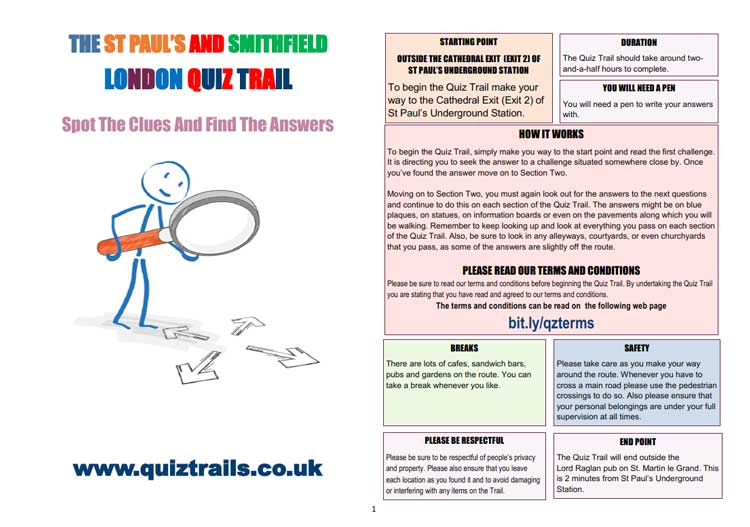 DO IT ALONE OR MAKE IT A CHALLENGE
You can do the trail on your own, as a couple, as a family, or as a group of friends or workmates.
If you want to add a competitive element, several of you can form into teams and then compete against each other to see which team answers the most questions.
SOME FEEDBACK ON THE ST PAUL'S QUIZ TRAIL
In August, 2019 the charity Bowel Cancer UK undertook the St Paul's And Smithfield Treasure Hunt as a fund raising activity.
Here is what the organisers had to say about the experience:-
EVERYONE LOVED THE QUIZ
"We had a great time on Saturday and everyone loved the Quiz.
One, a born Londoner was effusive in saying he thought he knew his City and this area, but learnt so much and in a fun way.
We had a young boy who loves the History of London and he was thrilled to have joined his Dad to solve the clues!
We've mentioned you on social media and again can't thank you enough. The important thing was we raised funds for BCUK and learnt a lot about organising such events so will probably do another in 2020!
Once again THANK YOU! "
So, as you can see, there is plenty of fun to be had on the St Paul's Quiz Trail, and you really will uncover some fascinating locations and some genuine surprises.
YOU'LL SEE A LOT, LEARN A LOT AND LAUGH A LOT
There's so much to see in this fantastic area, and so many fascinating facts and nuggets of information to uncover.
Our promise to you is that you'll end your day having learnt an awful lot about the history of London - indeed you'll, no doubt, be spouting the facts that you will discover for days, maybe even weeks, to come!
And, because the Quiz Trail is paced out to be done as a relaxing stroll, all members of your group will be able to enjoy it.
DO YOU KNOW
What Charles II did in 1672?
Where David Roberts walked from?
Which pub the bodysnatchers used to do "business" in?
What 17th century Londoners blamed the Great Fire of London on in 1666?
If your answer to any of these questions was "no", then don't be too perturbed, these are just some of the facts you will have uncovered by the time you reach the end of the St Paul's and Smithfield Quiz Trail.
HAVE FUN AND DISCOVER LONDON
So, if you are looking for something to do that will provide you and your friends or family with a fun-packed few hours discovering the secret places of historic London, then download the St Paul's and Smithfield Quiz Trail, and prepare for a journey of genuine discovery, in the course of which you really will see more of London than you ever thought possible..