| | |
| --- | --- |
| Start: Outside Bond Street Underground Station. | Duration: 2 hours 30 minutes. |
| Best Times: Daytime. | Worst Times: When it's dark. |
LOOK, DISCOVER, SOLVE
The Mayfair to St James Quiz Trail is a walking tour and a treasure hunt rolled into one!
By following the directions on your Quiz Trail sheet, you will pick your way through the historic streets of two of London's most exclusive quarters, and, as you go, you will need to keep a keen eye peeled for the solutions to a whole series of observation questions and photo challenges.
The solutions to your challenges will be located on blue plaques, information boards, shop fronts, statues, and even on the outside walls of palaces!
The answers are all there on the route you'll be following, some of them are easily and instantly viewable, others a little less easy to spot - but all of them are just waiting to be discovered.
The question is, can you find them?
SOME FEEDBACK ON THE QUIZ TRAIL
The Quiz Trail has been carefully paced out to ensure it combines a decent mix of sightseeing and challenges.
To test it, we asked a group of year nine students from a London school to head out onto the route and test it for us, on the grounds that 50 teenagers would be sure to give us frank and honest feedback!
This was what some of them had to say about the Quiz Trail they undertook:-
AS THEIR TEACHER EXPLAINED
"These are just some of the quotes from a rather spirited Year Nine class"
"Wow! London has so many amazing buildings!"
"Isaac Newton actually lived here?"
"This is actually, like, fun – I suppose."
"I thought central London was just shops and suits."
So as you can see, there is plenty to keep you occupied on this Quiz Trail, and you really will uncover some magical places and some genuine surprises (and yes Isaac Newton did actually live here, as did William Blake and Ada Lovelace.)
A GENUINE JOURNEY OF DISCOVERY
So, how does it work?
Well, to be honest it is simplicity itself.
You simply click the download button, enter your name and email, print off the Quiz Trail, and away you go.
You'll need to make your way to Exit One of Bond Street Underground Station, which is located at the corner of Oxford Street and South Molton Street.
Once there, just follow the on-page directions and begin looking for the answers to your questions.
That's all there is to it.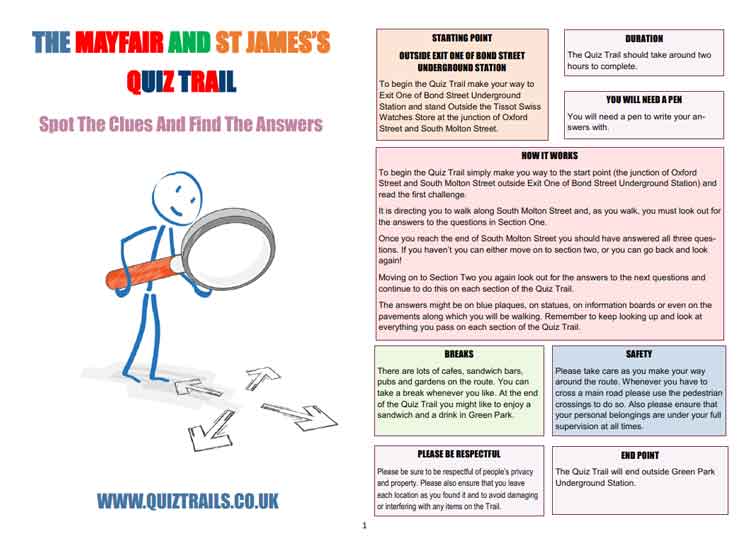 DO IT ALONE OR MAKE IT A CHALLENGE
You can do the trail on your own, or as a family, or, if you want to add a competitive element, several of you can break down into teams and then compete against each other to see who answers the most questions.
This is what the head of year of the aforementioned year nine had to say about introducing competitive element:-
"Overall they really enjoyed the day, and, having a separate group just ahead of us, really injected an element of competition into the proceedings that the students loved!"
DO YOU KNOW
What was formed in the studio of Henry William Phillips?
Who was born in the townhouse of the Earl of Strathmore and Kinghome?
Where Oscar Wilde's Lady Windermere's Fan was first staged?
What sort of man William Huskisson was?
Which party that began in 1859 is still going strong?
If your answer to any of these questions was "no", then don't be too perturbed, these are just some of the facts you will have uncovered by the time tour reach the end of the Mayfair and St James Quiz Trail.
HAVE FUN AND DISCOVER LONDON
So, if you want to spend a fun-packed few hours exploring London and undertaking a series of challenges that will ensure that you see so much more of the streets you will be walking through, then download the Mayfair to St James Quiz Trail, and set out on a voyage of discovery that will ensure that you see a lot, learn a lot, and, above all else, laugh a lot.