THE MEMORIAL PLAQUE TO SOLOMAN GALAMAN
One of the most poignant of the plaques located on the Memorial to Heroic Self Sacrifice is that to Soloman Galaman, aged 11, who "died of his injuries on September 6 1901, after saving his little brother from being run over on Commercial Street."
The plaque then features his last words "Mother I saved him, but I could not save myself."
THE PLAQUE IS WRONG
The plaque is, in fact, wrong in two respects. The date of Soloman's death was Tuesday 3rd September 1901, not the 6th; and the newspapers reported his name as Galmen, as opposed to Galaman - and even this appears to be wrong, as the census records suggest that the family name was Gellman.
Why the confusion?
His parents were immigrants who, according to the newspapers, spoke through interpreters, and it just seems to have been a case of the papers spelling the name phonetically.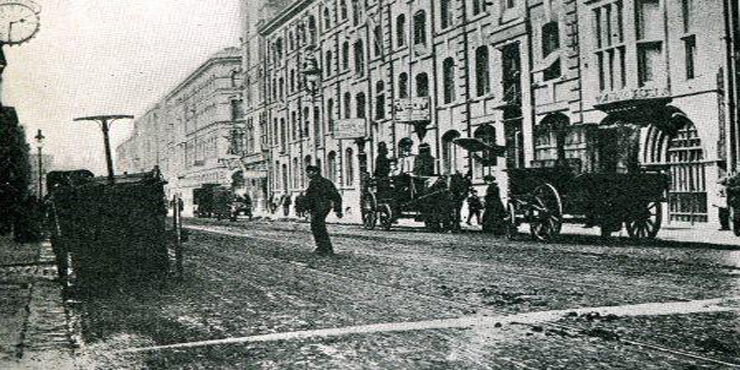 A TRAGIC TALE
The story of his demise is a truly tragic one, and, reading it, you can't help but feel sorrow for his poor parents.
The inquest into his death was held at the London Hospital on Saturday 7th September 1901.
The following account of it appeared in East London Advertiser on Saturday September 14th 1901:-
A BRAVE BOY'S PATHETIC DEATH
"The East London Coroner held an enquiry at the London Hospital on Saturday with regards the death of Soloman Galmen, aged 11 years, the son of a journeyman tailor, residing at 73 Cable Street, St George's E., who met his death under sad circumstances.

Becky Galman, whose evidence had to be interpreted, stated that the deceased was her son.

A VISIT TO HIS GRANDMOTHER

On Tuesday afternoon last, he left home with his brother, who was four years of age, to visit his grandmother.

Shortly afterwards, she was informed that he had been injured and that he was in hospital, her other child being brought home by the police.

THE SCENE AT THE HOSPITAL

Witness went at once to the hospital and saw him.

He said, "Mother, I am dying. Have they brought my little brother home? I saved him, but I could not save myself."

He kissed her and died soon afterwards.

HOW THE ACCIDENT OCCURRED

From the evidence of other witnesses, it appeared that the two boys were crossing Commercial Street when the youngest slipped on account of the road having recently being watered.

The deceased pulled his brother out of the way of an approaching cart, but in doing so was knocked down himself and he fell between the wheels, receiving terrible injuries.

The jury returned a verdict of "Accidental death" and expressed sympathy with the parents."