THE FREE WALK OF SOHO
| | |
| --- | --- |
| Start: Tottenham Court Road Station | Duration: 2 Hours |
| Best of Times: Anytime. | Worst of Times: None |
Dickens's first experience of this cosmopolitan neighbourhood was as a young boy when, newly arrived in London, he would visit his Uncle Thomas Barrow who was 'laid up' with a leg injury at a house in Gerrard Street.
Later, the area would feature many times in his novels, most notably as the place where Dr Manette lived in A Tale of Two Cities.
But the district was also at the forefront of the great Victorian battles to rid the metropolis of the scourge of epidemics, such as cholera, or of the crime and poverty that was endemic in what were some of London's worst slums. Thus the final section of the walk must, thankfully, be a walk of imagination, with only Dickens's words to illustrate the horrific conditions for which these quarters were once so notorious.
BEGIN THE SOHO WALK
DIRECTIONS
Leave the station via exit 1 (Oxford Street South) and turn right along Oxford Street. Go right into Charing Cross Road and take the fourth turning right (Foyles Bookshop is on the opposite corner) into Manette Street.
This was formerly Rose Street but has been re-named after Dr Manette, who lived hereabouts in A Tale of Two Cities:-
"In a Building at the back, attainable by a courtyard where a plane tree rustled its green leaves, church organs claimed to be made, and likewise gold to be beaten by some mysterious giant who had a golden arm starting out of the wall...as if he had beaten himself precious..."

The golden arm referred to is now preserved at The Dickens House Museum.
DIRECTIONS
Continue ahead as the road passes under the buildings and turn right onto Greek Street, passing to the left the Pillars of Hercules pub, an old-fashioned Soho hostelry, that was almost certainly the Hercules Pillars mentioned in A Tale of Two Cities.
Continue to the junction with Soho Square and pause outside:-
The House of St Barnabas, another possible contender for "quiet lodgings of Dr Manette".
According to Dickens, "A quainter corner than the corner where the doctor lived was not to be found in London...It was a cool spot, staid but cheerful, a wonderful place for echoes, and a very harbour from the raging streets."
Nowadays, this mid-18th century building provides a temporary hostel for homeless women, although it is open to the public on Wednesday afternoons, and visitors can admire its intricately carved woodwork, rococo plasterwork and wrought-iron staircase.
DIRECTIONS
With your back to the House of St Barnabas, cross over Greek Street and turn next left along Frith Street. Hazlitt's Hotel, a little way along on the left, occupies a premise built in 1718 where painter turned critic and essayist William Hazlitt (1778–1830) died with the words, 'Well, I've had a happy life'.
Continue to the junction with Bateman Street where on the corner is:-
The Dog and Duck pub, established here in 1718 and so little changed since the 19th century that the Victorian Society have applauded it as 'a rare if not unique survival of a small Victorian town pub'. The pub's name recalls the rather cruel sport of duck hunting, which had been popular when this was a far more rural area. George Orwell came to the Dog and Dick to celebrate the fact that the American Book-of-the-Month Clubselected his Animal Farm.
The building on the opposite corner sports a blue plaque on its Frith Street faÁade remembering Dr John Snow (1813–58), who lived in a house on this site whilst developing a theory that would save the lives of millions. Between 1831 and 1860 there were four major outbreaks of cholera in London. In the epidemic of 1849 53,293 people died, and John Snow became certain that infected water was to blame. In August 1854, there was a particularly virulent outbreak and Snow began plotting on a map where the deaths were occurring. It became clear that the majority of the victims were drawing their water from the pump in nearby Broad Street. He also noticed that not one of the workers at the local brewery, who drank beer rather than water, died of the disease. On 7th September, Snow persuaded the authorities to remove the handle of the pump to render it unusable and, almost immediately, the epidemic ended.
DIRECTIONS
Go right along Bateman Street, then over Dean Street and pause outside:-
Royalty House, which stands on the site of the Royalty Theatre, better known in Dickens's day as Miss Kelly's Theatre. It was here in 1845 that Dickens brought together a group of friends, including his brother Frederick, Mark Lemon and John Forster to perform Ben Jonson's Every Man in his Humour (1598). Dickens acted as stage manager and director as well as playing the part of Captain Bobadil. The play was performed before a specially invited audience on 21st September with, according to John Forster, 'a success that that out-ran our wildest expectation; and turned our little enterprise into one of the small sensations of the day.' Not everyone, however, was impressed. 'Poor little Dickens!' exclaimed Thomas Carlyle, 'all painted in black and red, and affecting the voice of a man of six feet.'
DIRECTIONS
Facing Royalty House, turn right along Dean Street, passing on the right:-
Leoni' Vadis, one of Soho't famous restaurants, which was established by P.G.Leoni in 1926. Itoccupies the house where Karl Marx (1818–83) and his family lived from 1851 to 1856 in two small upstairs rooms. They subsisted on a small weekly sum given to them by their friend Frierich Engles. Marx claimed that he rarely went out "because my clothes are in pawn." His life was marked by tragedy during his tenure as three of his children died here.
A little further along on the left, the cream and redbrick offices of solicitors Allen and Fraser appear to have changed little since they first occupied the building in 1833.
Turn second left into St Anne's Court, once a haven for political refugees from France and Switzerland. You can read a history of the court on the wall of Clarion House a little way along on the left.
DIRECTIONS
Go left onto Wardour Street and first right into Broadwick Street.
At its junction with Poland Street is a replica of the Broad Street (as Broadwick Street was then known) pump, the handle of which Dr John Snow removed in 1854. The original pump is believed to have been outside what is now the John Snow pub, located on the opposite side of Broadwick Street.
DIRECTIONS
Go left by the John Snow pub and along Lexington Street, lined with a sequence of Victorian and Edwardian properties.
On the upper floors bespoke tailors can be glimpsed going about their craft, whilst the atmospheric, candle-lit restaurants below give the impression of being of a bygone era.
DIRECTIONS
Take the first right into Beak Street, notable for how untouched by time it appears, and the third left into Upper John Street, which leads into Golden Square.
Sadly, only a handful of houses in Golden Square, such as those at Nos 23 and 24 on the right, survive to give the impression of what it would have looked like in the 19th Century. In Nicholas Nickleby, Ralph Nickleby 'lived in a spacious house in Golden Square'. Dickens wrote, 'Although a few members of the graver professions live about Golden Square, it is not exactly in anybody's way to or from anywhere… Its boarding houses are musical, and the notes of pianos and harps float in the evening time round the head of the mournful statue, the guardian genius of a little wilderness of shrubs, in the centre of the square.'
The statue in question still stands in the garden at the centre of the square and is reputed to be of George II (1683–1760). There is an intriguing tale as to how this statue came to be at the centre of the square. It was in the process of being auctioned, so the tale goes, when an old friend of the auctioneer walked in and nodded a greeting. The price of hi unintentional purchase proved so low that the man considered it inconsequential and, having paid up, presented it as a gift to the residents of Golden Square.
DIRECTIONS
Exit the square into Lower John Street. Number 4 (the seond building on the left) was erected in about 1685 and was desined to have just one room on each floor.
Turn left along Brewer Street and take the third left into Great Pultney Street. A little way along, on the left, pause outside number 38, which was the home of:-
John William Polidori (1795 - 1821). Having received his medical degree from Edinburgh University in 1815, Polidori was hired in March 1816 as personal physician to Lord Byron when the poet was forced to flee England for exile in Europe. Polidori idolised Byron and hoped that he would help him to launch his own literary career. But when the young doctor showed his work to Byron, the poet responded by cruelly mocking it, and told Polidori that he had little potential as a writer.
In the summer of 1816, during their stay at Lake Geneva, Byron conceived the idea of a ghost story competition, a challenge that gave rise to Mary Shelley's Frankenstein. Polidori wrote to stories, one of which, The Vampyre, is now acknowledged as one of the most influential pieces of Gothic literature. Polidori actually presented his vampire as a sductive, noble and erotic creature, recognisably human with pale skin and cold eyes. Once more Byron dismissed Polidori's work, and as realtions between the two men grew colder, Byron dismissed Polidori who returned to England.
On his return he found that the New Monthly Magazine had published The Vampyre but attributed it to Lord Byron. Polidori wrote to the editor asking that the eror be rectified, but found himself accused of Plagiarism. The accusation all but destroyed his literary reputation, and in 1821, he abandoned all aspirations of being a writer, and enrolled instead as a law student. On 24th August that year he took his own life by drinking Prussic acid at this house here in Great Pultney Street.
DIRECTIONS
Continue ahead along Brewer Street and turn right into Wardour Street. Pause a little way along on the left to admire the strange beer-barrel shape of the church tower on the left.
This is all that remains of St Anne's Church, where Lucie Manette was married in A Tale of Two Cities.
The church itself was destroyed by bombing in World War Two.
It had been dedicated to Queen Anne by her tutor, Henry Compton, Bishop of London, who gave his name to nearby Old Compton Street. It was built by Sir Christopher Wren and its peculiar beer-barrel-shape church tower, was added by the eqaully eccentric sounding Samuel Pepys Cockerell.
On the wall yo the right of the tower is a tablet commemorating Theodore, King of Corsica, "who died in this parish December 11, 1756."
Forced from his kingdom, Theodore sought asylum in London but was soon imprisoned for debt.
The epitaph on the wall was composed by the writer Horace Walpole, and reads:-
"The grave, great teacher, to a level brings

heroes and beggars, galley slaves and kings

but Theodore this moral learnt ere dead

fate poured its lessons on his living head

bestowed a Kingdom and denied him bread."
Crime writer Dorothy L. Sayers was church warden at the church and her ashes are interred inside the tower.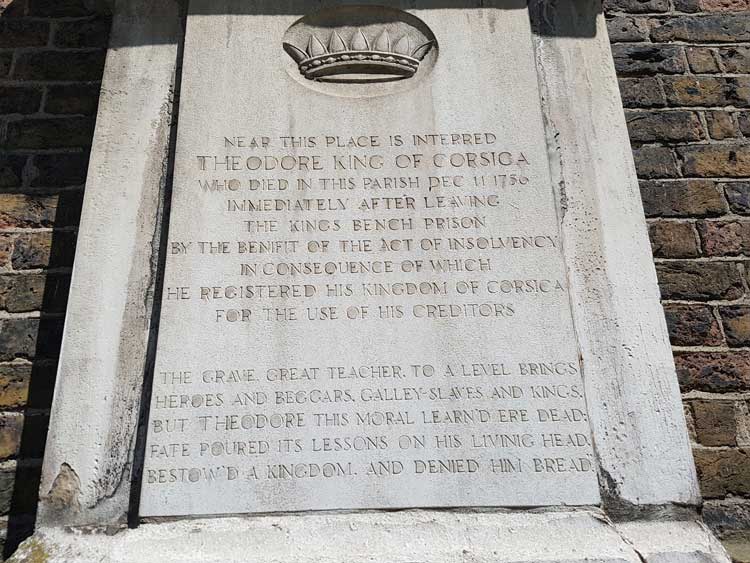 DIRECTIONS
Continue onto Shaftesbury Avenue.
The construction of Shaftsbbury Avenue between 1877 and 1886 resulted in the demolition of some of London's most squalid slums, the dreadfulness of which Dickens strove to depict in his works.
The new thoroughfare was named in honour of Anthony Ashley Cooper, the 7th Earl of Shaftesbury (1801–86).
A largely forgotten figure today, Lord Shaftesbury was one of the most active philanthropists of the 19th Century.
As a Member of Parliament he was responsible for several reforming acts designed to alleviate the suffering of the poor. Much of his work was aimed at highlighting the plight of the residents in the slums hereabouts, and their affection for him is illustrated by a delightful story.
On one occasion, a gold watch that had been bequeathed him by his family housekeeper, Maria Mills, and which he treasured, was stolen. Shaftesbury advertised its loss, whereupon the local community found the boy responsible and left him, together with the watch, tied up in a sack on Shaftesbury's doorstep. He subsequently found the boy a place in one of his Ragged Schools.
Dickens was one of his most vociferous supporters and applauded Shaftesbury's Lodging Houses Act of 1851 as, "the best law that was ever passed by an English Parliament".
DIRECTIONS
Continue over Shaftesbury Avenue along the continuation of Wardour Street and take the first left into Gerrard Street. The vivid colours and vibrancy of Chinatown now engulf you.
On the left, five doors after Macclesfield Street, is No 10, standing on the site of the bookseller's house where Dickens's uncle, Thomas Barrow, was laid up with a broken leg, and was visited by his ten-year-old nephew, Charles. Mrs Manson, who ran the bookshop, used to lend Dickens books to read, and for a time he was supremely happy. Thomas Barrow was attended by a very "odd old barber out of Dean Street" who was forever "reviewing the events of the last war, and especially of detecting Napoleon's mistakes, and re-arranging his whole life for him on a plan of his own".
Dickens later told how he had written a description of this old barber but had "never had the courage to show it".
The house would later feature as the "rather stately house of its kind, but dolefully in want of painting and with dirty windows" where the lawyer Mr Jaggers lived in Great Expectations.
DIRECTIONS
Continue to the end of Gerrard Street. Turn right into the bustling Newport Place, left along Newport Court and, having crossed Charing Cross Road, keep going ahead into Great Newport Street.
Turn left onto Upper St Martin's Lane and walk straight along Monmouth Street, whose buildings have an early 19th-century look to them.
You have now entered Seven Dials which was the notorious slum district immortalized by William Hogarth in his Gin Lane.
By the 1820s the streets of Seven Dials had a fearsome reputation. Prostitutes would lure men into the warren of streets and alleyways, where their confederates would be waiting to rob and possibly even murder them. More than half the violent robberies that took place in London happened as a result of people inadvertently straying into what was the acknowledged "thieves quarter of London".
As one commentator put it, "The walk through Seven Dials after dusk was an act none but a lunatic would have attempted and the betting that he ever emerged with his shirt was 1000 to 60".
Central to this sordid nightlife was the Crown Tavern, situated at the junction where the modern replica of the original Seven Dials column now stands. This pub, then known as 'The Clock House' on account of the timeworn timepiece that it still displays, "was a hot bed of villainy" where the "King of the Pickpockets held his nightly court". The police would stand outside, helpless to intervene, and would 'no more think of entering therein than into the cage of a cobra'.
Typically, Dickens was fascinated by the sordid squalor of Seven Dials and neighbouring St Giles. According to John Forster, even as a young boy, he had a 'profound attraction of repulsion' to them. 'Good Heaven!', he would exclaim, 'what wild visions of prodigies of wickedness, want and beggary arose in my mind out of that place!'. The Crown Tavern, a delightfully snug hostelry resplendent with pictures and etchings of what the neighbourhood was once like, is the perfect environment in which to rest the feet and contemplate how much the reforming zeal of the Victorian slum clearances changed the metropolis for the better.
DIRECTIONS
Keep going along Monmouth Street to the left of the Crown Tavern.
In his Sketches By Boz essay, "Meditations in Monmouth Street", Dickens lauds the fact that:-
"Through every alteration and every change Monmouth Street has still remained the burial-place of fashions; and such, to judge from all present appearances, it will remain until there are no more fashions to bury."
It is nice to see that the second-hand clothes shops (albeit selling 1960s and 1970s apparel) are still maintaining at least one tradition!
DIRECTIONS
Thanks to the construction of Shaftesbury Avenue, most of the Monmouth Street to which Dickens referred was demolished, and it ends abruptly. As it does so, go left over the pedestrian crossings and into St Giles High Street.
The lofty church of St Giles-in-the-Fields, passed on the left, whose name speaks volumes of the long gone rural past of this neighbourhood, has changed little since the 18th century and is worth a visit.
DIRECTIONS
Just past the church, go left into Denmark Street and first right into
Denmark Place, a narrow thoroughfare that gives some idea of the unwholesome maze of streets, courts, lanes and alleys' that once gave the district a dubious notoriety.
In Nicholas Nickleby, it was in the cellar of a house in the "labrinth of streets which lies between Seven Dials and Soh"', that Nicholas and his sister Kate, having lost their way, re-encountered Mr Mantalini, being scolded by his nagging wife to turn the mangle. "I am always turning," he wearily replied, "I am perpetually turning, like a demd old horse in a demnition mill. My life is one demd horrid grind!"
DIRECTIONS
Leaving him to his eternal task, go right along Charing Cross Road. Cross over the traffic lights, off which bear right, then left into Oxford Street to find Tottenham Court Road Station where this walk ends.