PLEASE CLICK HERE FOR DATES AND TO MAKE A BOOKING
Ebenezer Scrooge's encounter with the ghosts of Christmas past, present and future, not to mention with that of his dead partner, Jacob Marley, is, probably, the second best known Christmas story ever told.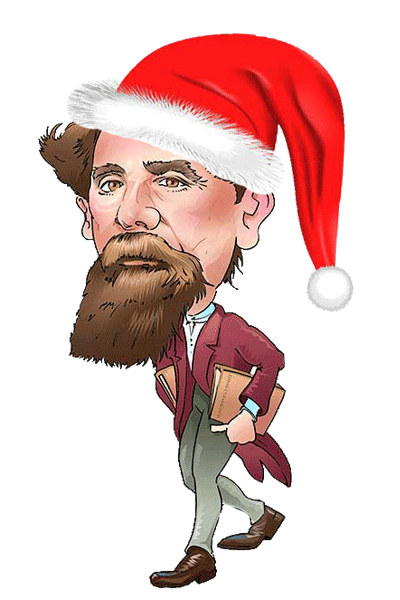 Indeed, it has thrilled and chilled audiences in equal measure ever since 1843, when the tight-fisted, squeezing, wrenching, grasping, scraping, clutching, covetous old sinner, Scrooge, first edged his way along the crowded paths of life, warning all human sympathy to, "keep its distance," whilst hurling insults at every man, woman and child that he met, and sending blind men's dogs dragging their owners into doorways and up courts to avoid him.
So, Richard's Dickens Christmas Carol walk explores the very alleyways where, once upon a time - of all the good days of the year, on Christmas Eve - the citizens of Victorian London went wheezing up and down, beating their hands upon their breasts, and stamping their feet upon the pavement stones to warm them.
What better way could there be of experiencing this timeless story than following a costumed guide through the very alleyways, courtyards and thoroughfares that feature in the story?
And what better way could there be to prepare for the festivities ahead by learning something of how many of the customs and traditions associated came into being and evolved?
DECK THE HALLS OF OLDE LONDON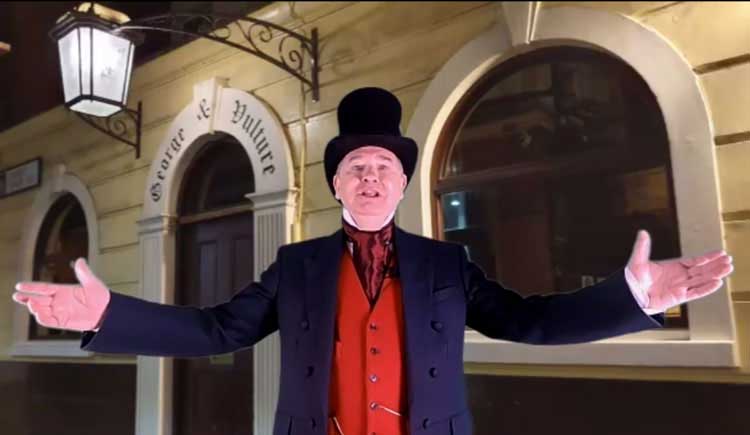 JUST HOW CHRISTMAS SHOULD BE CELEBRATED!
Even the spot at which the tour begins is a gem of bygone London, for it is the historic hub of the City of London and, surrounded by a medley of sturdy institutions - the Bank of England, the Royal Exchange and the Mansion House, all of which will be suitably be-decked in boughs of jolly - you really will feel the festive spirit, seeping from every pore of the stones and bricks.
Richard, who will be suitably attired in Victorian costume, will welcome you to Dickens London and will provide a brief account of how Dickens, faced with the prospect of mounting debts, conceived the idea for a "Ghostly little book" that, so he vowed, would strike a "sledge-hammer blow...on behalf of the Poor Man's Child." and, in so doing, would transform the way that people celebrated Christmas.
His book set a blueprint for how Christmas should be celebrated and several of the customs we still adhere to today first saw the light of day in its pages.
It also, inadvertently, almost bankrupted the goose farmers of Victorian England, but that's another gem of a story that you'll hear about later in the walk!
WHETHER THE WEATHER IS FRIGHTFUL
It really won't matter what the weather is doing - although, to be honest, snow would be a terrific bonus - because you'll soon find yourself absorbed in a story that still has the capacity to generate so much warmth and goodwill that, according to Dickens fellow author, William Makepeace Thackeray, it was (and still is) nothing short of a "national benefit."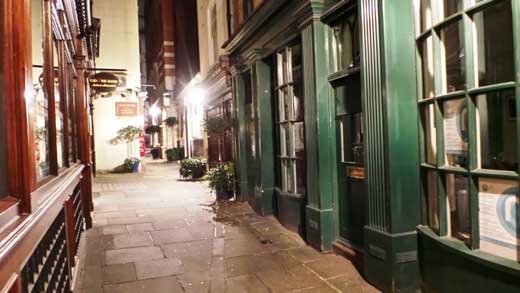 Thus we head off into a delightful warren of old Victorian passages that snake their way into hidden courtyards where the Dickensian associations come thick and fast.
There's the old 17th century hostelry that Dickens featured in Pickwick Papers and where current members of the Dickens family still congregate each Christmas to enjoy a hearty meal and to toast the memory of their famous forebear.
SCROOGE'S COUNTING HOUSE
Huddled in the gathering gloom of the old alleyway that leads to it, it won't take a great leap of the imagination to picture the candles "...flaring in the windows of the neighbouring offices, like ruddy smears upon the palpable brown air.."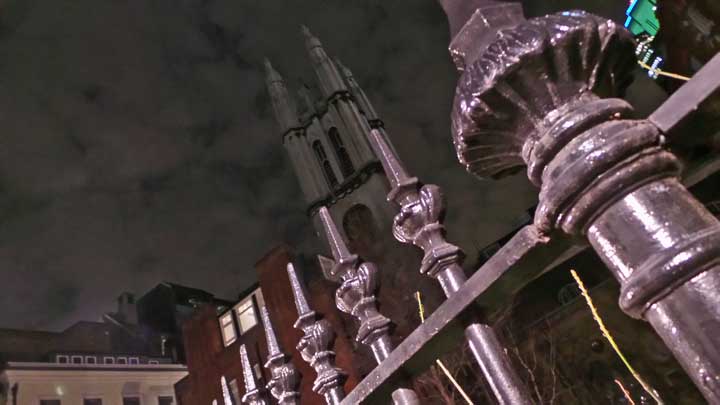 This is where Dickens placed Scrooge's Counting House at the beginning of A Christmas Carol and you will even look up at the very ancient church tower "...whose gruff old bell was always peeping slyly down at Scrooge out of a gothic window in the wall..."
Here, in what is a genuine throwback to a bygone era, Richard will bedazzle you with a wealth of facts and anecdotes about Dickens himself and about A Christmas Carol in particular.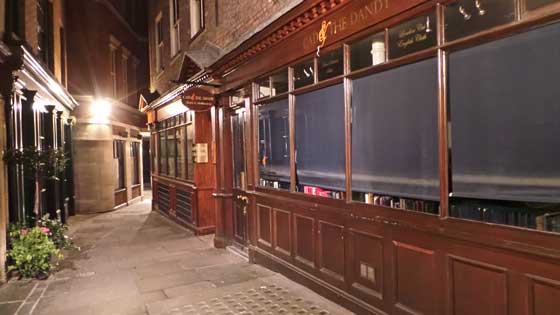 You will learn how, having conceived the idea for his "Ghostly little book", Dickens threw himself into writing it and managed to complete the entire novel in just six weeks. Imagine, one of the most famous books of all time was written in a mere six weeks!
You will hear how, as Dickens laboured on the novella, he would walk "...about the black streets of London fifteen or twenty miles many a night when all sober folks had gone to bed" with, as he later recalled, the Cratchits "ever tugging at my coat sleeve, as if impatient for me to get back to my desk and continue the story of their lives".
Thus the walk will twist its way through the very alleyways that Dickens came walking through in search of inspiration.
Soaring church towers will look down upon us, gated graveyards will add a macabre flare to the route of the walk until, having absorbed the bygone ambience of our surroundings, we will emerge blinking into the 21st century streets.
ANYONE FOR SNAP DRAGON?
But, worry not, for this sudden intrusion will be a minor irritation, as fleeting as the ghosts that came out of the dark Victorian night to reform old Ebenezer.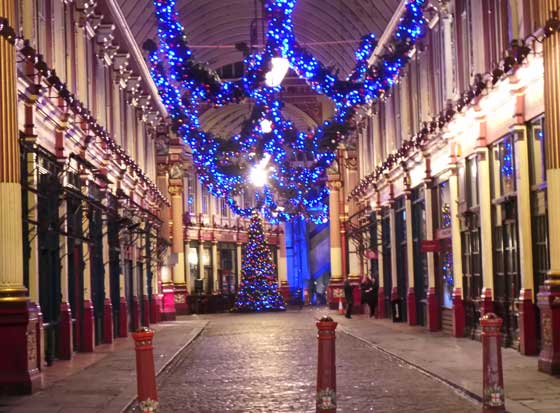 For, no sooner have we recoiled from our encounter with the 21st Century Cityscape, than we leave it behind again and venture into the hinterland of Victorian London's most beautiful market.
As well as being a delight on the eyes, it will also be familiar to all fans of the world of muggles and wizards, for it was here that they filmed the Charing Cross Road scenes in the first two Harry Potter films.
But we're on a different mission with our visit here, albeit one that is every bit as magical. For, at the very heart of this stunning market, we come across one of London's most magnificent Christmas trees.
With our group of merry wanderers gathered beneath it, Richard will reveal how Christmas was celebrated in the days before people were able to gorge themselves to bursting point and then collapse in front of the television to watch Steve McQueen attempt yet another Great Escape.
In those days people made their own entertainments, and games such as Are you there Moriarty?; Shadow Buff; Prussian Exercises; Snap-Dragon; Forfeits and Reverend Crawley's Game were the order of the day.
Richard will explain the rules behind each of these intriguing pastimes of Christmas's past and, by the time you've heard them, you'll be aching to race home and try them out for yourselves!
A YULETIDE JOURNEY THAT ENDS IN TEARS
Having gotten ourselves well and truly into the spirit of Christmas, we set off on an invigorating walk through old alleyways and older courtyards that are still much as they were in days of yore when Dickens knew them and wrote about them.
We'll hear of the members of Dickens' entourage, family and friends, who found themselves immortalised in his Christmas classic; we'll discuss how, no sooner had the Carol appeared on the bookstands, to universal applause, than it was pirated by several publishers, and one or two theatrical impresarios, much to the chagrin of Dickens himself.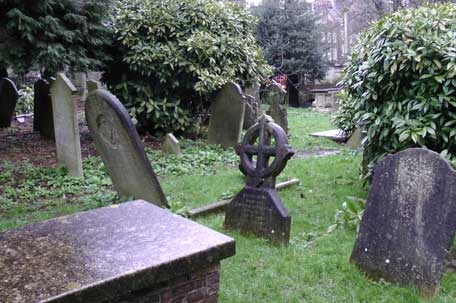 And then, with the winter moments of the tour falling around us, we hunt down a likely contender for the churchyard, "walled in by houses; overrun by grass and weeds...choked up with too much burying; fat with repleted appetite..." through the iron gates of which the Ghost of Christmas Yet To Come led Scrooge and pointed down to a grave towards which Scrooge crept and "read upon the stone of the neglected grave his own name, Ebenezer Scrooge..."
So, why not shake off the cobwebs of Christmas present by taking a journey through the streets, alleyways and courtyards of Christmas past, and listen as the streets of Dickensian London come vividly to life and characters, who have long been an integral part of the festive season the World over, will be only too happy to welcome you to their London.