Saturday 25th July at 7pm
This is a virtual online tour
RICHARD WILL BE IN VICTORIAN COSTUME
It is one of the best loved stories of all time, and the second most famous Christmas story ever told.
So, we thought we'd bring a little festive cheer to these troubled times by staging a Virtual Victorian walk around the locations that featured in A Christmas Carol.
Now, it might seem slightly odd to be doing such a walk in the middle of July, but, thanks to the wonders of technology, to paraphrase Scrooge, we can do anything we like, of course we can, of course we can.
The virtual world is not constrained by time or place, so you can follow Richard on a journey back to Christmas Eve, 1843, as he leads you, ghost-like, through the snowy alleyways of London where you will pick your way through the narrative of Dickens's timeless classic.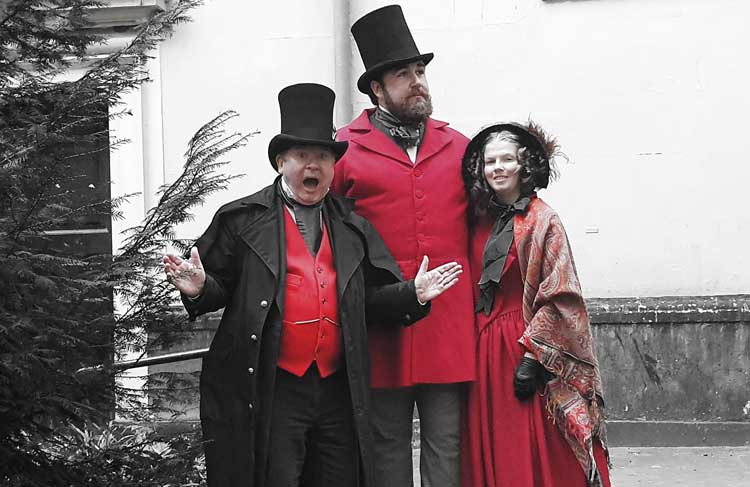 DICKENS IN TROUBLE
Richard will begin my telling you how Dickens, finding himself heavily in debt in the autumn of 1843, paid a visit to Manchester where he found himself suddenly inspired to write a novella that he would have to finish in time for Christmas of that year.
Racing back to London, he set to work, and walked the streets of London night after night in search of inspiration.
Richard will then take you on an enchanting virtual journey, utilising footage that he himself has filmed over the years, of the locations that were featured in the novella.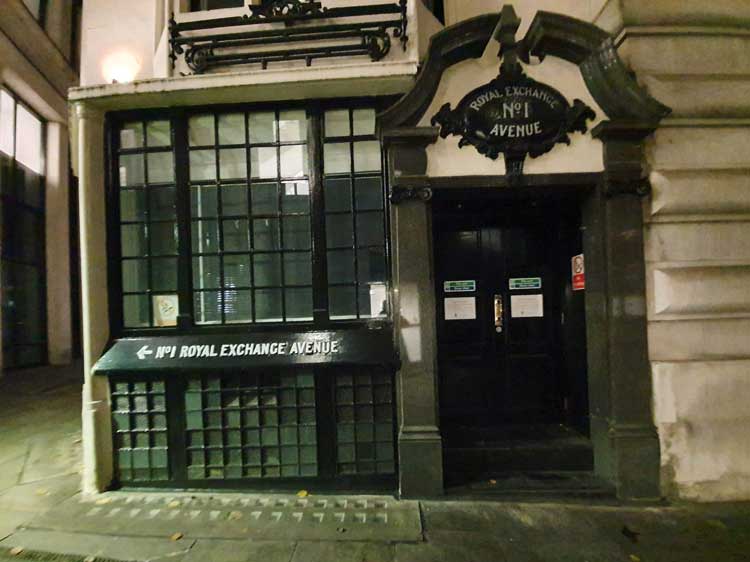 SCROOGE'S COUNTING HOUSE AND A MELANCHOLY TAVERN
You will delve into the dingy alleyway in which it is believed that Dickens based Scrooge's counting house in the opening pages of the story.
Richard will tell you how Dickens used his own brother as the counter for the curmudgeonly old miser, and he will recite the famous exchange between Scrooge and his nephew about the foolishness of celebrating Christmas.
He will then take you through the exchange between the old skinflint and the charity collectors, in which Dickens makes a very personal attack on a clergyman turned economist whose theories about how the poor should be treated had found favour with the authorities of the age.
Having heard how Bob Cratchit honoured Christmas on his release from Scrooge's office, we then follow Scrooge as he makes his way home through the snowy alleyways at the heart of the old City, and join him as he stops off at a melancholy tavern to partake of a melancholy meal.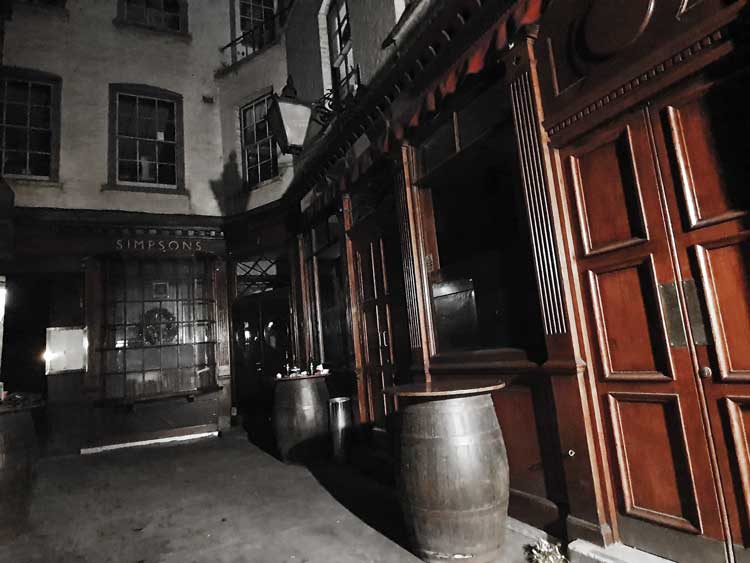 SOME CHRISTMAS TRADITIONS
Dinner over, we wil continue our journey with a discussion of some of the traditions that were becoming popular around the time that Dickens wrote the Carol. From Christmas trees to Christmas cards, to Christmas crackers.
Indeed, thanks to this being a virtual tour, Richard will be able to show you those who helped popularize these traditions. From Prince Albert to Sir Henry Cole, the man who sent the first Christmas card in the very year that A Christmas Carol appeared.
Richard will even be able to show you a copy of that first Christmas card and will explain how it wasn't particularly well received by some sections of Victorian society.
LET THE HAUNTING BEGIN
But there is a lot to cram into our Christmas in the summer, so we will follow Scrooge to his tucked away abode, where a strange transformation of the doorknocker is the first hint he gets that this is not going to be the quiet Christmas Eve he had planned for.
Richard will recite the passage in which Marley's ghost makes its chilling entrance and informs the old miser of what the night has in store.
We will then follow Scrooge through his past and into his present, as he pays a visit to the Cratchitt family's humble abode, which was based on the house that Dickens had lived in as a boy, and which was pulled down many years ago. But, once again, because this is a virtual tour, you will be able to see that very house as it was in Dickens's day.
Then it's off in the company of the Ghost of Christmas Yet To Come, to visit the churchyard where Scrooge had his most terrifying encounter when he is confronted by the fate that awaits him if he refuses to change.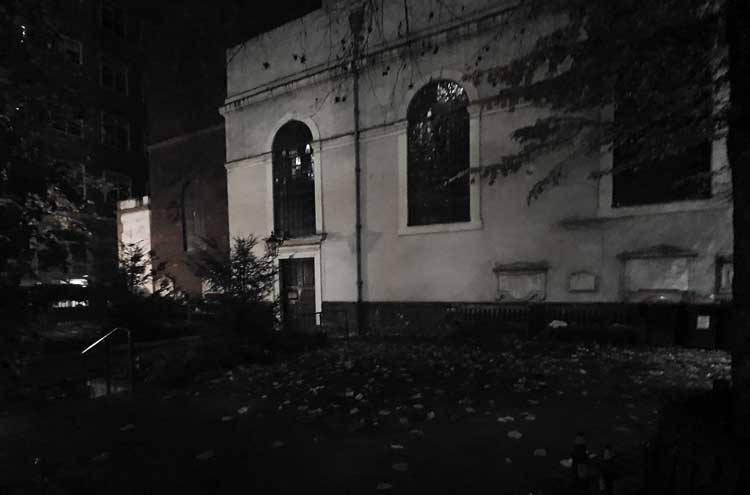 A BRIGHT CHRISTMAS MORNING
And so Scrooge awakes to a bright, crisp, Christmas morning and decides to send a turkey to the Cratchits. We visit the market to which he may well have sent the boy to buy that prize Turkey, the one as big as the boy.
Richard will also explain the meaning of some of the words and phrases that Dickens uses in this section of the novella, from the boy's retort of "Walk-R! when told to go and buy the bird; to Scrooge's assertion that Joe Miller never made such a joke as sending the turkey to Bob Cratchit!
The tour will end with the intriguing fact that, in his original manuscript, Dickens forgot to reveal the fate of one of the novella's best-loved characters, before ending with the resounding repetition of that character's exclamation, "God Bless Us Every One!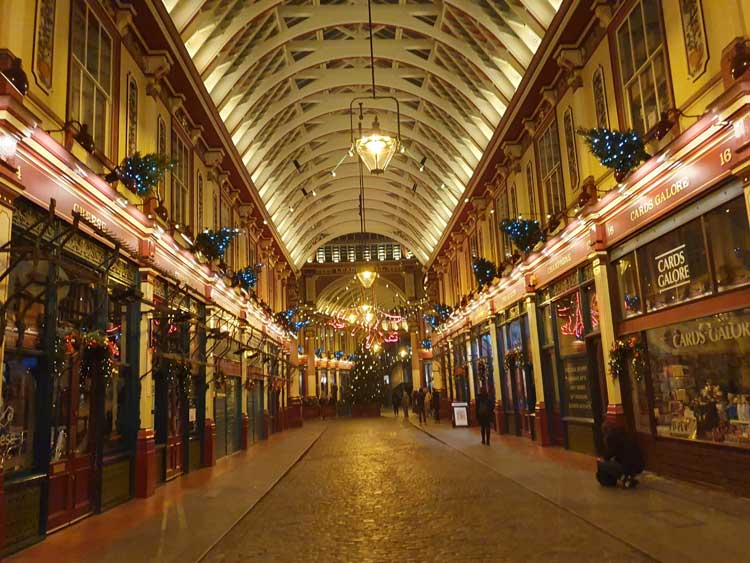 AND IT'S CHRISTMAS IN JULY
So join Richard Ebenezer Jones, for a journey through Scrooge's long night of the soul; and visit the locations that formed the backcloth against one of literature's best known and best loved stories was played out.
And, might we take this opportunity to wish you all a merry and sunny Christmas in July.