WELCOME TO THE MARCH 2016 LIST
Well it's March 2016 and the winter hasn't really taken hold yet, if it will it all. It's amazing me as I walk around London that the daffodils and other flowers have been appearing since February and I can't help but hope that we're not in for a late winter.
That said, this months list has put on the thermals and ventured, nervously, out of doors to take a few chilly steps into the balmy March days of 2016.
Since Easter is in March this year, I have included several things to do over the Easter weekend, including the wonderful "Widow's Dole", which those of you who have joined my Secret City walk will know all about, as I tell the story by the grave we visit at the end of the tour.
This year, I've become trendy - well I think I have - and have started enjoying all the terrific street art that London has to offer. I must confess that I hadn't paid it much attention until early January when, in the course of researching some new tours - of which more later - I began seeing it, as opposed to just glancing at it as I walked by. Anyway, one of my recommendations this month is to stroll the full length of Brick Lane and really get down and trendy - just as I, "rapper Jones" - or should that be wrapped up Jones? - have been doing over the last few months.
Elsewhere in London a perennial - in this case a hardy perennial - visit makes a welcome return as the Barbican Conservatory will be open on several Sunday's.
I've also included a few indoor venues where you can enjoy exhibitions and lectures, at one of which you can hear scientists tell jokes _ I know, who'd have thought it?
So, all in all, there are some great locations to get out and about to in London and, as per usual, they're all free, so enjoy.
SOME NEW WALKS
My walks programme gets underway from April with a new weekday tour of the Inns of Court - a truly magical enclave that, if you've not explored it is a true delight to discover. Click here for full details.
There's also a Wednesday Charles Dickens Walking Tour that will end at the wonderful Charles Dickens Museum.
And, of course, the Hampstead Walk, makes its return and will operate on selected Sundays throughout the year.
THE SHAKESPEARE BIRTHDAY WALK
On Saturday 23rd and Sunday 24th April I'll be conducting a special walk to celebrate William Shakespeare's 452nd birthday, not to mention the anniversary of his death on 23rd April. Click here for all the details.
So, all in all 2016 is panning out to be a rather busy year!
Just to remind you that I also post updates and additional venues on our Facebook page, so you might like to join us and like us (as in Facebook likes!) to ensure you're kept fully up to date on what's happening in London during the weeks ahead.
As ever, if something changes in the weeks ahead I will put the update on the Facebook Page, in order not to bombard you with emails.
So, without further ado, here is my March list of ten things to do in London.
10 THINGS TO DO IN LONDON MARCH 2016
GO TROPICAL IN THE CENTRE OF LONDON
A WORLD AWAY FROM THE CITY
The Conservatory
Barbican Centre
Silk Street London
EC2Y 8DS
Open Sundays 13th, 20th and 27th March 2016 12 noon to 5pm
Admission Free
The Nearest Underground Stations are Barbican or Moorgate
There's something almost post-apocalyptic about this place. It is, after all, slap bang in the centre of London, yet it is an oasis of greenery - and tropical greenery at that. It appears to have sprouted, triffid-like, just a stone's throw from St Paul's Cathedral.
It perches on top of the Barbican Arts Centre and has the distinction of being London's second-largest heated conservatory, which on a cold Sunday in March makes it a perfect place in which to banish those winter blues that you might be noticing on the end of your finger tips!
With over 2,000 species of tropical plants and trees, plus exotic fish, it makes for a great place to visit and, if I've not mentioned this already, it's warm!
Full details on their website.
ATTEND THE WIDOW's DOLE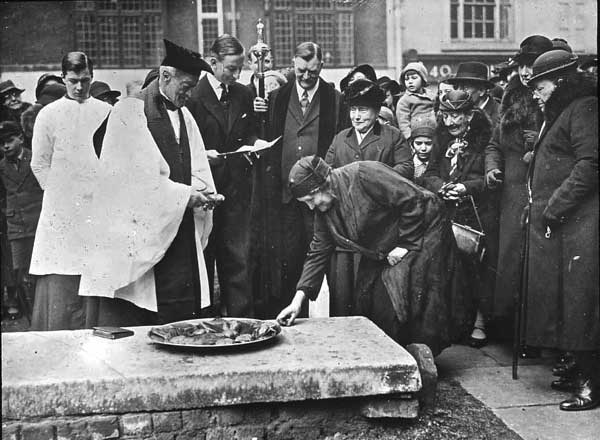 HOT CROSS BUNS AND QUIRK
St Bartholomew The Great
Cloth Fair
London
EC1A 7JQ
Good Friday
25th March 2016 at 11.30am
FREE
The Nearest Underground Stations are Barbican, Farringdon or St Paul's
For Full Information Click Here.
Those of you who have joined me for the Secret London tour might recall the grave at the end of the tour around which the partaking of the hot cross buns takes place on Good Friday each year.
Well, believe it or not, another year has gone past and the widow, whose mortal remains are reputed to lie beneath said tombstone, is due to have her eternal rest disturbed by the annual distribution of the Widow's Dole.
It's one of those wonderfully quirky ceremonies that London excels at, and anyone who wishes to can attend.
Although it takes place at 11.30am, I would suggest arriving for 11.15am just to be on the safe side as, if you miss it that's it for another year, which might make you hot and cross!
SIT TIGHT AND RISE HIGH
THE EASTER CHAIR LIFT IN GREENWICH MARKET
Greenwich Market
London
SE10 9HZ
Easter Monday, 28th March 2016,
Free
The Nearest Station is Cutty Sark DLR.
Full (ish) Details On the Market Website.
Are you sitting comfortably? Then I'll begin. WHOAAAAAAAHHHHH!!!!
I don't know about you, but I love Greenwich. It's so London, but, at the same time, so unlike London as to be another place altogether - if that last line actually makes any sense at all.
Greenwich Market, which nestles at the centre of this wonderful village, is a fascinating place at the best of times.
But, come Easter it guarantees visitors and eggstraorindarily good time. I hope that punch line was worth the build up!
The fun kicks off, so to speak, on Good Friday, 25th March 2016, and continues throughout the weekend, with sundry events - most of which seem to centre around food and chocolate.
But then, on Monday 28th March 2016, "in the afternoon", to quote the wonderfully specific website, the Blackheath Morris Men will arrive to perform their annual chair lift, in the course of which an unsuspecting, female, will be sat in a flower draped chair, to be hoisted heavenwards - well above the heads of the Morris Men - as bemused visitors gaze on in wonder. Oh, did I mention the fact she then has to kiss her tormentors.
HEAD EAST AND GET TRENDY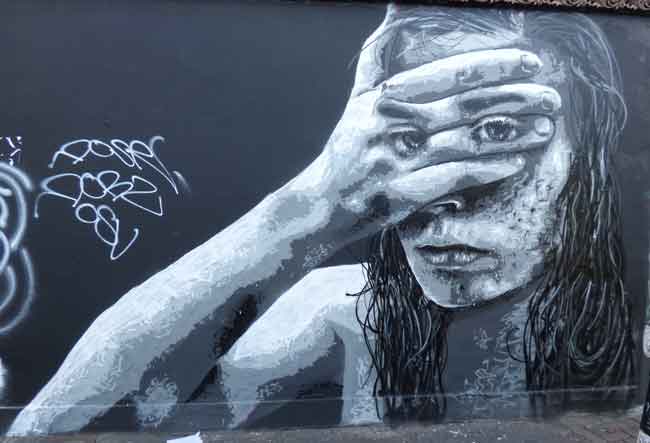 ENJOY THE STREET ART ON BRICK LANE
Brick Lane
London
E1.
Anytime
The Nearest Underground Station is Aldgate East
So, street art. It's a big thing in London, in case you hadn't noticed. So much so that you can enjoy a morning or an afternoon strolling along Brick Lane, venturing in and out of its side streets and courtyards, and generally enjoying some amazing street art.
What, genuinely, staggers me, is just how much time, dedication and energy has been devoted to some of these artworks. It truly is mind boggling.
My recommendation is to arrive at Aldgate East Underground Station, take Exit 3, turn left along Whitechapel High Street, then left into Osborn Street and keep ahead into Brick Lane.
Once there, the street art will begin appearing on as many walls as the artists could get access to.
However, don't just confine yourself to Brick Lane. Be sure to explore the full length of the side streets and courts on both its left and right sides.
Fashion Street (on the left) had some terrific stuff - especially toward its top, whereas Hanbury Street - which runs to the left and right (west and east) of Brick Lane - has some breath taking offerings at both ends.
When you get to the Shoreditch end of Brick Lane, be sure to explore the area around Shoreditch Station and Cheshire Street.
Also, don't forget to take your camera!
BE AMUSED BY FAUNA
WARNING, MAY DRIVE YOU NUTS
Grant Museum
Rockefeller Building
21 University Street
London
WC1E 6JJ
9th March 2016, 6.30pm to 9.30pm
Free
The Nearest Underground Station is Euston Square
For further details go to their website by clicking here.
Why is the mushroom always invited to parties? Because he's a fungi.
Once you've finished rolling on the floor at that side splitting opener, you might like to toddle on over to one of London's quirkiest museums and discover that botanists can be fun guys (and gals) as well.
Sadly, they're here for one night only, but what a night it promises to be.
At which point, I'll hand the mic over to the Grant Museum to reveal what's in store. Take it away chaps and chapesses:-
"What would happen if we invited experts in every type of fauna* to make jokes about the animals they know and love (or hate) for just 9 minutes? Animal Showoff is that! In a fun evening of science, jokes, stories and laughter! Come discover more about the animal kingdom from some of the its biggest fans."
I'm grinning already. Oh, and by the way, how do trees get on the Internet? They log on. Boom, Boom!
TAKE TIME TO CLIMB THE CLOCK TOWER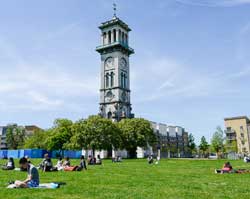 GRIP THE RAILING AND HOLD ON TIGHT
Clock Tower
Caledonian Park
Market Road
London
N7 9PW
12th Mar 2016 10am to 3pm
Free, first come first up basis.
The Nearest Underground Station is Caledonian Road.
For further details go to their website by clicking here.
A rare opportunity to ascend the Cally Tower and enjoy some truly stunning views. But, only attempt it if you're fit, healthy and have a head for heights.
First opened in 1855 as the centerpiece of the former Metropolitan Cattle Market, the seven storey Clock Tower offers magnificent views over London. It's made all the more rewarding by the knowledge you actually managed to get up there to enjoy them!
It's also worth mentioning that, both the tower and the market's railings - built to withstand a bull stampede - are on English Heritage's list of at risk structures. Just thought you might like to know.
HAVE LUNCH WITH GANDALF AND GAFFER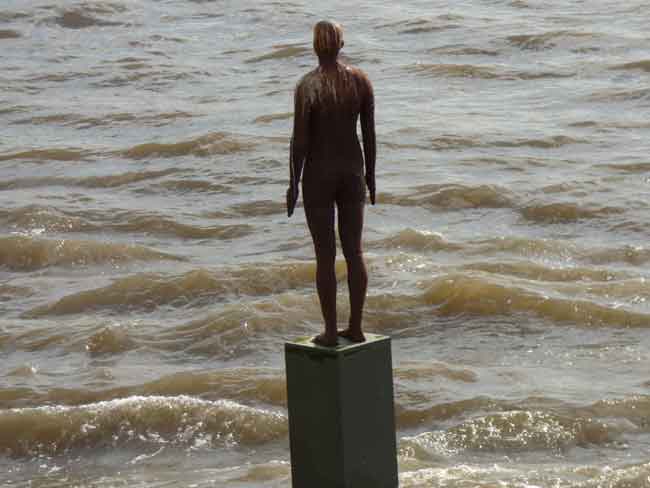 THE SIX JOLLY FELLOWSHIP PORTERS
The Grapes
76 Narrow Street
London
E14 8BP
Monday to Saturday Noon to 11pm, Sunday Noon to 10.30pm.
The Nearest DLR Stations are Limehouse or West Ferry
To visit their website by clicking here.
Do you remember those Victor Kiam adverts in which the bouncing American businessman would pop up and extol the virtues of the Remington shaver by telling us he was so impressed by said shaver he bought the company?
Well, if you ask me, Sir Ian McKellen could should do a similar advert - decked out as Gandalf of course - for the Grapes, on Narrow Street, in the depths of Docklands.
Because, in essence, that's, more or less, exactly what he did.
I have to say, I love this old pub, that, quite literally, hangs out over the River Thames. Or, as Charles Dickens so eloquently put it in his novel Our Mutual Friend it is:-
"A tavern of dropsical appearance...long settled down into a state of hale infirmity. It had outlasted many a sprucer public house, indeed the whole house impended over the water but seemed to have got into the condition of a faint-hearted diver, who has paused so long on the brink that he will never go in at all."
In the novel, in which it becomes the "Six Jolly Fellowship Porter", it is presided over by the characterful Miss Abby Potterson, and is the favoured watering whole of Gaffer Hexam.
The pub is snug and characterful and, on weekday lunchtimes, doesn't tend to get too busy. If there's no room downstairs, you can often find a seat in the little upstairs bar where you can admire the solitary figure that stand looking out across the River that is the subject of the photograph above.
Entitled "Another Time", it is a life size figure by the sculptor Antony Gormley and is rumoured to have been acquired by Sir Ian McKellen to take pride of place behind his pub.
UNLOCK THE STRONGBOX OF EMPIRE
Britain and the Mediterranean
The Maughan Library
Chancery Lane
London
WC2A 1LR
Monday to Friday 9.30am to 5pm; Saturday 10am to 6pm
Till 7th May 2016
Please note it will be closed on the 11th March and 20th April 2016.
Free, but you need to print a ticket from their website.
The Nearest Underground Stations are Chancery Lane, Holborn or Temple
For further details go to their website by clicking here.
Way back in the distant mists of time, as a newly arrived 18 year old, working at the Office of Fair Trading on Chancery Lane, I discovered that the Government Records Office building - universally known as "the strong-box of the Empire", when we actually had one - was an excellent and fascinating place to while away a winter's lunchtime.
The building's interior amazed me when I first discovered it, and it still amazes me whenever I visit it today, albeit the Public Records Office has long since decamped to pastures new, or should that be pastures knew?
Today, the building houses Maughan Library, part of King's College and, although you can't normally go inside it, unless, of course, you happen to be a student. But, at the moment those of us of a more mature persuasion, can pass through its hallowed portals to enjoy a public exhibition devoted to Britain's involvement in the Mediterranean.
Now, please don't take this the wrong way, fascinating as the exhibition undoubtedly is - the chance to see inside this magnificent room that houses the exhibition is reason enough to pay a visit, since it is the former Rolls Chapel, which consists of stained glass windows, a mosaic floor, and three 16th and 17th century funerary monuments.
VISIT A LOST LIBRARY

EXPLORE THE WORLD OF DR. DEE
Royal College of Physicians of London
11 St Andrews Place
Regents Park
London
NW1 4LE
Monday to Friday, 9am to 5pm
Till 29th July 2016
Free
The Nearest Underground Stations are Great Portland Street and Regent's Park.
For further details go to their website by clicking here.
Mathematician, magician, astronomer, astrologer, imperialist, alchemist and spy, John Dee (1527 - 1609) was one of Tudor England's most extraordinary and enigmatic figures.
This exhibition "explores Dee through his personal library."
On display for the first time are Dee's mathematical, astronomical and alchemical texts, many elaborately annotated and illustrated by Dee's own hand. Now held in the collections of the Royal College of Physicians, they reveal tantalising glimpses into the "conjuror's mind".
There will also be evening lectures and tours.
WITNESS THE PASSION OF JESUS
AN ANNUAL EVENT
Trafalgar Square
25th March 2016 at 12 Noon and 3.15pm
Free
The Nearest Underground Stations are Charing Cross, Leicester Square and Embankment.
For further details go to their website by clicking here.
On Good Friday, the huge Wintershall cast and animals come to the heart of London to re-enact their annual, moving Passion and resurrection play of Jesus last days.
Some 20,000 people are expected to attend and, given the nature of the performance the organisers are at pains to point out that it "...contains a realistic interpretation of the crucifixion - parental guidance is advised."
That said, it is truly moving to witness. As Boris Johnson, Mayor of London, put it:-
"'As Londoners across the capital and beyond celebrate Easter I am delighted that The Passion of Jesus is returning to Trafalgar Square. It is a wonderful event that brings to life the Christian message and attracts people of all faiths right in the heart of our great city."
PLEASE ENJOY
I hope you find the March list useful and that you get to enjoy at least some of the things that I have suggested.
If you require further directions to any of the places suggested could you ask it via the Facebook page as that then enables me to answer quickly and, should it be something that everybody wants to know, it becomes useful to everyone.
All the best. Richard