WELCOME TO THE FEBRUARY LIST
May I just begin by wishing all my Mandarin and Cantonese speaking readers Xin Nian Kuai Le and San Nin Faai Lok for February 19th.
February is here and we seem to be getting the first icy blast of the winter.
I really enjoy exploring London in the snow (albeit it never lasts very long when it does snow in London), as you get a totally different perspective of the streets and buildings.
However, I am more than aware that extended exposure to wintry conditions can sap the enthusiasm levels of even the most dedicated London explorer, and thus I have, again, concentrated on indoor pursuits with the February list of things to do in London.
This month I am pleased to be able to report that one of my favourite "secret" London locations, Two Temple Place, is opening its doors to the public and I would urge you to go and have a look as the interior is, to say the least, unbelievable.
I've also included the obligatory London pub, albeit this month it's London's oldest wine bar - a great way to warm up after the chilly rigours of exploring London - and, for my church of the month, I've featured St Martin in the Fields where you can admire the statue of the original Pearly King.
So, despite the bleak winter, there's still plenty to do as you get out and about in London.
Just to remind you that I also post updates and additional venues on our Facebook page, so you might like to join us and like us (as in Facebook likes!) to ensure you're kept fully up to date on what's happening in London during the weeks ahead.
As ever, if something changes in the weeks ahead I will put the update on the Facebook Page, in order not to bombard you with emails.
So, without further ado, here is my February list of ten things to do in London.
10 THINGS TO DO IN LONDON FEBRUARY 2015
STEP BACK IN TIME AT TWO TEMPLE PLACE
Two Temple Place, WC2R 3BD
Monday and Thursday - Saturday: 10am - 4:30pm; Wednesday 10am - 9pm Sunday: 11am - 4:30pm; Closed on Tuesday
Admission is free
The Exhibition runs until 19th April 2015
The Nearest Underground Station is Temple.
Ever since I started guiding, way back in 1982, this building (which is the subject of the list's header photo this month) has always been a delight to point out to people.
It is nothing less than a neo-Gothic mansion slap bang in the centre of London and yet, it is easy to pass without even realising it is there!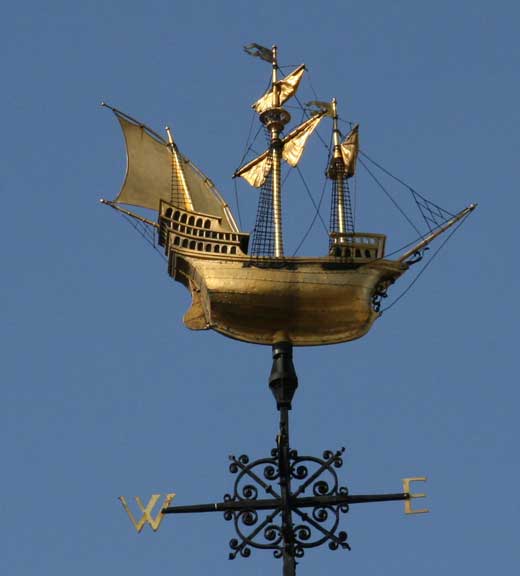 Built between 1892 and 1895 for William Waldorf Astor, the, then, "richest man in the World", no expense was spared on its construction and the opulence of its interior will, quite literally, take your breath away.
However, before you even go inside, you should take a few moments to admire the exquisitely ornate exterior. I particularly like pointing out the golden caravel, which was intended as a representation of Christopher Columbus's Santa Maria, the vessel that took him to America and which now acts as a weather vane on the building's roof. This ship, a nod to Waldorf Astor's American origins, is best admired from the opposite side of Temple Place.
In addition, as you begin your ascent of the stone steps that lead up to the entrance, be sure to look at the delightful cherubs beneath the lamps, two of which are holding early telephones - a nod to the dawning age of technological wonder.
Two Temple Place is owned by The Bulldog Trust and isn't open to the public very often - and when it is open it is mostly for special exhibitions - so the current exhibition Cotton to Gold Extraordinary Collections of the Industrial North West provides an opportunity to see inside one of London's most exquisite mansions.
Full details can be found on their website
EXPLORE THE HISTORY OF MENTAL HEALTHCARE
Bethlem Museum of the Mind, Bethlem Royal Hospital, Monks Orchard Road, Beckenham, Kent, BR3 3BX
Monday to Friday 9.30am to 4.30pm
Also on some Saturday's
Opens to the public on 19th February 2015
Admission is free
The Nearest Stations are Eden Park (30 minutes from London Bridge Station, or East Croydon 15 minutes from Victoria Station.
Although not, strictly speaking, in London, this museum is, most certainly, rooted in London's past as the hospital whose history it charts was previously located near Moorgate and then in the building now occupied by the Imperial War Museum.
The hospital in question was the first in Europe to specialise in mental illnesses and it has been known by various names including St Mary Bethlehem, Bethlem Hospital, Bethlehem Hospital and, informally and most notoriously, Bedlam.
The Museum mainly displays items from the hospital's art collection, and features in paintings by artists who have suffered from mental health problems. These include works by former patients such as William Kurelek, Richard Dadd and Louis Wain.
Other exhibits include a pair of statues by Caius Gabriel Cibber known as Raving and Melancholy Madness, which came from the gates of the 17th century Bethlem Hospital in London; 18th and 19th century furniture; and documents from the archives.
The Museum has been closed for the last few months in order to relocate to a new and larger premises and will be opening to the public on 19th February 2015.
For further details go to their website by clicking here.
MEET THE KING OF THE PEARLY KINGS
St Martin-in-the-Fields, Trafalgar Square, WC2N 4JJ
Monday and Tuesday: 8.00am - 8.00pm; Wednesday: 8.00am - 10.30pm; Thursday-Saturday: 8.00am - 9.00pm; Sunday: 11.00am - 6.00pm
Admission is free
The Nearest Underground Stations are Charing Cross or Embankment
Those of you who have joined me on the Secret London Tour may well recall that the walk features the church tower of St Mary-Le-Bow, in the belfry of which hang the fabled Bow Bells.
I also mention the services held in the church in July and September for the Pearly Kings and Queens and the Costermongers.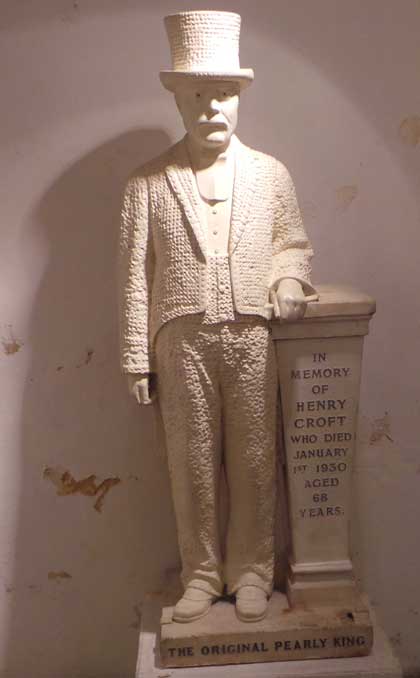 The Pearly Kings and Queens can trace their origins back to 1875 when Henry Croft, a municipal street sweeper in Somers Town market, became fascinated by the inspired Costermongers (market traders) habit of sewing pearl buttons on to the seams of their trousers, jackets, waistcoats and caps.
Wishing to collect money for charity, but realising that to do so he would need to stand out, Henry began collecting pearl buttons that he found in the market whilst seeping the street and, when he had collected enough, he covered his entire suit in them, painstakingly sewing them on himself by hand.
This proved so successful as a means of collecting charitable donations that he simply could not keep up with the demand for his services from charitable institutions, and so he asked some of the Costermongers to help him, and thus were born the Pearly Kings and Queens.
When Henry died, in 1930, he was buried in St Pancras Cemetery, East Finchley, and the institutions that he had worked so tirelessly to assist paid for a memorial statue to be erected over his grave.
Sadly, the statue was vandalised in 1995 and, following its removal and repair, it was placed in the crypt of the Church of St Martin-In-The-Fields in Trafalgar Square where you can now make the acquaintance of the King of the Pearly Kings.
Another good reason to visit the crypt is the wonderful, though very busy, restaurant that you will find there.
For further details go to their website by clicking here.
SUP IN A CELLAR BY CANDLELIGHT
Gordon's Wine Bar, 47 Villiers Street, WC2N 6NE
Monday to Saturday 11.00am - 11.00pm Sunday's from noon until 10.00 pm
The Nearest Underground Stations are Charing Cross or Embankment
If you've never descended the rickety staircase that leads down into this mysterious cellar-that-time-forgot, then you've missed out on one of London's best kept secrets. Mind you, it can get so busy that it probably isn't that big a secret, albeit it is truly atmospheric.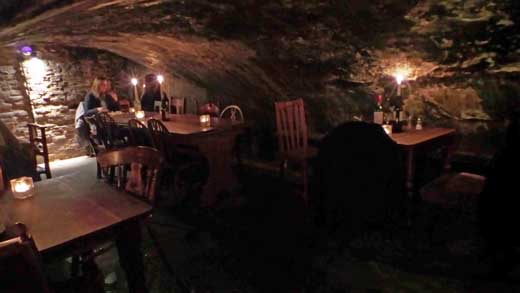 Aged newspapers cling to the walls, adding to the overall impression that you've stepped into a time warp.
This feeling of enchanted timelessness increases dramatically when you duck into the low ceilinged and candlelit section at the rear of the cellar, where the atmosphere is such that you just feel the 21st century ebb away as you sit down and raise your glass to your lips.
It really is a wonderful location, but I'd advise getting here early, or mid afternoon, to ensure that you can get one of the sought after tables in the candlelit cavern. Bottoms up!
For further details go visit Gordon's website.
GO TROPICAL IN THE CENTRE OF LONDON
The Conservatory, Barbican Centre, Silk Street, EC2Y 8DS
Open Sunday 15 February 2015 and Sunday 22 February 2015, 11am to 5pm
Admission Free
The Nearest Underground Stations are Barbican or Moorgate
There's something almost post-apocalyptic about this place. It is, after all, slap bang in the centre of London, yet it is an oasis of greenery - and tropical greenery at that. It appears to have sprouted, triffid-like, just a stone's throw from St Paul's Cathedral.
It perches on top of the Barbican Arts Centre and has the distinction of being London's second-largest heated conservatory, which on a cold Sunday in February makes it a perfect place in which to banish those winter blues that you might be noticing on the end of your finger tips!
With over 2,000 species of tropical plants and trees, plus exotic fish, it makes for a great place to visit and, if I've not mentioned this already, it's warm!
Full details on their website.
WELCOME IN THE YEAR OF THE SHEEP
Duncannon Street, Shaftesbury Avenue and Trafalgar Square
Sunday 22 February 2015, starts at 10am with the street parade
Admission Free
The Nearest Underground Stations are Leicester Square, Charing Cross, Piccadilly Circus
Although, this year, Chinese New Year falls on Thursday 19th February 2015, the celebrations around China Town take place on Sunday 22nd February and a colourful pageant is guaranteed for all.
The day begins with a parade that makes its way from Duncannon Street at 10am and snakes and dragons its way along, Charing Cross Road and Shaftesbury Avenue and Charing.
This is then followed by the official opening ceremony in Trafalgar Square which is followed dragon dancing and music on the Square's stage.
Food stalls will be dotted across Chinatown amongst which you can enjoy impromptu performances and fire crackers. All in all a colourful, mouthwatering and noisy day out.
Further details on the Visit London Website.
WATCH THE TOSSERS AT WESTMINSTER
Victoria Tower Gardens, by the Houses of Parliament
Tuesday 17th February 2015 9.45am
Admission Free
The Nearest Underground Station is Westminster
How many times have you seen a Member of Parliament with egg on his, or her, face?
Well, today, that's a real possibility as, in aid of an extremely good cause, various members of the House of Commons, the House of Lords, as well as political correspondents, will be assembling outside Parliament and battling it out to see who can become the biggest tosser of pancakes in the Rehab Parliamentary Pancake Race.
The official starter this year will be newscaster Cathy Newman and she will be enforcing the "Rules of Engagement". "Gentlemanly and Gentlewomanly behaviour must be observed at all time." That's one rule.
Another is that, "frying pans must not be used as weapons or as a means of making unseemly gestures, whatever the depth of provocation." Partcipants will need to pay particular attention to the rule that "pancakes must not be propelled in the direction of other partcipants or spectators." And, they must take note that, "the organisers reserve the right to send off partcipants for violent or unruly behaviour."
Since this is an election year the battle is likely to be fierce.
Further details on the Rehab Website.
You can also download the official race brochure here.
ADMIRE A QUAGGA
Grant Museum of Zoology, Rockefeller Building, University College London, 21 University Street, WC1E 6DE
Open Monday To Saturday 1pm-5pm.
Admission Free
The Nearest Underground Station is Euston Square
The Grant Museum was founded in 1828 and is London's only remaining zoological museum.
You can enjoy over 67,000 specimens amongst its collection including skeletons, lots of skeletons, as well as numerous mounted animals and other specimens preserved in fluid.
Ever wondered what a Thylacine, a Quagga, or a Dodo's bones looked like? Well, pop into the Grant Museum and you'll find out!
ENJOY A MUSICAL INTERLUDE
Museum of Instruments, Royal College of Music, Prince Consort Road, SW7 2BS
Open Tuesday to Friday, 11.30am - 4.30pm
Admission Free
The Nearest Underground Station is South Kensington
Over 1,000 musical instruments are on display in this curious museum located within the Royal College of Music, which is situated across the road from the Albert Hall.
Have you ever wanted to hammer out a tune on a clavicytherium; or give a blast on a serpent; or look at a trombone owned and played by Elgar and Holst? Well, this is the place for you.
The collection also includes oil painting s well as manuscripts and photographs from the college library s special collections.
All in all a curious place to tune in to!
A CUP OF TEA?
Twinings Tea Shop and Museum, 216 Strand, WC2R 1AP
Open Monday To Friday 9.30am-7.30pmpm; Saturday 10am to 5pm; Sunday 10.30am to 4.30pm
Admission Free
The Nearest Underground Station is Temple
Tea pots, tea and an aroma to die for the moment you enter this delightful little shop, which happens to be Westminster's oldest shop and is situated directly opposite the Royal Courts of Justice.
The little museum is interesting, but of a particular interest is the "Loose Tea Bar" at which you can "pick up the tea, smell it, taste it, throw it on the floor if you like."
They also have a new "Sampling Counter" so that that you can enjoy a taster of a mysterious " little something."
More information on their website.
PLEASE ENJOY
I hope you find the February list useful and that you get to enjoy at least some of the things that I have suggested.
If you require further directions to any of the places suggested could you ask it via the Facebook page as that then enables me to answer quickly and, should it be something that everybody wants to know, it becomes useful to everyone.
All the best. Richard