WELCOME TO THE NOVEMBER LIST
Where does the time go? We'll soon be saying "hello 2015" and poor old 2014 will be nothing but a distant memory.
But, there's still time to get out and enjoy London and, to that end, right on cue comes the November list of things to do.
Before I get into the list, can I just take a moment to draw your attention to the wonderful photo that adorns the top of this month's list?
It was taken by Photographer Sean East from the top of Canary Wharf and shows an absolutely stunning bird's eye (or should that be Sean's eye) view of the East End of London. In fact, Sean won a national photographic competition with this image.
Anyway, back to the list. This month's list is a nice mix of quirky and interesting places to visit together with links to places where you can get further information about them
Don't forget that I also post updates on our Facebook page when I come across something that I think might be of interest, so you might like to join us and like us (as in Facebook likes!) to ensure you're kept fully informed of what's going on in London throughout the weeks ahead. Indeed, I'm currently researching a Christmas event that may well be of interest to the Downton Abbey fans amongst you.
As ever, if anything changes on the list, I will place the update on the Facebook Page, that way I won's be bombarding you with emails.
So, without further ado, here is my November list of ten things to do in London.
10 THINGS TO DO IN LONDON NOVEMBER 2014
THE LORD MAYORS SHOW AND FIREWORK DISPLAY
SATURDAY NOVEMBER 8TH 2014
The City of London.
For colourful pageantry you simply can't beat the Lord Mayor's Show, which takes place on the second Saturday in November each year.
This is the day when the new Lord Mayor, Alan Yarrow, will be shown to the citizens of London by being taken around the streets in the Lord Mayor's Coach, accompanied by a vibrant and colorful procession consisting of over 7000 participants.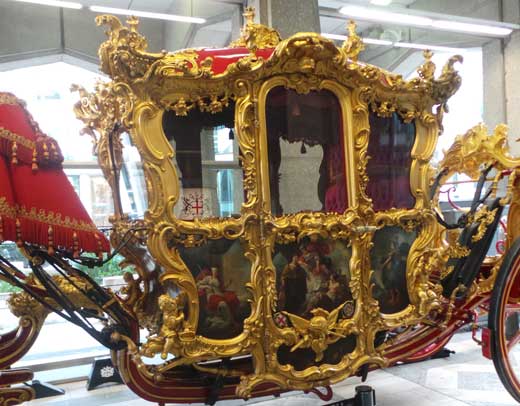 Just to give you some idea of the sheer scale of the procession; there will be 20 bands, 150 horses, hundreds of other carriages, carts, coaches and other vehicles including vintage cars, steam buses, tanks, tractors, ambulances, fire engines, unicycles, steamrollers, giant robots, helicopters, ships, penny farthings, beds and bathtubs. Phew! I'm worn out just reading all that!
If you want to be up super early you can even watch the River Pageant that sets off at 8.30am, with Tower Bridge opening in salute at 9.25am.
At 11am The Lord Mayor's Procession will set out from Mansion House and head for the Royal Courts of Justice where the Lord Mayor will give his oath before returning along Victoria Embankment at around 1pm.
The day will end with a massive bang at 5.15pm when a colourful (and very loud) firework show on the Thames will light up the night sky over the City.
This year the show is being brought right into the modern age with a downloadable app to help you get the most out of the Show. You can download the app here.
GET LOCKED INSIDE THE TOWER OF LONDON
ATTEND THE CEREMONY OF THE KEYS
The Tower of London, London, EC3N 4AB
Admission is free but advance booking is essential.
The Nearest Underground Station is Tower Hill.
IMPORTANT. Remember that if you arrive late you will not be allowed in under any circumstances, so prompt arrival for 9.30pm is an absolute must.
For over seven hundred years, in war and peace, come rain or shine, the Tower of London has been locked up each night with the ritual of the Ceremony of the Keys.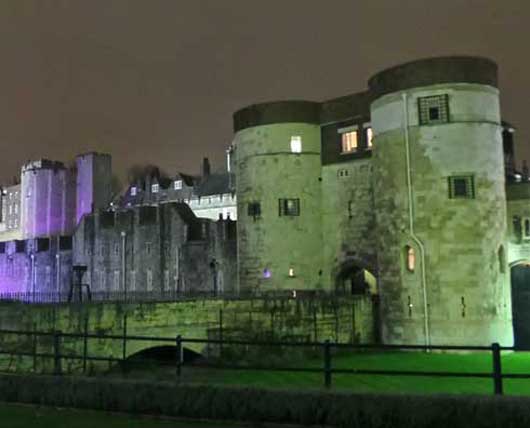 The general public can attend this wonderful ceremony and it is completely free of charge, although you do have to apply for tickets well in advance.
Once you've secured your tickets make your way to the Tower for 9.30pm and prepare to feel like one of a select few.
To be inside the Tower after dark really is both a moving and a fascinating experience and one not to be missed.
A word of warning though. It can get very cold inside the Tower, especially with a keen wind coming in off the River, so be sure to wrap up warm if you're attending during the colder winter months.
The Nearest Underground Station is Tower Hill.
Click here for full information.
VISIT THE CRYPT OF ALL-HALLOWS-BY-THE-TOWER
Byward St, London EC3R 5BJ
8am-5pm Monday-Friday, 10am-5pm Saturday-Sunday (except during services).
Admission:- Free
The Nearest Underground Stations are Tower Hill or Monument
The Church of All-Hallows-By-The-tower is one of the oldest churches in London and its roots reach down to the very beginnings of London, both literally and physically.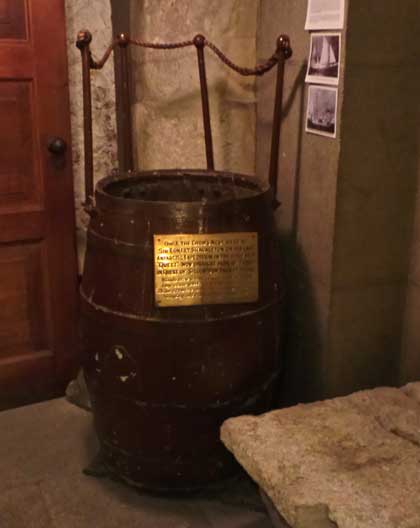 The crypt beneath it has a fascinating exhibition in which you can trace the history of buildings on this site going right back to a Roman pavement, which looks particularly splendid, despite being close to 2,000 years old.
Indeed, it has the distinction of being one of the best preserved tessellated Roman pavements in the City of London and dates from the 2nd Century.
Another of the curiosities on display in the crypt museum is the actual crow's nest (pictured) from Sir Ernest Shackleton's "Good Ship" Quest.
And, to end your journey burrowing through the layers of London's history, there's also a great cafe down in the crypt as well.
MEET THE CHELSEA PENSIONERS
ROYAL HOSPITAL CHELSEA
Royal Hospital Rd, London SW3 4SR
The best time to visit the Great Hall and Chapel is on weekdays between 2pm and 4pm. But do check the website to ensure it will be open, or call for confirmation (020 7881 5516).
Admission is Free, although donations are always welcome.
Tours, led by the Chelsea Pensioners themselves, take place Mondays to Fridays (except on bank holidays) at 10am and 1.30pm and cost £10 per person (£7 for children). These must be booked in advance.
The nearest Underground Station is Sloane Square.
The Great Hall, which is one of the many glories of this glorious building, will be closed for renovation between January 2015 and April 2015, so it might be worth moving this one to the top of your list of to-do's.
Founded by King Charles 11 for soldiers "broken by age and war "and, initially, designed by Sir Christopher Wren, the Royal Hospital Chelsea is a gem.
However, a tour of the premises in the company of one of the Chelsea Pensioners is something I would highly recommend. The tours are fantastic, providing as they do a unique insight into the Hospital and its characterful residents.
If your group consists of less than 10 people you can simply drop by and visit the grounds, Chapel and Great Hall for free, although donations are always appreciated.
SEARCH FOR PADDINGTON IN DARKEST LONDON
In case you didn't know, Paddington the movie is released this month and, to coincide with such an auspicious occasion, the Paddington Trail has been laid out across London in celebration.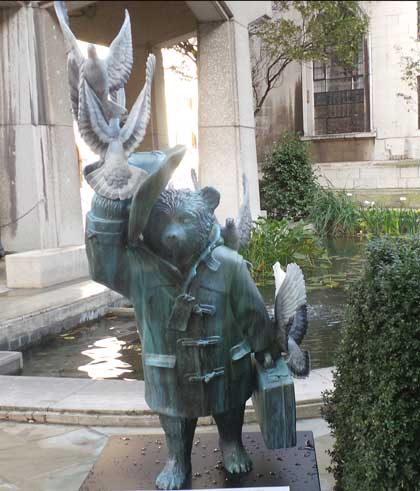 50 Statues depicting London's most famous Peruvian visitor are dotted across the capital from Heathrow in the far west to the 02 in the far east.
The one pictured is outside Guildhall.
Others are located at an eclectic mix of London landmarks, such as The Royal Opera House, Museum of London, Horse Guards Parade, the Museum of Childhood and, of course, Paddington Station.
The trail ends outside Selfridges, where Michael Bond bought a small bear on Christmas Eve 1956 and was inspired to create his duffle coated explorer.
VISIT SIR JOHN SOANE'S HOUSE
13 Lincoln's Inn Fields, London WC2A 3BP
Open:-Tuesday to Saturday 10am-5pm. Last entry 4:30pm.
Admission:- Free
Closest Underground Station Holborn
It must have been an absolute nightmare being Sir John Soane's cleaner.
I mean, this is a man who really collected things. All sorts of things. Oliver Cromwell's death mask - he got it. William Hogarth's Rake's Progress and Election Campaign, he bought them both. Flushing toilets, an Egyptian Sarcophagus, medieval stained glass - no problem, he crammed them all into the house he built in 1812 and, when that property ran out of room, he bought the house next door and continued collecting with a regularity approaching that with which most of us draw breath.
And, thank God he did.
Because, when he died in 1837, he left his house(s) and the collection to us, the nation - and, of course, any overseas visitors that happen upon it, as long as they didn't ask for any of it back - on condition it be open free of charge from that day forth.
His house, really is one of London's treasures and you won't regret stepping inside and being pitched into a true example of an early 19th Century collector's house.
In fact, the only thing missing is the letter from his cleaner in response to his decision to demolish the back wall, in order to bring in the sarcophagus of Seti 1st of Egypt, announcing "that's it, I quit."
Full information on their website.
ENJOY ART IN ST PANCRAS CRYPT
St Pancras Church, Euston Road, London, NW1 2BA
Opening times vary depending on exhibitions.
Admission Free
Closest Underground Stations:- Euston Square, Euston or King's Cross
Wow, a second crypt this month!
However, the crypt of St Pancras Church couldn't be more different to that of All-Hallows-By-The-Tower.
For one thing, it has a decidedly crypty feel to it.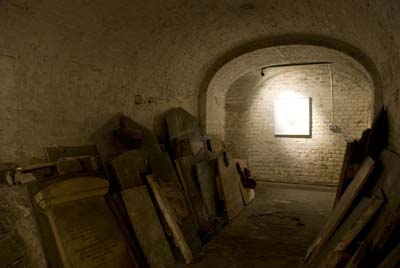 After all, when it was first dug out of the cold London earth in 1822, it was intended as a place for coffin burials, which is exactly what happened down here until it was closed to further burials in 1854, by which time it had become the final resting place of 557 people.
Used as an air raid shelter during the dark days of both the First and Second World Wars, it became a gallery space in 2002 and, ever since, has hosted exhibitions that "provoke and question, as well as art designed for contemplation".
Given the proximity of the adjacent Euston Road, the crypt is a surprisingly peaceful place and it really does make an ideal backcloth for the thought-provoking artworks that adorn its walls.
You can see an example of an artwork being displayed in the crypt by clicking here.
Full details of current exhibitions
POP BACK TO ANCIENT EGYPT - THE PETRIE MUSEUM
Malet Place, Camden, London WC1E 6BT
Open Tuesday to Saturday 1pm to 5pm
Admission:- Free
Closest Underground Station - Euston Square
This real pearl of a museum tends to get overshadowed by its better known neighbour, the British Museum, and its well known, and much visited, collection of mummies.
The upside is that it doesn't attract the hoards that can make a visit to its famous neighbour a somewhat overwhelming experience.
Whereas the British Museum houses the biggies - mummification after all was reserved for the elite few - the Petrie Museum collection is illustrative of the everyday lives of the average Egyptian and its 80,000 artefacts comprise one of greatest collections of Egyptian and Sudanese archaeology in the world.
EVERYMAN - A MEDIEVAL MORALITY PLAY
The Priory Church of St Bartholomew The Great
West Smithfield, London EC1A 9DS.
Tickets cost between £12.50 and £19.50 (plus booking fee).
Closest Underground Station:- Barbican
The Priory Church of St Bartholomew The Great dates back to 1123 and has the distinction of being the oldest parish church in London.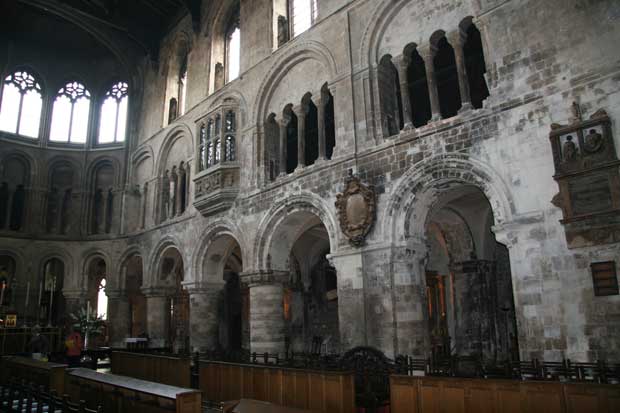 It is one of the most atmospheric, not to mention spiriutally uplifting, places of worship that you could possibly imagine.
It's also, as far as I am aware, the only City church to have its own resident theatre company.
This month, from 8th to the 22nd November, that company, Little Spaniel Theatre, will be staging a Medieval Morality Play entitled Everyman, an allegorical verse play, written in the 15th century, which will be performed by candlelight and with music.
It promises to be pure magic.
STEP BACK IN TIME WITH JOHN WESLEY
49 City Road, London, EC1Y 1AU
Open Monday to Saturday 10am to 4pm. Also open on Sundays between
Admission is free, but donations are always welcome.
Nearest Underground Stations:- Old Street or Moorgate
Set away from the centre of London, and located opposite the Bunhill Fields Burial Ground, where Daniel Defoe, William Blake and John Bunyan are buried, John Wesley's House is one of London's best preserved small Georgian houses.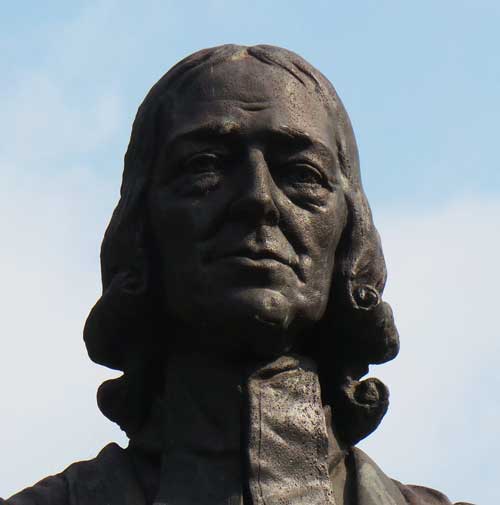 Dating from 1779, this is where the father of Methodism wintered for the last twelve years of his life (summers would find him preaching around the country).
The house contains many of Wesley's own personal effects, such as his electrical machine and his study chair, and provides a vivid insight into the everyday workings of a small Georgian town house.
PLEASE ENJOY
I hope you find the November list useful and that you get to enjoy at least some of the things that I have suggested.
If you require further directions to any of the places suggested could you ask it via the Facebook page as that then enables me to answer quickly and, should it be something that everybody wants to know, it becomes useful to everyone.
All the best. Richard