WELCOME TO THE FEBRUARY 2017 LIST
Welcome to my list of recommendations of things that you can do in London during the coming weeks and months.
This month, with one or two exceptions, I've opted to keep you in doors and snug.
The exceptions are, the chance to witness a pancake race in Spitalfields, and the opportunity to pop out to Surbiton for a wonderfully eccentric annual festival.
Otherwise, you can stay indoors and experience events such as the future of money and the future of mankind in relation to (and relationships with) robots; you can view a rare World War One film; you can have a look behind the scenes at one of London's loveliest chapels; and attend a lecture on what to do if, perish the thought, all the lights were to, quite literally, go out.
The big news for the month, however, is that the wonderful Two Temple Place is, once again, open to the public, and will be open until April 23rd 2017.
THIS MONTH'S WALKS
I'll be doing my "Secret London Tour" on Sunday 19th of February at 2pm - you can get full details on this page.
I am also doing my Friday Night Ghost Walk and my Saturday night Haunted Tour.
My Hampstead Walk will be back in March Click here for full details..
So too will the Inns of Court Walk, and I'm looking forward to getting back into those wonderful places. Click here for full details.
REGULAR FACEBOOK UPDATES
So, all in all, there are some great locations to get out and about to in London and, as per usual, they're all free, so enjoy.
Just to remind you that I also post updates and additional venues on our Facebook page, so you might like to join us and like us (as in Facebook likes!) to ensure you're kept fully up to date on what's happening in London during the weeks ahead.
As ever, if something changes in the weeks ahead I will put the update on the Facebook Page, in order not to bombard you with emails.
So, without further ado, here is my February 2017 list of ten things to do in London.
10 THINGS TO DO IN LONDON FEBRUARY 2017
STEP BACK IN TIME AT TWO TEMPLE PLACE
Two Temple Place, WC2R 3BD
Monday and Thursday - Saturday: 10am - 4:30pm; Wednesday 10am - 9pm Sunday: 11am - 4:30pm; Closed on Tuesday
Admission is free
The Exhibition runs until 23rd April 2017
The Nearest Underground Station is Temple.
Full details can be found on their website
Ever since I started guiding, way back in 1982, this building (which is the subject of the list's header photo this month) has always been a delight to point out to people.
It is nothing less than a neo-Gothic mansion slap bang in the centre of London and yet, it is easy to pass without even realising it is there!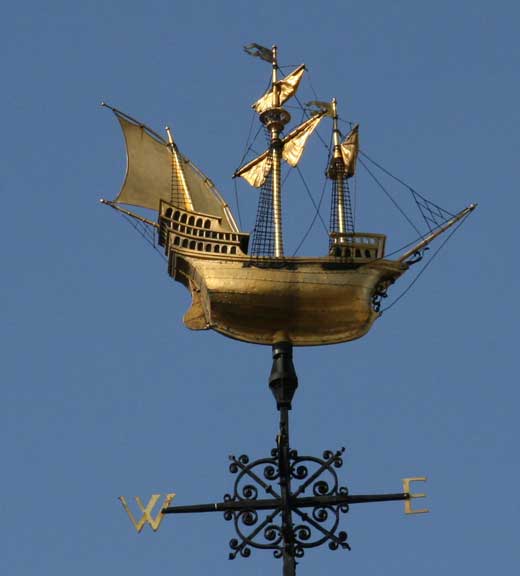 Built between 1892 and 1895 for William Waldorf Astor, the, then, "richest man in the World", no expense was spared on its construction and the opulence of its interior will, quite literally, take your breath away.
However, before you even go inside, you should take a few moments to admire the exquisitely ornate exterior. I particularly like pointing out the golden caravel, which was intended as a representation of Christopher Columbus's Santa Maria, the vessel that took him to America and which now acts as a weather vane on the building's roof. This ship, a nod to Waldorf Astor's American origins, is best admired from the opposite side of Temple Place.
In addition, as you begin your ascent of the stone steps that lead up to the entrance, be sure to look at the delightful cherubs beneath the lamps, two of which are holding early telephones - a nod to the dawning age of technological wonder.
Two Temple Place is owned by The Bulldog Trust and isn't open to the public very often - and when it is open it is mostly for special exhibitions - so the current exhibition Sussex Modernism Retreat and Rebellion provides an opportunity to see inside one of London's most exquisite mansions.
PONDER THE FUTURE OF MONEY
Lecture Theatre 200
City and Guilds Building
Imperial College London
South Kensington Campus
SW7 2AZ London
Thursday, 16 February 2017 from 5.30pm to 6.30pm
FREE
The Nearest Underground Station is South Kensington
For further details go to their website by clicking here.
Imperial College, London, requests the pleasure of your company at a special event - one that will discuss the future of money.
And, let's be honest about this, which of us has never felt compelled to give some thought to said means of exchange?
So, what can you expect from the evening?
Well, in an attempt to economise on time, allow me to quote from the events web description:-
"To celebrate the scientific research behind our finances and the notes, coins and credit cards we often take for granted, Imperial College London are hosting a discussion, titled "The Future of Money".
From the future content of your wallet [editorial note, I'd love to know], to the security of online banking and the emergence of new Fintech, Bitcoin and other digital currencies, our experts will ask how these developments will impact our daily lives, and the banking sectors that administers them.'
The discussion will be followed by an exhibition and drinks reception in the College Main Entrance Foyer.
Count me in, once I've managed to raised the cash for the tube fare.
GO BEHIND THE SCENES IN THE CHAPEL
TIME FOR MAGIC IN GREENWICH
The Chapel
Old Royal Naval College
Greenwich
London
SE109LW
Sunday 19th February 2017
1.15pm and 2.30pm
FREE
The Nearest Station is Cutty Sark For Maritime Greenwich
For further details go to their website by clicking here.
A free tour of one of Europe's finest neo-classical interiors including areas not usually accessible to the public.
The Chapel of St Peter and St Paul is a neo-classical masterpiece by James "Athenian" Stuart and William Newton. Featuring a Samuel Green organ and an altarpiece painted by Benjamin West, it is one of the finest eighteenth century interiors in Europe.
A free behind-the-scenes tour led by one of our expert guides. Head up to the galleries and go behind locked doors. Learn more about the craftsmen who created this exquisite interior and the people who have worshipped here through the centuries. There will also be a rare opportunity to view the original eighteenth century moulds used to create some of the Chapel's unique decorative features.
RACE PANCAKES IN SPITALFIELDS
HAVE A CRACKING TIME
Old Truman Brewery
91-95 Brick Lane
London
E1 6QL
Tuesday 28th February 2017
FREE
Nearest Underground Stations Liverpool Street or Aldgate East.
For further details go to their website by clicking here.
There are lots of Pancake races to choose from around London each Shrove Tuesday.
In Parliament Square a cross party effort is made to enjoy a hard eggxit; at Guildhall 21 teams race around the magnificent yard to the cheers of City workers.
But the one I'd like to suggest this year is the Spitalfields Annual Pancake race as it raises money for a worthy cause for Londoners.
Every year The Great Spitalfields Pancake Race is organised to raise funds for London's Air Ambulance the charity that delivers an advanced trauma team to critically injured people in the capital.
So far 35,863 patients have been treated. The charity's helicopter flies from the roof of the nearby Royal London Hospital in Whitechapel.
DIG INTO THE ARCHAEOLOGY OF CROSSRAIL
INTRIGUING FINDS
Museum of London Docklands
No.1 Warehouse
West India Quay
London
E14 4AL.
Daily 10am to 6pm
FREE
The Nearest Stations is West India Quay DLR
For further details slither over to their website by clicking here.
You may well have noticed the amount of construction that is going on around London to do with the Crossrail project.
You may also have caught the newspaper reports about some of the amazing finds that the deep digging for the soon-to-be "Elizabeth Line" has brought to light.
Well, now you can admire some of those discoveries at the wonderful Museum of London Docklands, a venue that I consider one of the Capital's most curious museums.
So, what can you expect? I will hand you over to our roving reporter at the Museum:-
"The most complete range of archaeological objects unearthed by Crossrail, Europe's largest infrastructure project, will go on display alongside the story of this great feat of engineering in a major new exhibition at the Museum of London Docklands.
The wide variety of items on display will explore 8,000 years of human history, revealing the stories of Londoners ranging from Mesolithic tool makers and inhabitants of Roman Londinium to those affected by the Great Plague of 1665.
These finds were discovered in locations as diverse as suburban Abbey Wood in the south east, through Canary Wharf, across to Liverpool Street, Tottenham Court Road and ending in Westbourne Park and Acton.
The finds will sit against a backdrop telling the engineering story of the largest infrastructure project currently underway in Europe, with key facts and figures presented throughout.
Over and out!
ENJOY A SPOT OF QUIET CONTEMPLATION
RELAX IN THE PEACE TENT
St Ethelburga's, 78 Bishopsgate, London, EC2N 4AG
Mondays between 11am and 3pm. Although they do open on other days, so give them a call or contact them via their website.
Free
The Nearest Underground Stations are Bank or Liverpool Street
For further details go to their website by clicking here.
After the excitement of the Pancake race in Spitalfields - the cheering, the jeering, the strutting and peering - you may feel in need of a few moments of quiet contemplation to restore the equilibrium.
And, one of the most delightful and tranquil locations in the City of London, is located a mere pancake-flip away from Spitalfields.
I am referring to the tiny St Ethelburga's church, which nestles between the high rise concrete and glass towers on Bishopsgate.
It is, to quote their website, nothing less than "an oasis of peace in the busy City."
Although one of the oldest City Churches, little St Ethelburg's was all but destroyed by the IRA Bishopsgate bomb in 1993 and was, more or less, totally rebuilt as a Centre For Reconciliation And Peace.
Hidden behind the church, somewhat out of sorts with the construction work going on right alongside it, is a lovely secret garden, the centre piece of which is a meditation tent.
The Tent itself, which was made in Saudi Arabia, is an unusual 16-sided structure covered in woven goat's hair and is intended as a safe and dignified space without any symbols of any specific religion and the windows of which carry the word "peace" in 7 languages.
LIVE WITHOUT ELECTRICITY
A SHOCKING PROPOSITION
150 London Wall
London
EC2Y 5HN
Tuesday 28th February 2017. 6pm to 7pm
Free
The nearest Underground Stations are Barbican or St Paul's
For further details go to their website by clicking here.
I've never really given much thought to the conundrum of what I'd do if I had no electricity. After all, it is always going to be there. Isn't it? Well, isn't it?
But then, along came those lovely people from Gresham College and posed the very question I've never given much though to - what would I do without electricity? And, suddenly, I got very nervous.
Here's their blurb about the lecture:-
"Storm Desmond brought unprecedented floods to Lancaster in December 2015 and electricity supplies were cut off and not fully restored for six days.
The disruption revealed how dependent on electricity modern city life has become. What happens when power, communications, and transport are all disrupted, when shops cannot function, and when most people cannot find out what is happening? What lessons have been learnt?"
So, there you have it. I wonder what they'll do if there's a power cut just before the lecture?
DISCOVER THE BRITISH ACADEMY
ROBOTICS AND AI
10-11 Carlton House Terrace
London
SW1Y 5AH
Various Dates and Events
FREE
The nearest Underground Stations Charing Cross or Piccadilly Circus
For further details go to their website by clicking here.
I once, quite literally, bumped into David Miliband outside the British Academy.
I don't really know why I felt compelled to share that experience with you. It just happened.
David, no doubt, was on a whistle-stop visit to London, taking time out from his busy schedule. Me, I was simply wandering aimlessly on the off chance I might bump into a few roving Prime ministers that we never had.
But, I digress.
The British Academy offers an accessible programme of events that showcase how the humanities and social sciences underpin the world around us and influence our everyday lives, or, at least, that's what it says on the website.
With that in mind, they will be hosting a series of events this year that will look at a wide range of subjects, some extremely topical, such as Artificial Intelligence and Robotics and their threat/ benefit to the welfare of the human race, others.
Quite a few of the events are free, although registration is required in many cases.
A quick glance at the events page will reveal that they fill up pretty fast, hence the reason I've included their offerings up to November 2017.
THE SEETHING FESTIVAL
FUN IN SURBITON
St. Andrew's Square
Maple Road
Surbiton
KT6 4EA
26th February 2017, 2pm to 5.30pm.
FREE
The Nearest Station is Surbiton
For further details go to their website by clicking here.
Seething is a large and ever-growing group of Surbiton residents, families and businesses.
Since 2009 they have continued to build their community, to support each other, laugh together, grow their businesses and build friendships.
As part of this mission they organise the Seething Festival, which looks like tremendous fun.
So, what can you expect. Well, we sent out special correspondent on an advance mission to mine the website. Here is his report, or at least what the website says:-
"We want to make sure that The Seething Festival 2017 is bigger and better so make sure that you join in.
The event will start around 2.00pm at St Andrew's Square, Maple Road where there will be a chance to make masks and head dresses for the Grand Procession around Seething at 3.30pm.
After the procession there will be more entertainment until we end at 5.30pm.
You can come in fancy dress, normal clothes or join one of the Ancient Guilds of Seething - The Cheesemakers, The Talcum Miners, The Taxonomists, The Water- Bearers, The Freshwater Sardine Fishers and The Cyclists.
There are FREE workshops in the build up and details will be posted in 2017.
Included in this year's procession will be the Seething Talcum Colliery Pit Band and Kingston Morris Dancers. We will also be holding a Festival of Lights element."
WATCH THE ADVANCE OF THE TANKS
A RARE SCREENING
10-11 Carlton House Terrace

London
SW1Y 5AH
The National Archives
Bessant Drive
Kew
TW9 4DU
Thursday 23rd February 2017, 5.30pm to 7.30pm.
FREE
The nearest Station Kew Gardens
Recently restored by the Imperial War Museum, The Battle of the Ancre and Advance of the Tanks is a little-known piece of British non-fiction cinema that documents the winter stages of the Somme campaign on the Western Front.
The film is the sequel to the famous Battle of the Somme (1916) and depicts the first views of the tank - the secret weapon which many hoped would break the deadlock on the Western Front.
In addition, there will also a screening of Somme Tales, a film made by students via the Education programme in response to the Somme centenary anniversary.
PLEASE ENJOY
I hope you find the February 2017 list useful and that you get to enjoy a few of the things that I have suggested.
If you require further directions to any of the places suggested could you ask it via the Facebook page as that then enables me to answer quickly and, should it be something that everybody wants to know, it becomes useful to everyone.
All the best. Richard