WELCOME TO THE OCTOBER TO NOVEMBER 2016 LIST
Welcome to my list of recommendations of things that you can do in London during the coming weeks and months.
For this month, as for last month, since I'm a little (well, all right a lot) late in getting the list out I will once more present you with some great things for November 2016.
And there are some great things happening in November in London. There's the Lord Mayor's Show; there's a new police museum; there's the opportunity to visit an ancient Physic Well; and, thanks to the closure of Tower Bridge, there's the chance to board a free ferry to cross the Thames.
NOVEMBER WALKS
I'll be doing my final Dickens around Holborn walk of the year at 11.30am on the 16th November 2016. You can get full details on this page.
The final Hampstead Walk of this year will be heading into the depths of this lovely London village on Sunday 20th November at 11.45am.Full details are on this page.
The Inns of Court Walk will be setting off at 2pm on Tuesday 29th November 2016. Click here for full details.
THE DICKENS CHRISTMAS WALKS
In December I will be resurrecting my annual Dickens A Christmas Carol Walk, which will explore the atmospheric old alleyways at the heart of the City of London.
As per usual I'll be donning my Victorian outfit to conduct this fascinating seasonal perambulation.
The Full Christmas Walks Schedule for 2016 can be seen on this page.
REGULAR FACEBOOK UPDATES
So, all in all, there are some great locations to get out and about to in London and, as per usual, they're all free, so enjoy.
Just to remind you that I also post updates and additional venues on our Facebook page, so you might like to join us and like us (as in Facebook likes!) to ensure you're kept fully up to date on what's happening in London during the weeks ahead.
As ever, if something changes in the weeks ahead I will put the update on the Facebook Page, in order not to bombard you with emails.
So, without further ado, here is my October to November list of ten things to do in London.
10 THINGS TO DO IN LONDON OCTOBER TO NOVEMBER 2016
THE LORD MAYOR'S SHOW AND FIREWORK DISPLAY
SATURDAY NOVEMBER 12TH 2016
The City of London.
For colourful pageantry you simply can't beat the Lord Mayor's Show, which takes place on the second Saturday in November each year.
This is the day when the new Lord Mayor, Alan Yarrow, will be shown to the citizens of London by being taken around the streets in the Lord Mayor's Coach, accompanied by a vibrant and colorful procession consisting of over 7000 participants.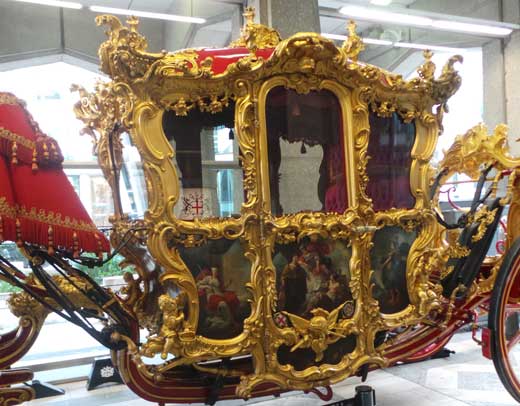 Just to give you some idea of the sheer scale of the procession; there will be 20 bands, 150 horses, hundreds of other carriages, carts, coaches and other vehicles including vintage cars, steam buses, tanks, tractors, ambulances, fire engines, unicycles, steamrollers, giant robots, helicopters, ships, penny farthings, beds and bathtubs. Phew! I'm worn out just reading all that!
If you want to be up super early you can even watch the River Pageant that sets off at 8.30am, with Tower Bridge opening in salute at 9.25am.
At 11am The Lord Mayor's Procession will set out from Mansion House and head for the Royal Courts of Justice where the Lord Mayor will give his oath before returning along Victoria Embankment at around 1pm.
The day will end with a massive bang at 5.15pm when a colourful (and very loud) firework show on the Thames will light up the night sky over the City.
This year the show is being brought right into the modern age with a downloadable app to help you get the most out of the Show. You can download the app here.
SAY ELLO, ELLO, ELLO TO THE CITY POLICE
CITY OF LONDON POLICE MUSEUM
Guildhall Library, Aldermanbury, London, EC2V 7HH
Monday to Friday 10am to 4pm (till 7.30pm on Wednesdays) Saturday 10am to 4pm
Opens Monday 7th November 2016
FREE
The Nearest Underground Stations are Moorgate, Bank, or St Paul's
For further details go to their website by clicking here.
What's all this then? Well, since you asked it7's London's newest museum which has decamped from nearby Wood Street Police Station and has re-opened in the wonderful Guildhall Library.
Visitors have the opportunity to explore a fascinating collection that charts the development of the City of London Police force from its inception, on through the Victorian era and into the modern age, when challenges such as cyber crime and fraud are high on the Force's crime-battling agenda.
POP BACK TO ANCIENT EGYPT
THE PETRIE MUSEUM
Malet Place, Camden, London WC1E 6BT
Open Tuesday to Saturday 1pm to 5pm
Admission:- Free
Closest Underground Station - Euston Square
This real pearl of a museum tends to get overshadowed by its better known neighbour, the British Museum, and its well known, and much visited, collection of mummies.
The upside is that it doesn't attract the hoards that can make a visit to its famous neighbour a somewhat overwhelming experience.
Whereas the British Museum houses the biggies - mummification after all was reserved for the elite few - the Petrie Museum collection is illustrative of the everyday lives of the average Egyptian and its 80,000 artifacts comprise one of greatest collections of Egyptian and Sudanese archaeology in the world.
DISCOVER THE ART OF CSI
IMPERIAL FRINGE:CRIMINAL INVESTIGATIONS
Imperial College London

College Main Entrance
Exhibition Road
London
SW7 2AZ
FREE
Thursday 3rd November 2016 5pm to 8pm
The Nearest Underground Station is South Kensington
For further details Hold Your Magnifying Glass Over Their Website.
There's a little Sherlock Holmes in all of us, just in there struggling to deduce his way out.
Well, thanks to Imperial College, you can lend your inner Holmes an elementary hand and give him the chance to shine.
According to the event website the evening will enable attendees to:-
Explore crime scene investigations of the future with research projects to improve the pursuit of justice and help uphold the rule of law Science takes on (and hopefully takes down) crime at this latest Imperial public exhibition of fun science and interactive research demonstrations. Join teams pioneering new fingerprint imaging, building crime scene scanning robots and analysing human hairs to link illegal drug use to death.
It all sounds wonderfully baffling!
EVENSONG AT THE CATHEDRAL
BE ENCHANTED BY THE MUSIC
St Paul's Cathedral, St Paul's Churchyard, London, EC4M 8AD
Monday to Saturday 5pm to 5.45pm and Sunday 3.15p to 4pm
Free
Nearest Underground Stations Mansion House or St Paul's
More information on the Cathedral's website
This is one of those events in London that takes place on a daily basis and which is truly enchanting, no matter when you choose to attend.
Choral Evensong takes place in the stalls of the quire, towards the high altar, a space which allows the music to resonate perfectly and foster a sense of calm. As there are usually more people than can be accommodated in the quire, some also sit in the seats under the dome.
No matter where you are seated, however, simply allow yourself to sit back and relax, and take in the splendour of your surroundings as the heavenly, ethereal, music wafts around you. Amen.
TURN UP FOR NATIONAL CATALOGUE DAY
The National Archives

Bessant Dr
Kew
TW9 4DU
Friday 25th November 2016 10am to 4pm
Free
The Nearest Underground Station is Kew Gardens
You can register on this website.
This free event is open to all, and showcases a number of current projects and initiatives from The National Archives.
WELL I NEVER
THE BARNET PHYSIC WELL
The corner of Well Approach and Pepys Crescent
Saturday 5th November 2pm to 4pm
Admission Free
The Nearest Underground Station is High Barnet Station
For further details go to the Barnet Museum Website.
Barnet's Physic Well is a mineral water spring which was thought to have therapeutic qualities.
It was popular from the later seventeenth century through the eighteenth century, and its visitors included Samuel Pepys, who wrote about the visit in his diary.
A CUP OF TEA?
Twinings Tea Shop and Museum, 216 Strand, WC2R 1AP
Open Monday To Friday 9.30am-7.30pmpm; Saturday 10am to 5pm; Sunday 10.30am to 4.30pm
Admission Free
The Nearest Underground Station is Temple
Tea pots, tea and an aroma to die for the moment you enter this delightful little shop, which happens to be Westminster's oldest shop and is situated directly opposite the Royal Courts of Justice.
The little museum is interesting, but of a particular interest is the "Loose Tea Bar" at which you can "pick up the tea, smell it, taste it, throw it on the floor if you like."
They also have a new "Sampling Counter" so that that you can enjoy a taster of a mysterious " little something."
More information on their website.
TAKE A FERRY ACROSS THE THAMES
HOW FOLK USED TO CROSS OVER
Tower Bridge
Saturday 26 to Sunday 27 November
Saturday 3 to Sunday 4 December

Saturday 10 to Sunday 11 December
Free
For further details go to the TFL Website.
Now, you may not be aware of this, but they've closed Tower Bridge to traffic until the end of December. The result? Chaos.
However, it is still open to pedestrians and cyclists.
But, on certain weekends, even they will not be able to venture over this iconic landmark and so, by way of compensation, TFL are laying on a ferry to, err, ferry people across the Thames.
It is worth noting their warning which runs thus:- "This service will be free of charge; however it is limited in capacity."
But, it does sound like an awfully big adventure, providing you can get on board.
GORGE YOURSELF ON A SLICE OF HISTORY
LONDON's BAKING BAKERS
London Metropolitan Archives, 40 Northampton Road, Clerkenwell, EC1R 0HB
Monday 9.30am - 4.45pm (closed bank holidays)
Tuesday, Wednesday and Thursday 9.30am - 7.30pm
Closed on Fridays
Limited Saturday Opening (Check Website)
Until 1st February 2017
Free
Closest Underground Stations: Angel or Farringdon
Please note that the London Metropolitan Archives will be closed until Monday 14 November 2016 at 9.30am.
For further details visit the LMA Website.
In my humble opinion the City of London is incredibly forgiving towards the 17th century baker Thomas Farynor.
I mean - and I don't mean to be pedantic about this - he did manage to burn down almost the entire medieval City of London.
But, then again, that was 400 years ago, so I suppose it's time to let bygones be bygones.
So, this exhibition at the London Metropolitan Archives takes as its starting point Thomas Farynor and his Pudding Lane bakery and stokes up the ovens of history so that visitors can gorge themselves on the story of London's bakers from 1666 to the present day.
PLEASE ENJOY
I hope you find the October/November list useful and that you get to enjoy at least some of the things that I have suggested.
If you require further directions to any of the places suggested could you ask it via the Facebook page as that then enables me to answer quickly and, should it be something that everybody wants to know, it becomes useful to everyone.
All the best. Richard