WELCOME TO THE DECEMBER LIST
May I begin this festive list by wishing all my readers a very merry Christmas.
London is looking particularly festive at the moment and the lights are sparkling all over town. Which has inspired me to create a free Christmas Lights Quiz walk, which is one of the offerings on this month's list.
You can also attend carol services at St Paul's Cathedral over the Christmas period itself; take part in a Twelfth Night procession in Southwark; explore the magic of Harry Potter in Soho and visit Christmases past at Shoreditch's wonderful Geffrye Museum.
And, if all that hasn't got you breaking down the door eager to get out and experience all these wonderful free things that London has to offer, then how about the opportunity to enjoy an Evening with Nick Clegg?
CHRISTMAS WALKS
I'll be doing my annual "Charles Dickens: A Christmas Carol Walk" on several days, albeit the only one that still has space is the New Year's Eve Walk on 31st December at 11am. Details here.
There will also be the Jack the Ripper and Ghost Walks over the period, all the dates are on this page.
A SPECIAL NEW YEAR'S DAY WALK
I'll also be seeing in the New year with a special Secret London Tour at 2pm on January 1st 2017. Full details here.
A CHRISTMAS CAROL FILM REVIEWS
As many of you will know I'm gradually working my way through all the film versions of A Christmas Carol and reviewing them.
You can read the reviews and watch some of the really old versions (1901 in the oldest) on this page.
UPDATES ON THE FACEBOOK PAGE
Remember that any new additions, or changes to the current list, are placed on our Facebook page, so it's worth joining us and liking us (as in Facebook likes!) to ensure you're kept fully informed of and up to date with what's going on in London throughout the weeks ahead.
So, without further ado, here is my December list of ten things to do in London.
10 THINGS TO DO IN LONDON DECEMBER 2016
ENJOY CAROLS IN ST PAUL'S CATHEDRAL
St Paul's Cathedral
St Paul's Churchyard
London
EC4M 8AD
Friday 23rd December Carols at 4pm
Saturday 24 December, Christmas Eve at 4pm - Christmas Carol Service
Saturday 24 December, Christmas Eve at 11.30pm - Midnight Eucharist
Sunday 25 December, Christmas Day at 3.15pm - Festal Evensong
Monday 26 December at 5pm - Evening Prayer with Carols
Nearest Underground Stations Mansion House or St Paul's
Free, Early arrival is advised as space is limited.
Can there be a better place to enjoy carols than St Paul's Cathedral?
I don't think so.
Throughout the festive period the Cathedral will be holding regular carol and prayer services, plus, of course masses on Christmas Eve and Christmas Day.
A truly enchanting experience awaits.
FANCY A TURKEY GOING CHEAP?
THE HARTS CHRISTMAS EVE AUCTION
Harts of Smithfield
Charterhouse Street
Smithfield
London, EC1A 9NL

Saturday 24th December 2016 at 10.30am
Free to attend. Cash only for purchases. Bring your own bags.
The Nearest Underground Station is Barbican
Limited details on the Smithfield Market Website
This is an annual tradition and one that is very well attended, as Harts of Smithfield sell off their Christmas Surplus stock.
From a whole leg of pork for a mere £20 to turkeys going cheap, this is the place to pick up a real bargain and hone your skills at outbidding, out waving and out shouting all those around you.
However, if you fail to catch the butcher/auctioneer's eye, you might end up leaving empty handed, so I'd advise having a contingency plan in place, just in case.
But, no matter what the outcome - it's always great fun.
EXPLORE SOMERSET HOUSE
Upstairs, Downstairs and Lots of Stairs!
Strand, London, WC2R 1LA
Thursday at 13.15 and 14.45 and every Saturday at 12.15, 13.15, 14.15 and 15.15.
Collect your free tickets from the Information Desk in the Seamen's Hall, South Building. Tickets available from 10.30am. Be sure to come early to avoid disappointment as the tours are extremely popular
The Nearest Underground Station is Temple
For further details go to their website by clicking here.
Think you know Somerset House? Think again. There's a lot more to this wonderful building than immediately meets the eye and now you can go behind the scenes, so to speak, and reach the parts that the casual visitor never gets to see.
The tour, which lasts round about an hour, will take you from the shady world of Tudor politics and intrigue to the illuminating world of Georgian Enlightenment.
You'll see grand, and impressive staircases, and you'll even get to go beneath this magnificent place and explore the subterranean depths that have been featured in numerous movies and television dramas from Sherlock Holmes to serialisations of the works of Charles Dickens. Speaking of Dickens, the tour also provides a rare opportunity to go inside the old "Roman" Bath on Strand Lane, which features in David Copperfield.
VISIT CHRISTMAS PAST AT THE GEFFRYE MUSEUM
136 Kingsland Road
London
E2 8EA
Tuesday - Sunday 10am - 5pm, Bank Holiday Mondays 10am - 5pm. Closed Christmas Eve, Christmas Day, Boxing Day and New Year's Day
Admission is free.
Nearest Underground Station:- Old Street or Moorgate
View further information on their website
The Geffrye Museum is a terrific museum providing visitors with the opportunity to peep back at how homes have changed over the last 400 years.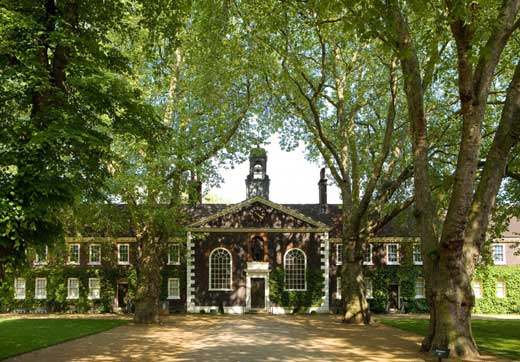 At Christmas the eleven period living rooms that the museum is "home" to are decked out in festive decorations that truly capture the spirits of various Christmases past and which provide visitors with an opportunity to become time travelling voyeurs by gate crashing a selection of middle-class festive seasons over the last 400 years.
You can also discover the origins of all manner of festive traditions from why we kiss under the mistletoe to why we hang up stockings on Christmas Eve.
A lovely opportunity to look back on those bygone days when people knew how to make their own entertainments and Steve McQueen had not even attempted a Great Escape.
ENJOY THE NEW YEAR'S DAY PARADE
Sunday January 1st at 12 Noon
The Parade Begins on Piccadilly
Visit the Parade's Website For Full Details
The prefect way of seeing in the New Year, this colourful spectacle promises 10,000 participants from the USA, UK, Europe and beyond to delight our street audience of over 500,000 and our TV audience which reached more than 300,000,000 in 2016.It really is a joyous start to the New Year.
TAKE A CHRISTMAS LIGHTS QUIZ WALK
A SELF GUIDED TOUR
Starts Outside
The Argyll Arms
18 Argyll Street
London
W1F 7TP
Free
I've spent the last few weeks putting together a quiz walk that enables those who want to see the best of this year's London Christmas night.
You can follow the step by step directions, stop off at some lovely pubs en route and try to answer 22 questions, whilst achieving the challenge of kissing Winston Churchill under the mistletoe!
It takes around two hours to complete at a gentle pace, and it's a great way to see the Christmas Lights.
CELEBRATE TWELFTH NIGHT IN SOUTHWARK
Sunday 8th January 2017 starting at 1:45pm
It begins on Bankside Outside Shakespeare's Globe
Free
Closest Underground Stations: London Bridge or Mansion House
The Lions part invites everyone to their 22nd TWELFTH NIGHT CELEBRATION beginning on the Bankside near Shakespeare's Globe and continuing by procession to the historic George Inn in Southwark.
Twelfth Night is an annual collective celebration of the New Year held in the Bankside area of London. TWELFTH NIGHT mixes ancient Midwinter seasonal customs and contemporary festivity.
SAY FAREWELL TO AN OLD FRIEND
GOODBYE DIPPY
The Natural History Museum
Cromwell Road
London
SW7 5BD
Open daily 10am to 5.50pm. Last entry to Museum 5.30pm. Closed 24-26 December.
Admission is free.
Nearest Underground Station is South Kensington
The Natural History Museum's Diplodocus skeleton cast, often referred to simply as "Dippy", is one of the museum's best known and most loved exhibits.
Unveiled in 1905, the Diplodocus quickly achieved star status, and has since featured in newspaper cartoons, news reports and even played starring roles in film and television.
But, on 5th January 2017, Dippy is due to set off on a tour of the UK, with the result that, after that date, visitors will no longer be welcomed by the impressive skeleton.
So, if you want to bid an old friend farewell, or you want to see it in all its glory, I suggest you get on over to South Kensington over the Christmas break.
SEE IN THE NEW YEAR (ISH) WITH NICK CLEGG
Skeel Lecture Theatre
Queen Mary University of London
Mile End Road
LondonE1 4NS
Thursday 26th January 2016, 6.30pm to 8pm
FREE, but registration required.
The Nearest Underground Station is Stepney Green
I just can't seem to get it right. No sooner had I got over the possible slight on Ken Clarke by featuring him as a scary Halloween suggestion, than I go and put Nick Clegg directly after an extinct species.
So, I'll stop digging and just quote from the event's own website.
"Nick Clegg MP was Deputy Prime Minister in the coalition government and is former leader of the Liberal Democrats. He is the party spokesman on exiting the EU and was a leading campaigner to remain in the European Union.
We will be speaking to him about the UK's withdrawal from the European Union, the rise of populist politics and what the future for centrist politics will be.
The event will be followed by a drinks reception to which all are welcome.
STEP INTO THE WORLD OF WIZARDS
THE MAGICIAL WORLD OF HARRY POTTER
House of Minalima
26 Greek Street
London
W1D 5DE
Until 4 February 2017
FREE
The Nearest Underground Station is Leicester Square
Miraphora Mina and Eduardo Lima, known as MinaLima, were responsible for the quirky graphic designs that were featured in the Harry Potter films.
They, for example, produced The Daily Prophet, created the wanted posters, not to mention the textbooks used at Hogwarts; and they also gave us the Horcruxes and the Goblet of Fire. Which, if you think about it, is quite a contribution to the cult of Pottermania.
You can now pop in to this curious little shop to admire their designs for the Weasleys' joke shop offerings, as well as the original Marauder's map, and more.
It sounds magical
PLEASE ENJOY
I hope you find the December list useful and that you get to enjoy at least some of the things that I have suggested.
If you require further directions to any of the places suggested could you ask it via the Facebook page as that then enables me to answer quickly and, should it be something that everybody wants to know, it becomes useful to everyone.
All the best. Richard